Tag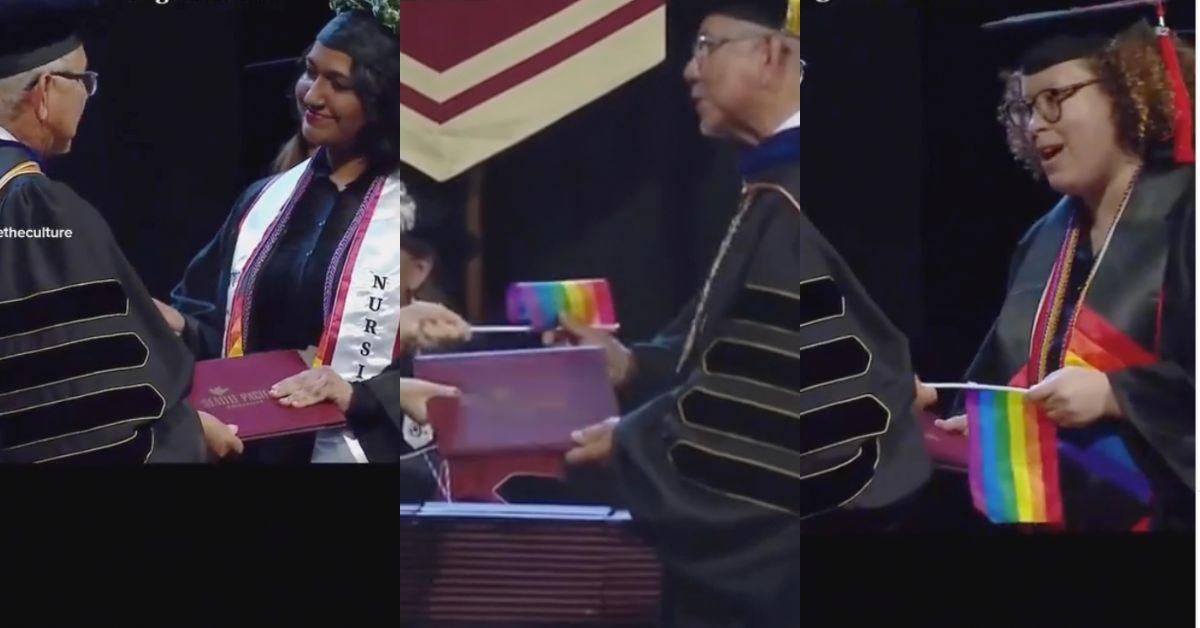 @theprogressivists/Instagram
Graduating students at Seattle Pacific University gave their university president LGBTQ+ Pride flags when receiving their diplomas to protest the college's recently upheld policy against hiring LGBTQ+ staff members.
Last month, SPU's Board of Trustees decided to uphold a rule that prevents the school from hiring LGBTQ+ employees.

The school's current conduct expectations require employees to avoid engaging in same-sex sexual activity, extramarital sex and cohabitating before marriage.
The students' demonstration coincided with Pride month, where the LGBTQ+ community and their allies embrace the freedom to be themselves while also speaking out against inequality and the injustices stemming from bigotry.

Around 50 flags were given to students prior to the ceremony. Around 45 students handed the interim president, Pete Menjares, the flags upon receiving their diplomas.
A TikTok video of the moment was shared on The Progressivists Instagram page.

The overlaying text read:
"POV: the president of your university thinks being LGBTQ+ is a 'lifestyle choice' and a 'morality issue' so you decide to give him a gift at graduation."
Seattle Pacific University student and organizer Chloe Guillot told CNN how the idea for their demonstration began.
"It started just as a conversation among students that we didn't really want to shake the president's hand at graduation," said Guillot.
"So, we thought what can we do instead of that? And the idea came up: why don't we hand out a pride flag?"
According to the university's website, SPU is a religious educational institution affiliated with the Free Methodist Church USA that "reserves the right to prefer employees or prospective employees on the basis of religion."

The Free Methodist Church USA defines "Marriage, between one man and one woman" as "the only proper setting for sexual intimacy."
In response to the SPU Board's decision barring LGBTQ+ employees at the school, Board Chair Cedric Davis said in a statement on May 23:
"While this decision brings complex and heart-felt reactions, the Board made a decision that it believed was most in line with the university's mission and Statement of Faith and chose to have SPU remain in communion with its founding denomination, the Free Methodist Church USA, as a core part of its historical identity as a Christian university."
Davis resigned on May 26.

Another student organizing the demonstration, Pamela Styborski, stressed the importance of making a statement "that was very public, visible and respectful" before graduating.
"Going into Sunday, we couldn't go out being silent," said Styborski.
Since the board's decision, SPU students have staged a walkout in protest. They also organized a sit-in in front of the president's office.
The sit-in is expected to continue through July 1, after which students plan to pursue legal action depending on the Board's re-evaluation of their decision.