Tag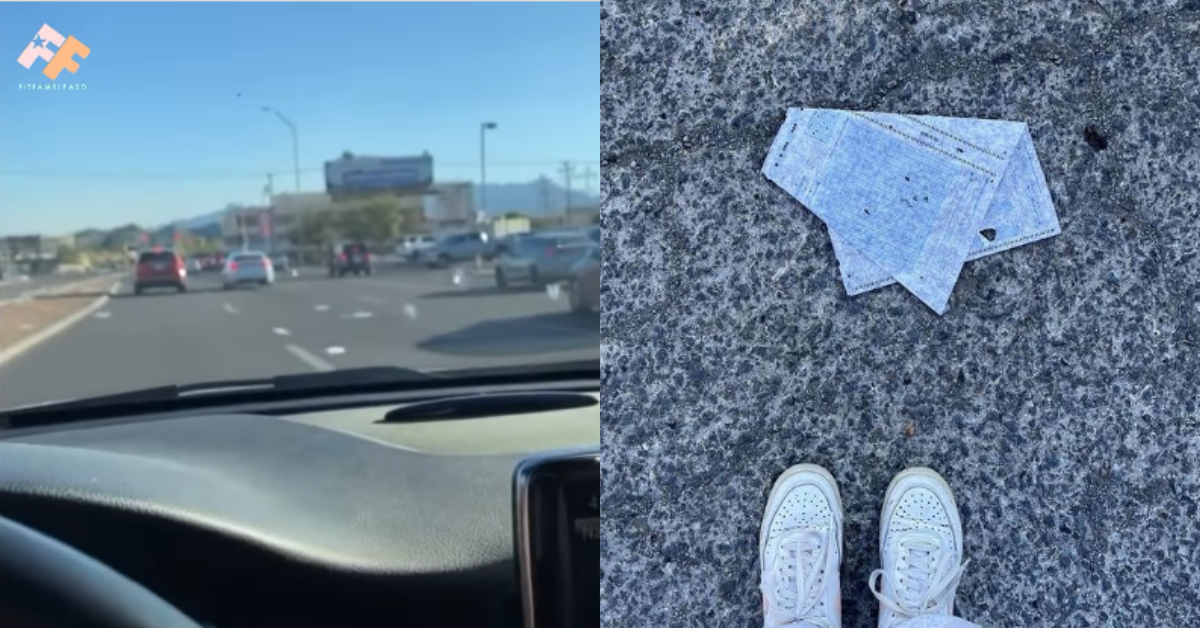 @therealfitfamelpaso/Instagram
Anyone who planned to go to college after high school remembers the standardized testing involved, especially if they were attempting to receive high enough marks to garner attention from their desired colleges.
We could only imagine how annoying it would be to have to take the test again, especially if the reason why was completely out of our control.
Those are the thoughts that are surely going through the minds of fifty-five high school students in El Paso, Texas this week after their Scholastic Aptitude Test (SAT) scantrons were lost after blowing out of a window of a UPS delivery truck, fluttering sporadically down a major highway.
Not clear on what he was seeing, one student captured the mass of fluttering papers on camera, showing them floating through the air, tumbling down the road, and being run over by cars.
One image showed a scantron trampled to the ground, discolored, and wet at an anonymous person's feet.
The caption of the Instagram post read:
"What. The. H**l. El Paso High School seniors may have to retake their SATs after a UPS truck accidentally dumped their test sheets on Mesa."
After the incident, most of the tests were able to be collected and were still legible enough for the purpose of scoring and recording the students' tests.
Fifty-five of the students were not so lucky, however, and would have to be re-administered their exams.
According to Liza Rodriguez, the Chief Communications Officer of the El Paso Independent School District, the school is now working with College Board to re-administer the tests, to provide the students with free retakes, and to provide the fifty-five students with any assistance they need to apply to their choice schools on time, since this very well may impact them meeting their application deadlines.
You can see more information about the tests being retaken here:
El Paso High SAT score sheets fly out of UPS truck in West El Paso, compromising test youtu.be
One student who was retaking his SAT to perform better on his college applications, Ezra Ponzio, stated:
"I'd say that I felt pretty good going into it. I was hoping to land around a 1260 to 1300 this time."
"UPS, just try your best to make it right with us."
Another student, Zyenna Martinez, was more worried about her personal information potentially being publicized.
"On the test score sheets, we have all of our information and identification on the score, our location where we live, our address, our date of birth, all of our information."
"It stinks because our identity is out there right now. Some people could have picked up some flyers."
Instagram tried to imagine what the students were feeling, and none of it was positive.

@therealfitfamelpaso/Instagram

@therealfitfamelpaso/Instagram

@therealfitfamelpaso/Instagram

@therealfitfamelpaso/Instagram
UPS also commented on the situation, stating that they were doing what they could to amend it.

"Our employees are working to recover as many tests as possible, and we will work with the school to resolve the situation."
"The driver's actions, in this case, are not representative of UPS protocols and methods, and we are addressing this with him."
College Board was also confident about correcting the situation.
"Occasionally, test materials are lost in transit. When such instances occur, we work with the school to ensure that students are able to retest as soon as possible."
While those around them were confident about correcting the situation, the students surely did not feel as positive, as they would still have to take the test again, and there's never any guarantee of whether they will perform as well as the previous time.