Tag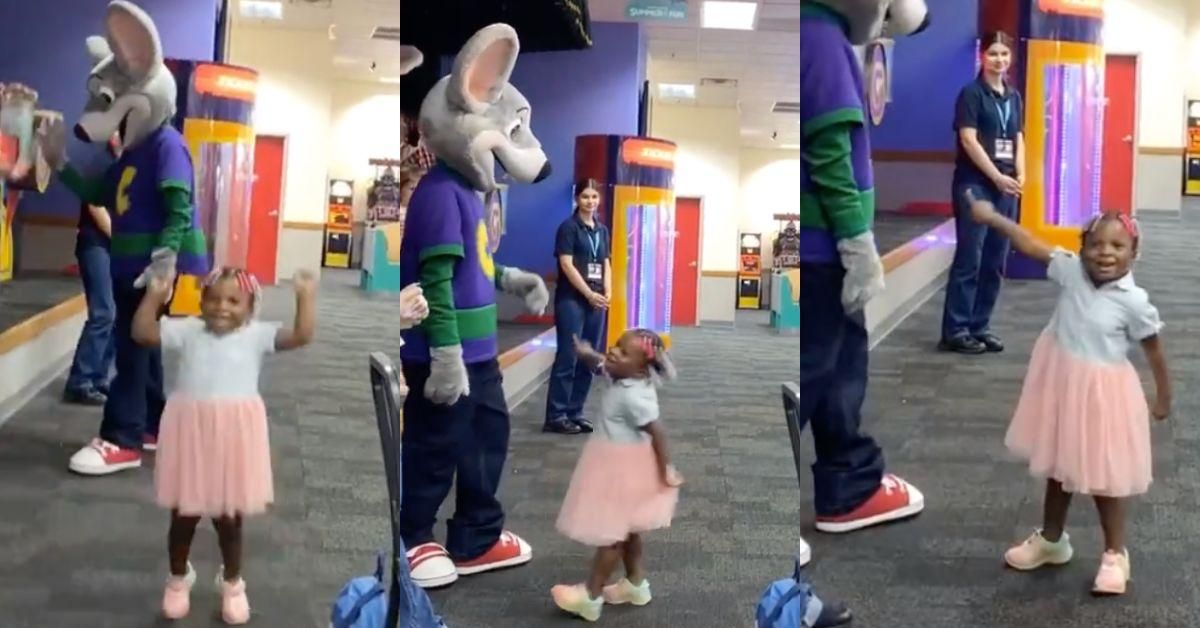 @belllahijabi/Twitter
Chuck E. Cheese was accused of racial bias after a video showed the mascot for the popular kids' pizza joint appearing to ignore a Black toddler who was trying to hi-five.
The clip showed the performer in the mouse costume acknowledging three White children standing on a stage for a birthday party inside the restaurant and giving hi-fives as he walked past them.
When a little Black girl–who was standing near the stage enthusiastically jumped up and down at seeing the mascot–raised her hand for him to acknowledge her with the same gesture, the mascot left her hanging as he faced her.
He then turned his back on the girl and waved back at the kids he had previously interacted with.
Twitter user Umm Safa–the girl's mother–shared the video and wrote in the caption:

"On July 30 at Chuck E Cheese in Wayne, NJ, my 2 [year old] was racially discriminated against."
"As you can see, he gives all of the [white] kids hi-5s & PURPOSELY ignored my Black baby."
"When confronted, he ignored me as well…,"
Social media users were outraged.
The video was yet another example of costumed characters apparently denying non-White children attention in favor of White children.
This separate clip showed two Black kids being rebuffed by a performer in costume who gestured, "no," to them during their visit to Sesame Place theme park in Philadelphia based on the popular children's TV show, Sesame Street.

In response to those who downplayed the incident at Chuck E. Cheese suggesting the costumed actor had limited visibility as the reason for ignoring the girl, a user with experience weighed in.
Gabe Lozano, who alleged to have played Chuck E. Cheese once, explained:
"I see people defending the mascot by saying that maybe the head made it hard to see. I dressed as the mascot briefly at the community college I attended."
"The mouth is a one-way, see-through mesh. And I could see everything that was going on, just fine."
"They could see the girl."
Another account posted a different video proving the mascot could very well see and interact with children who are much shorter.
"This video completely says otherwise," tweeted @OscaritoRobles, in response to the argument the character is visibly challenged.

He added:
"This other chuck e. cheese mascot saw that little boy who is probably shorter than her clear as day."
People couldn't believe the number of dismissive comments in the thread.

The mother posted a follow-up tweet of her daughter posing with Chuck E. Cheese–at the insistence of management–who was giving a thumbs up.

"One picture is worth a thousand words," wrote the mother, adding, "After the managers defended his case on 'not being able to see her' and apologizing, they still insisted on Safa taking a picture with him."
@belllahijabi/Twitter
"I wasn't for it but Safa was still innocently following him around–of course, unaware of what had just happened, Just for her to take a picture like this," wrote Safa, adding, "Great job, Safa!"