Tag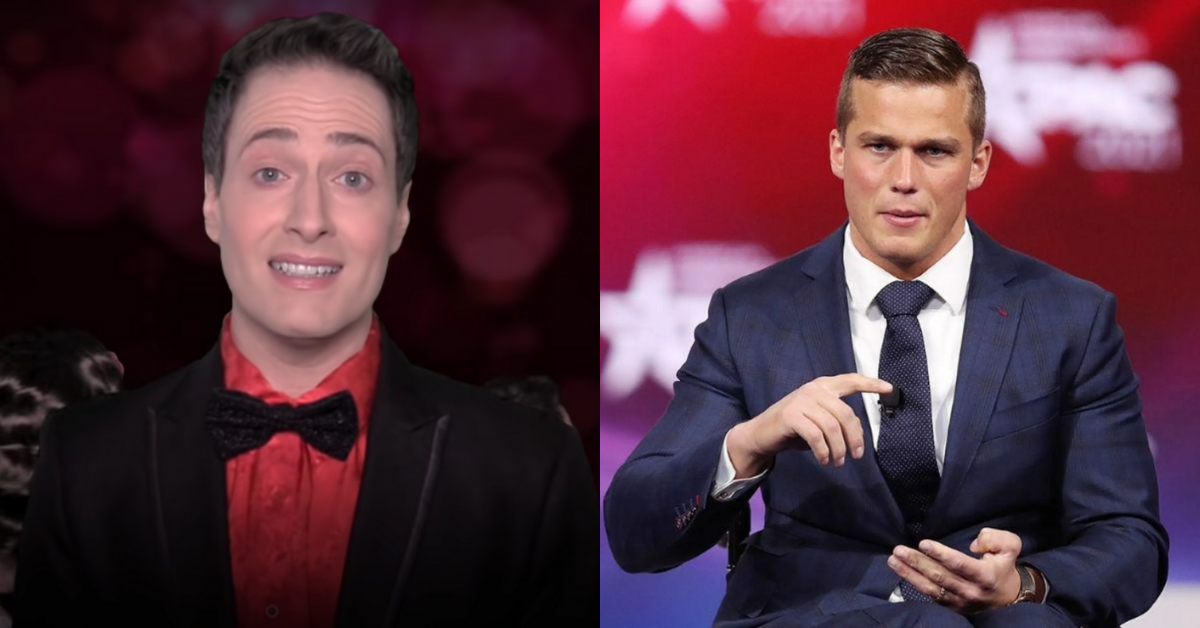 Randy Rainbow/YouTube; Joe Raedle/Getty Images
Comedian and singer Randy Rainbow, known for filming musical parodies that skewer prominent politicians, joked about the reason he might not do a number about "Maddie Cawthorn"–a reference to North Carolina Republican Representative Madison Cawthorn–and his reasoning had social media users cackling.
Writing on Twitter, Rainbow–yes, that's his real last name–joked he is "not sure" if he has "enough boas in my closet for a Maddie Cawthorn number."
Rainbow's remarks came after Cawthorn addressed a video clip that shows him naked in bed and making thrusting motions on top of another man.
Cawthorn claimed he "was being crass with a friend, trying to be funny," adding he and his friend "were acting foolish, and joking."
Naked.
On top of each other.
Like everyone does.
Right?
The video, which was released by American Muckrakers, a political action committee and opposition group dedicated to removing Cawthorn from Congress, was provided by "a former Cawthorn supporter and big donor who asked to remain anonymous."
It seemed the possibility of getting out ahead of the controversy motivated Cawthorn's decision to comment on the video itself, which he said had been released as part of an orchestrated smear campaign in an effort to "blackmail him."
The video's release, coming on the heels of another controversy–leaked photos showing Cawthorn wearing women's lingerie in public and another video showing a Cawthorn male staffer/cousin putting his hand in Cawthorn's crotch and Venmo payments sent to the same staffer annotated as for sexual favors–prompted many to speculate about Cawthorn's sexuality.
Rainbow's tweet appeared to suggest as much and many were quick to respond they would, in fact, love to see him tackle Cawthorn in a parody video.
Earlier this week, Cawthorn was accused of having an inappropriate relationship with a male staffer after video footage showed the staffer grabbing Cawthorn's crotch. Concurrently, both men came under fire after a list of lewdly worded Venmo payments between the two began to circulate.
Cawthorn later defended the moment as "stupid locker room talk," a callback to the same defense then-candidate Donald Trump used to describe his words in a now-infamous Access Hollywood tape in which he bragged about grabbing women without their consent.
Cawthorn recently annoyed Republican leadership after he claimed he'd been invited to cocaine-fueled orgies with Washington's elite.
He has refused to answer questions about his claims, only saying he was invited to orgies and witnessed heavy cocaine use among politicians he's claimed to admire. He has accused Democrats of using his own words against him in an effort to fracture the Republican Party.
Cawthorn said his claims, which he first made during an interview with the Warrior Poet Society, a self-proclaimed group of Republican "freedom fighters," were designed to call out corruption and "have been used by the left and the media to disparage my Republican colleagues and falsely insinuate their involvement in illicit activities."
His remarks raised concerns within the Republican Party and he was called for a 30-minute meeting with Republican leadership, speaking to House Minority Leader Kevin McCarthy (California) and Minority Whip Steve Scalise (Louisiana).
Cawthorn has not responded to questions about what happened during the meeting.