anti vaxx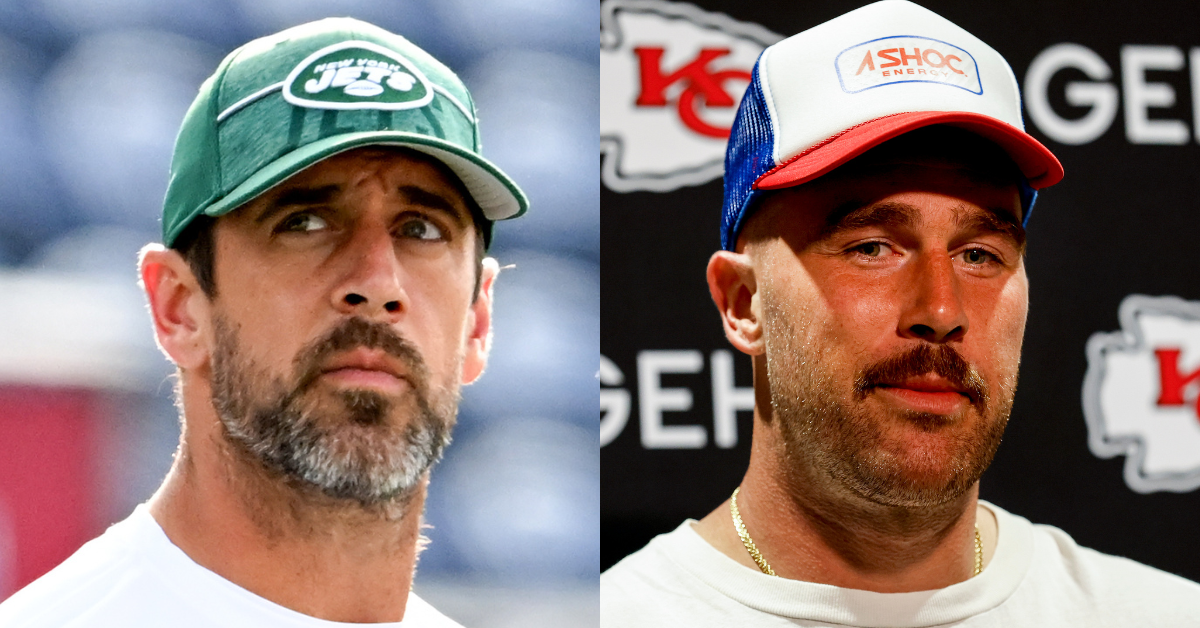 Nick Cammett/Diamond Images via Getty Images; Don Juan Moore/Getty Images
Controversial New York Jets quarterback Aaron Rodgers is under fire after coining a nickname for Kansas City Chiefs tight end (and, of course, Taylor Swift boyfriend) Travis Kelce that sounds straight out of one of Donald Trump's embarrassing speeches.
During an appearance on ESPN's "Pat McAfee Show," Rodgers mocked Kelce for promoting COVID-19 vaccines.
While answering a question about how the Jets played against the Chiefs on Sunday by calling Kelce "Mr. Pfizer." Sick burn, Aaron.
Rodgers told hosts Pat McAfee and AJ Hawk:
"Mr. Pfizer, we kinda shut him down a little bit. He didn't have his crazy impact game, obviously, he didn't have his yards and stuff."
The dig was in reference to a recent commercial Kelce made for Pfizer in which he urges fans to get vaccinated against Covid and the seasonal flu.
Rodgers, of course, is somewhat infamous for his anti-vax stance, especially following an August 2021 scandal in which he lied about having been vaccinated before attending practices with the Green Bay Packers, the team for which he played at the time.
Rodgers tested positive for Covid that month and subsequently missed the Packers' first pre-season game against the Chiefs that year.
He's also been vocal about his support of the livestock de-wormer Ivermectin as a treatment for Covid, which has never been approved for treating the disease or been found to be effective. But that, of course, is of little interest to most of the anti-vax movement.
On social media, Rodgers unimaginative middle school taunt didn't land very well with a lot of people.

Right-wing pundits and commentators have been waging an all out anti-Kelce media campaign following his appearance in the Pfizer ad. And given how lazy and dumb the nickname "Mr. Pfizer" is, you can't help but wonder if that's who Rodgers is taking his cues from, maybe even in the literal sense.
But then, maybe it's just as simple as football fans loving lame seventh-grade taunts. Who knows? In any case, Rodgers blew his Achilles in the first game of the Jets' season so it seems snark is his game for the time being—while collecting his salary from the Jets' owners, the heirs to the Johnson & Johnson pharmaceutical fortune, of course.
Keep reading...Show less