George Pimentel/Getty Images; Mireya Acierto/Getty Images
After rapper 50 Cent publicly expressed his uncertainty about voting for Joe Biden, citing the Democratic Presidential nominee's plan to raise taxes on millionaires and billionaires, his ex-girlfriend Chelsea Handler threw him some shade on Twitter.
With you @50cent https://t.co/sjLMCJaYZK

— Tony DeAngelo (@Tony DeAngelo)1603382570.0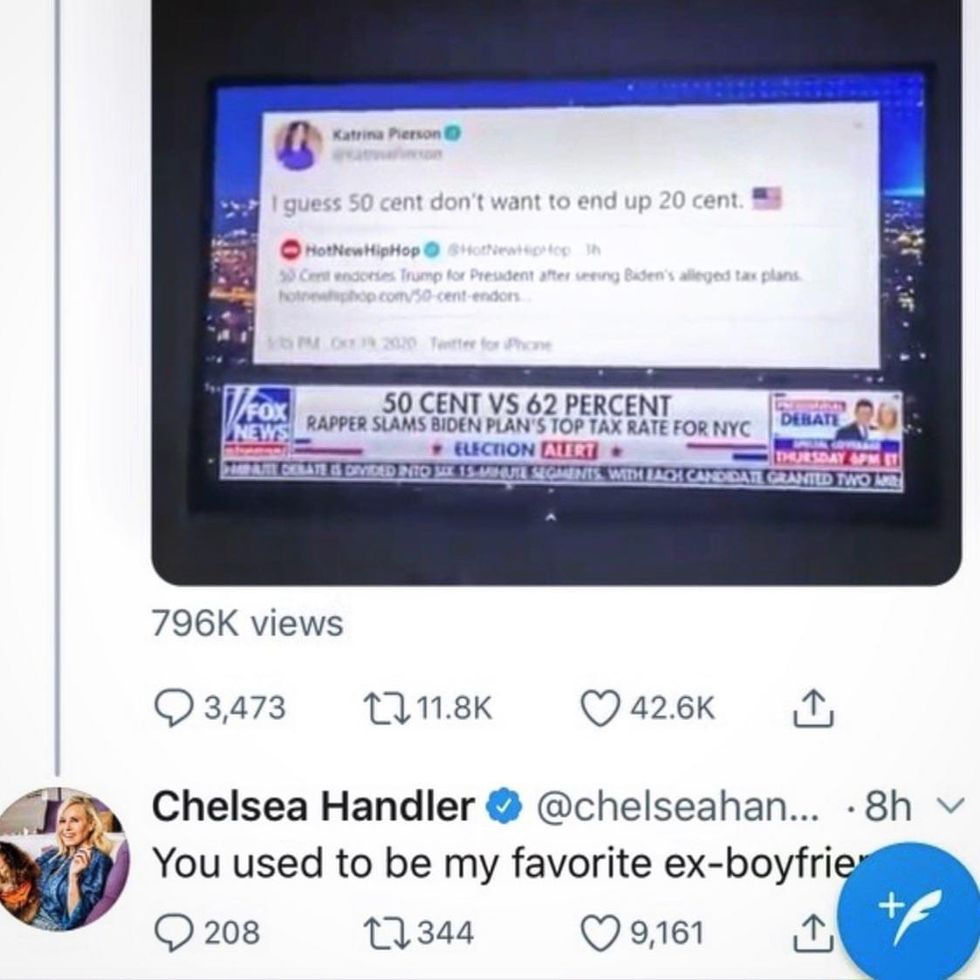 @50Cent/Twitter
50 Cent responded to Handler, hoping that the possibility he might vote for President Trump wouldn't come between them.
🤦‍♂️oh my God this is effecting my love life now. @chelseahandler I love ya Gator, don't let Trump and Joe Biden co… https://t.co/BXs34nk9WF

— 50cent (@50cent)1603290258.0
Handler didn't seem calmed by 50 Cent's tweet. She offered him a once-in-a-lifetime deal if he would be willing to vote for Biden!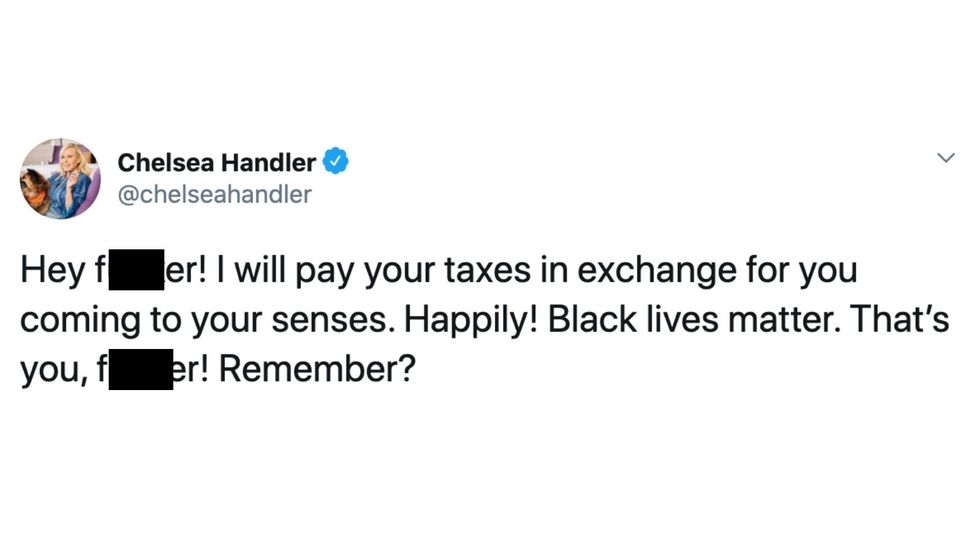 @ChelseaHandler/Twitter
Having Chelsea Handler pay your taxes is the kind of offer one would be dumb to pass up.
@Hardip_nirvana @chelseahandler Because nazis and fascism isn't something you ignore.

— DaMadGreek (@DaMadGreek)1603314061.0
If 50 Cent wants a fair tax rates, he should know that's not what he's going to get from Donald Trump.
Does he know that Trump only paid $700 in taxes?
— Devin Duke (@sirDukeDevin) October 21, 2020
@sirDukeDevin @chelseahandler $750, in 10 years along with other many years of Tax evasion. He also double dips wi… https://t.co/thnPA7e7UT

— Carnifexor (@Carnifexor)1603322933.0
Many online shook their heads at the idea of 50 Cent, an incredibly well-off person, voting simply to save himself some money.

How could a millionaire be so selfish to not want to pay his share of tax's. We can't write off what he can!Sad.
— DianneCraig (@lilgaga55) October 21, 2020
@lilgaga55 @chelseahandler The more you have the more you want!! $$$ He can't relate to the struggles.

— Laura Dalton (@Laura Dalton)1603468297.0
Meanwhile, Handler's fans commended her for standing up for what's right.
Chelsea Handler HANDLES business... MIC DROP level 💯🤣‼️
— MissCamilla (@CamillaMR2) October 21, 2020
@WessDoe I love you back.

— Chelsea Handler (@Chelsea Handler)1603317537.0
This November, there's far more on the ballot than a higher tax rate for millionaires.
The levels at which I think you are a freaking boss are cannot be calculated and it's honestly sad as a black man I have more respect for you someone who actually gives a damn about black lives, and not 50 Cent who openly admitted Trump not liking African Americans.
— Rickey Williams- Vote, Vote and lastly Vote (@MavethTheReaper) October 21, 2020
Come on 50! There is no good way to side with Trump like there is no good way to endorse Kool-Aid with Jim Jones. Paying taxes is a horrible experience, and we all know that, but there are things that are worse.
— Dyahkah (@country_sh) October 22, 2020
There's been no indication of whether 50 Cent is going to take Handler up on her offer, but if that's truly his only problem with voting Biden then he'd be a fool not to!