Tag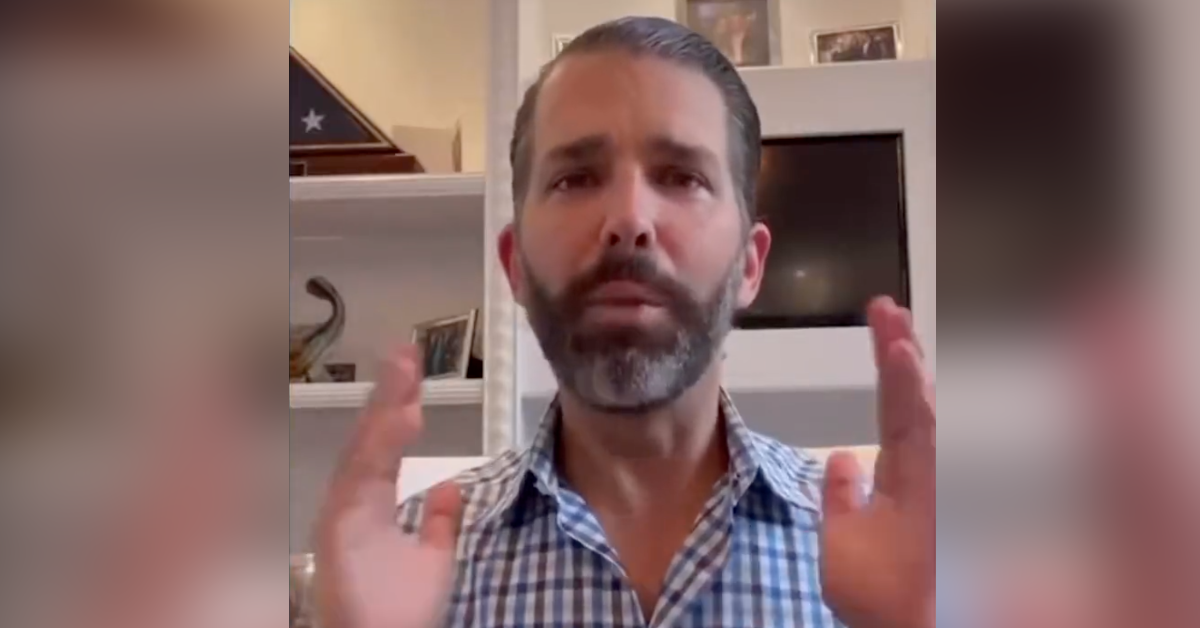 @patriottakes/Twitter
Donald Trump Jr. was harshly criticized after he posted a video promoting a "We The People" Bible he claimed defends "Judeo-Christian" values he alleged are under attack.
The Bible "is ideal for the patriots who believe it is time to give America back to God, and features copies of America's founding documents" according to a site affiliated with the Trump Organization.
You can hear what Trump Jr. said in the video below.
Trump Jr. said:

"Guys, with Judeo-American Christian values under attack, there could be no better time then to re-up our commitment to America and to the Christian values that this country was founded on."
"Go check out the 'We the People' Bible, made in America, printed in America, assembled in America."
"You're going to love it and I think the people in your life are probably going to need it too."
Trump Jr.'s video marks his latest move to court the Evangelical base largely loyal to former Republican President Donald Trump, who enjoys the support of the religious community despite his many scandals.
His latest grift prompted many to call him out for what one commenter referred to as "debased hucksterism."
Trump Jr.'s call to protect "Judeo-Christian values" brings to mind remarks made by his father's former chief strategist, the White nationalist Steve Bannon, who last year demanded people have more "Judeo-Christian" babies so these children could be "trained" in order to "save civilization."
Bannon was widely criticized for pushing "The Great Replacement," a conspiracy theory that states White European populations and their descendants are being demographically and culturally replaced with non-European peoples.
Trump Jr.'s brother, Eric Trump, has made numerous overtures to Evangelical Christians, recently claiming in an interview with self-proclaimed Evangelical Christian "prophet" Julie Green that he and his children recite the Pledge of Allegiance every morning.