Tag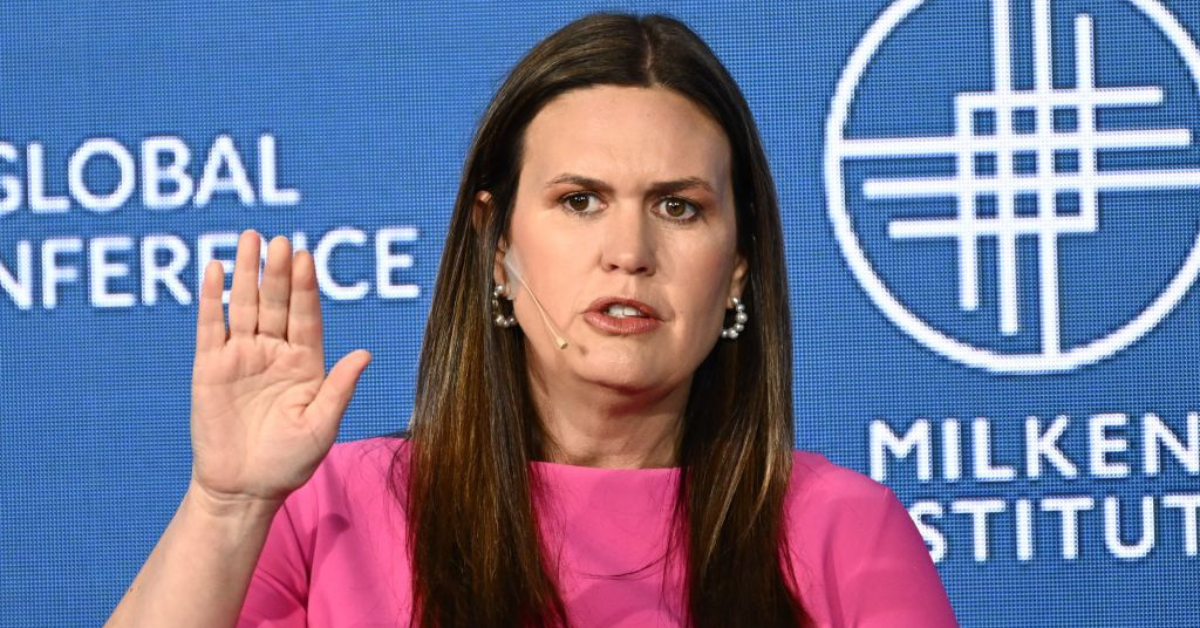 Patrick T. Fallon/AFP via Getty Images
In the midst of Teacher Appreciation Week, Arkansas Republican Governor Sarah Huckabee Sanders took a momentary pause from promoting controversial and discriminatory merchandise to express her gratitude to educators in the state.
Sanders tweeted a video praising Arkansas schoolteachers while thanking them for their service to the "state's future." Nevertheless, her appreciation appears to be superficial, as her actions and policies tell a different story.
You can hear what Sanders said in the video below.

Sanders said:

"Hi, I'm Governor Sarah Sanders. We all know that a great education starts with great educators. That's why it's my honor to celebrate this year's Teacher Appreciation Week and give thanks for every teacher in Arkansas."
"Supporting Arkansas educators is at the heart of 'Arkansas LEARNS,' my plan to take our schools to the top. We're raising starting teacher pay to some of the highest in the country and giving every teacher a raise, fully funded by the state."
"And that's just the beginning."
"Thank you to every Arkansas teacher for your service to our state's future. God bless."
Sanders' expression of appreciation, however, carries a significant condition attached to it—teachers are expected to comply with her stringent "anti-woke" agenda, a set of beliefs she has been imposing since her assumption of office a mere five months ago.
Since taking office in January, Sanders has launched an aggressive campaign against Arkansas schools and the LGBTQ+ community within them.
One of her appointments, Jacob Oliva, known for implementing Florida's "Don't Say Gay" law, now leads the Arkansas Education Department. Sanders wasted no time in signing a law that prohibits transgender teachers and students from using bathrooms and locker rooms that align with their gender identities.
Additionally, she approved a comprehensive 145-page education overhaul that provides teachers with a modest pay increase of $2000 per year but simultaneously muzzles their ability to discuss topics related to gender identity or sexual orientation and issued an executive order targeting "indoctrination" by forbidding teachers from discussing critical race theory in classrooms.
Many have criticized Sanders' hollow announcement by reminding her of her actions against LGBTQ+ teachers and students.
While Sanders expresses her appreciation for teachers during this designated week, her policies and rhetoric demonstrate a clear agenda that restricts freedom of expression and promotes discriminatory practices.

As Teacher Appreciation Week continues, it is essential to recognize and support educators who advocate for inclusivity, diversity, and the wellbeing of all students, irrespective of their gender identity or sexual orientation.
Adding insult to injury, those teachers who speak out could soon find their rights at work at even more risk in light of Sanders' pledge to repeal the Arkansas Teacher Fair Dismissal Act (TFDA)
This pivotal law is specifically designed to safeguard the interests of teachers, ensuring they are treated fairly and justly. According to the TFDA, teachers are entitled to receive written notification in the event of nonrenewal, suspension, or termination.