royal wedding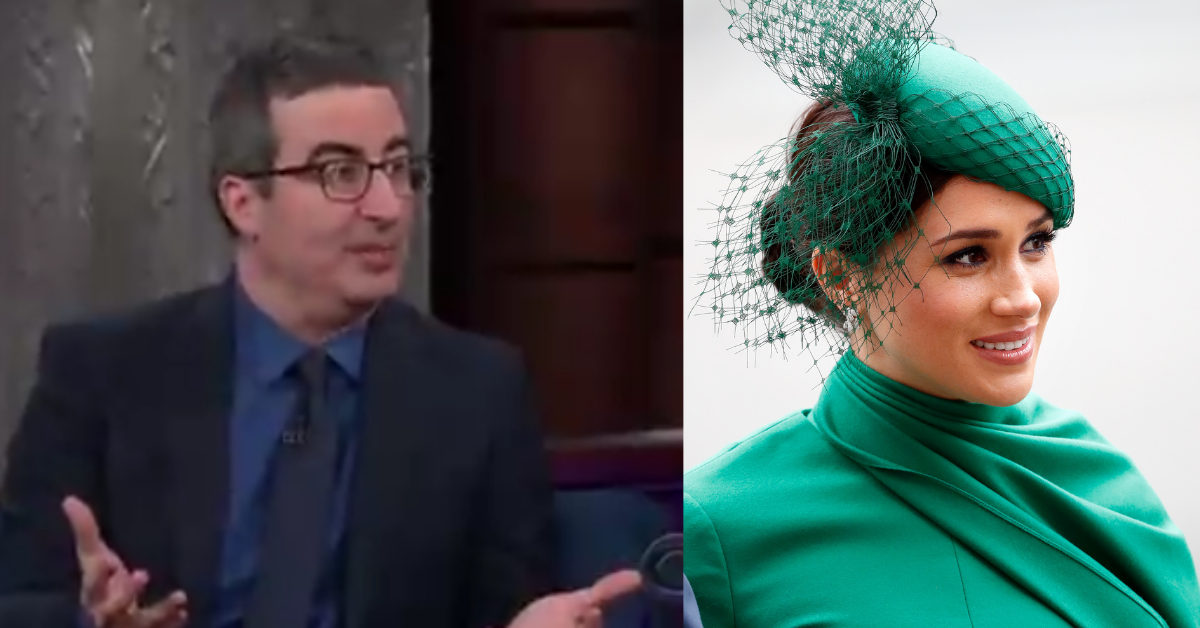 @Mara_Webster/Twitter; Max Mumby/Indigo/Getty Images
The world was in a total excited tizzy in 2018 in anticipation of the Royal wedding between American actress Meghan Markle, now Duchess of Sussex, and Prince Harry. It seemed like everyone was talking about it, writing about it and dreaming about it.
But when late-night talk show host Stephen Colbert interviewed British comedian John Oliver about the then-upcoming Royal nuptials, Oliver surprisingly didn't share the same level of excitement.
A segment of that interview went viral at the time, in which Oliver cautiously hoped for Markle's happiness. But had some reservations.
You can watch the segment here:
During the interview, Colbert tried to remain hopeful:

"[But] this generation seems like nice people, right?"
Oliver hesitantly stated:
"Yeah... I mean, they're an emotionally stunted group of fundamentally flawed people doing a very silly pseudo job."
"That's what she's marrying into. So I hope she likes it. It's going to be weird for her."
Oliver also said prior to the wedding:
"I would not blame her if she pulled out of this at the last minute."
Though Markle did follow through with her wedding day, the celebration was not destined to last.
In January 2020, the couple departed the royal family. Since then, they've established a life in California and are gradually increasing their time in view of the media.
That includes Meghan and Harry's interview with TV personality, Oprah Winfrey this past Sunday in which they addressed the real reasons behind their departure from the royal family.
The couple has been actively defamed in the media since January 2020, assuming silly or immature reasons for their departure from England... but that's about as far from the truth as you could get, according to the interview.

They both expressed a need to distance themselves from social media and from the "institution" because of their mental health.
The worst part was for Markle, who at one time had suicidal thoughts, but then was not allowed to get medical help because it would be bad for the institution's "appearance."
"I just didn't see a solution."
"Look, I was really ashamed to have to say it at the time and ashamed to have to admit it to Harry especially, because I know how much loss he's suffered."
"But I knew that if I didn't say that I would do it ... and I just didn't ― I just didn't want to be alive anymore. And that was a very clear and real and frightening constant thought."
"I remember how [Harry] just cradled me. I went to the institution. And I said that I needed to go somewhere to get help."
"And I said that I'd never felt this way before. I need to go somewhere. And I was told that I couldn't, because it wouldn't be good for the institution."
Markle also shared how her child was treated differently because of the color of his skin.
"The most important title I will ever have is mom."
"The idea of our son not being safe, and also the idea that the first member of color in this family not being titled in the same way that other grandchildren would be."
"The other piece of that conversation; there's the George V or George VI convention that when you're the grandchild of a monarch, so when Harry's dad becomes king, automatically Archie and our next baby would become prince or princess or whatever they're going to be."
"I could never understand how it wouldn't be seen as an added benefit and a reflection of the world today, especially right now, to go how inclusive is that that you can see someone who looks like you in this family, much less someone who was born into it."
The internet has been chilled since then by how perfectly spot on Oliver's estimate was of Markle's future experiences with the royal family.
While he may have been wrong about her abandoning her marriage all-together, the rest of what he said sticks.

In a response to the interview, Queen Elizabeth II, Prince Harry's grandmother, issued a statement in which she did not dispute or refute Harry and Meghan's claims.
"The whole family is saddened to learn the full extent of how challenging the last few years have been for Harry and Meghan. The issues raised, particularly that of race, are concerning."
"While some recollections may vary, they are taken very seriously and will be addressed by the family privately. Harry, Meghan and Archie will always be much loved family members."
Keep reading...Show less