Tag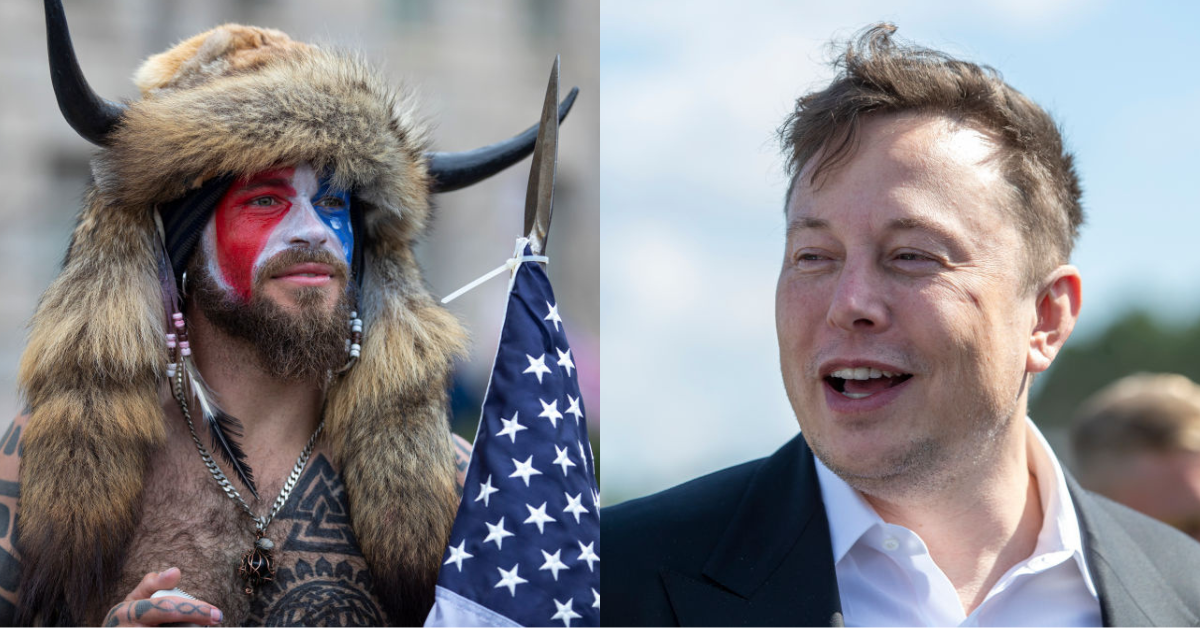 Robert Nickelsberg/Getty Images; Maja Hitij/Getty Images
Billionaire Elon Musk called for Capitol rioter Jacob Chansley—the infamous self-proclaimed "QAnon Shaman" who stormed the United States Capitol on January 6, 2021—to be released from prison.
The Twitter CEO previously came under fire for using his social media platform to spread conspiracy theories. His tweet calling for Chansley's freedom is the latest high-profile example of right-wing figures' efforts to downplay the domestic terrorist attack.
The insurrection of January 6 resulted in at least five deaths, over 100 injuries to law enforcement—some of whom were forced to retire or resign due to PTSD—and millions of dollars in property damage to the U.S. Capitol building.
But Musk appeared oblivious to this reality, sharing selectively-edited footage that makes the attack seem much tamer and features a moment when Chansley read former Republican President Donald Trump's thoroughly unconvincing plea for his supporters to "go home."
You can see Musk's tweet below.

Musk was harshly criticized for the tweet and accused of promoting more misinformation.
Chansley made headlines worldwide after he was photographed wearing a horned fur headdress and war paint in red, white, and blue while carrying a spear as he participated in the attack.

He received a 41-month prison sentence and has continued to profess his innocence by claiming he was simply trying to "calm the crowd" during the breach.
In an interview with Inside Edition last year, Chansley said he regrets "not working to ensure that there was far more peace on that day." He suggested he did not know what would happen when a mob of Trump's supporters—spurred by his lies the 2020 general election had been stolen—attempted to stop the electoral certification of Democratic President Joe Biden's win.
Chansley blamed the media for making him the public "face" of the attack. His mother—who previously referred to her son as a "patriot"—claimed former President Trump invited everyone to go to the Capitol and stressed she is passionate "about how wrong I think it is that he [Chansley] is even doing any time at all."