Tag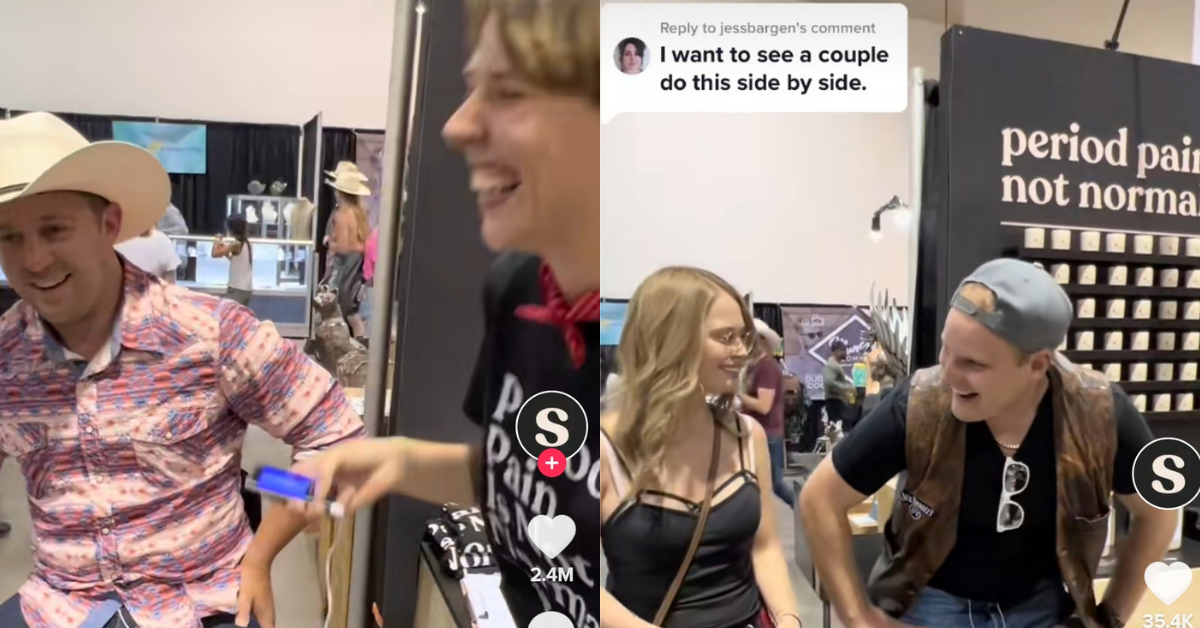 @getsomedays/TikTok
Period pain simulator videos are never not fun.
Menstrual pain is often brushed off as "no big deal" by people who don't deal with it, which can lead to dismissal and minimization when there are real problems. And that's to say nothing of the other wild misconceptions about periods. (No, we can't just "hold it in")
In order to give people a better idea of what period pain feels like, lots of companies have begun using TENS units to contract abdominal muscles.
Somedays is a period pain relief company that decided to take that idea and go a step further.
First, they focused on research and testing. The company tested different units on different settings until they found the specific machine and settings that caused feelings and contractions that were most similar to menstrual pain.
Next, they focused on placement and muscular engagement. Lots of period pain simulators focus on the abdomen only, but the muscle engagement of menstrual cramping involves the thighs as well. In order to deliver the most accurate simulation, somedays utilizes those muscles as well.
Finally, they calibrated so that lower levels were similar to weaker cramps, while higher levels reflected what someone with endometriosis might feel.
And then they unleashed it on some Cowboys at a rodeo, for maximum toughness.
@getsomedays

Come visit us at the calgary stampede! Booth 212 in the maker market. #periodpain #periodtips #periodtiktok #endo #endometriosis #periods
And on a couple, because you need a control group.
Before you even hit play, the answer is yes she absolutely breezed through.
He ... did not.
@getsomedays

Replying to @jessbargen you can literally see the empathy growing 🌱 #periodpain #periodtiktok #periods #endo #periodsimulator #periodtips #calgarystampede
The increasing dread and seriousness as the machine's strength increases is both hilarious and the whole point. Somedays creator, Lux Perry, says that first-hand experience increases empathy in a big way.
Even though it's just for a few moments, it's enough to change the way people think about menstrual pain.

"At first, we were getting a lot of side eye."
"There is still so much stigma associated with periods and period pain, so a lot of people see the word 'period' and then instantly want to look away."
"Now we have hundreds of people lining up with their partners just so they can get a feel for what their partner with a period experiences each month. And the vast majority of participants have been so humbled by the experience that they end up thanking us afterwards for the opportunity to learn more about period pain and usually end up purchasing some of our period pain relief for their partners."
"We've even cried a few times — the genuine empathy is just so moving to witness."
"As people with period pain who have been routinely dismissed our entire lives, it is truly moving to connect with others experiencing the same thing."
The validation people finally feel when they've been dismissed is so real; but so is the frustration that someone needed to be hooked up to a machine that took ages to develop and who-knows-how-much in research and cost rather than... like ... just believing their person.
Overall, people had a blast with the clips.

@getsomedays/TikTok

@getsomedays/TikTok
@getsomedays/TikTok
@getsomedays/TikTok
@getsomedays/TikTok

@getsomedays/TikTok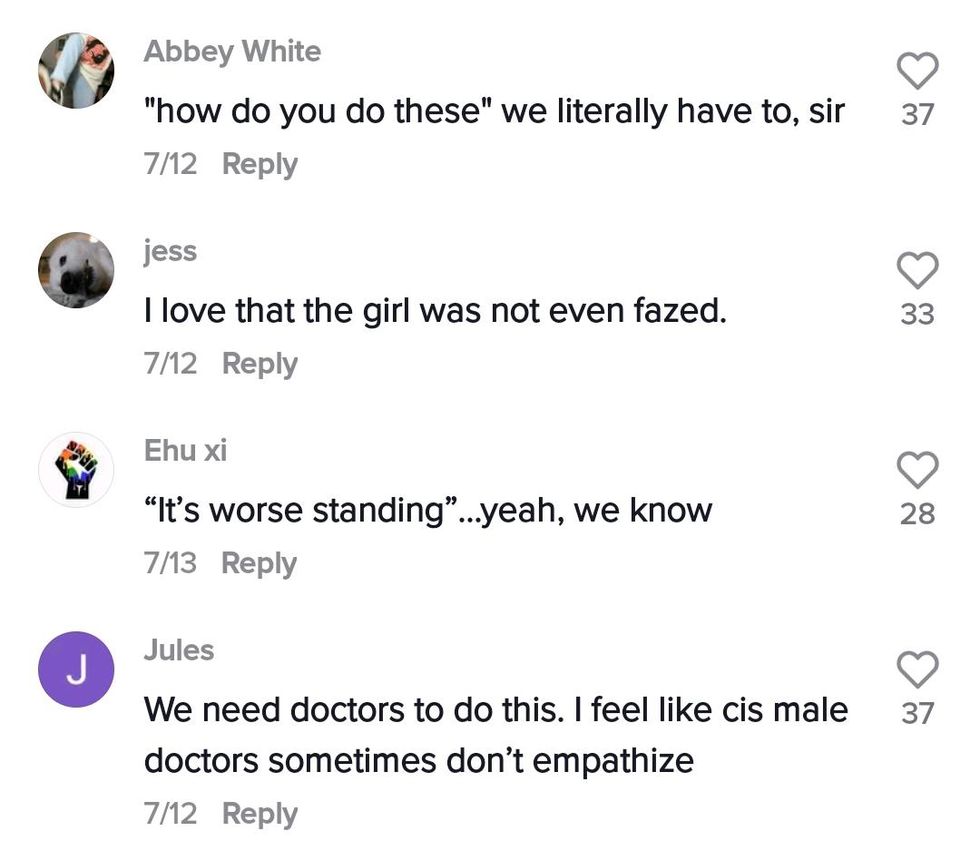 @getsomedays/TikTok
@getsomedays/TikTok
@getsomedays/TikTok
Is this something you'd try with the people in your life? Do you think it would help in a broader sense if more people knew what menstrual pain was like?
What are your thoughts on these sorts of demonstrations?