Tag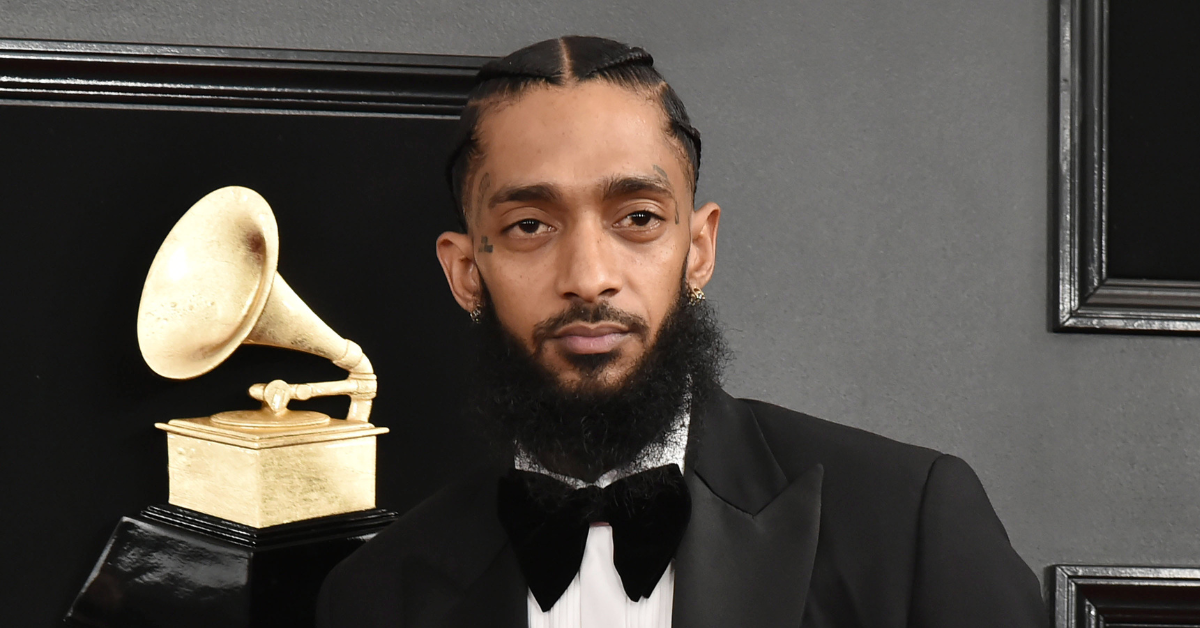 David Crotty/Patrick McMullan via Getty Images
Fans of Family Guy denounced the popular animated series for a resurfaced joke from an old episode that didn't age well.

The popular adult animated series known for its irreverent humor and envelope-pushing brand of comedy was called out for poking fun at late rapper Nipsy Hussle in an episode that originally aired in April 2021.
Hussle rose to prominence in the West Coast Hip Hop scene during the mid-2000s and gained popularity through his mixtapes, including his Bullets Ain't Got No Name series, The Marathon, The Marathon Continues and Crenshaw.
On March 31, 2019, he was fatally shot outside a store in South Central Los Angeles, California. He was 33.
In the Family Guy episode titled "Young Parent Trap," the Griffin family teens Chris and Meg invited their parents Lois and Peter to a music festival reminiscent of disastrous, real-life music events like Woodstock 99 and Fyre Festival.
Chris informed the parents that "Quachella"–a riff on Coachella–would feature:
"holograms of Tupac and also Nipsey Hussle, who I'd never heard of and then was told to care immensely about."
The hologram joke was a reference to Tupac's hologram that was featured in Dr. Dre's headlining set at Coachella in 2012.
The one-liner also was also a dig at Hussle's low-key status as an artist who didn't reach mainstream success in the industry despite being nominated for Best Rap Album at the 61st Grammy Awards in 2019 for his critically-acclaimed debut studio album Victory Lap before his murder.
However, many social media users–especially those in the Black community–felt the Family Guy writers were being disrespectful to the late artist's legacy.
\u201c@lowkeykai_ Yeah that\u2019s wild to even speak on. Seth a loser for this\u201d

— J2 \ud83e\udd88 (@J2 \ud83e\udd88) 1674579034
The loss of Hussle from his murder sent shockwaves throughout the nation.
It prompted high-profile figures like Los Angeles Mayor Eric Garcetti and former Democratic President Barack Obama to offer their condolences.
Viewers of the Family Guy episode felt the impact of Hussle's loss and his life legacy were lost on the show's creators, minimizing the rapper's contribution to the entertainment industry.
\u201c@lowkeykai_ White people show making fun of a really tragic event like that feels kinda wrong, idk, feels like mockery, don't forget these people made Cleveland and had him voiced by mike henry\u201d

— J2 \ud83e\udd88 (@J2 \ud83e\udd88) 1674579034
\u201cNot y\u2019all being FAKE outraged about a Nipsey Hussle joke on Family Guy when Ike Turner (portrayed by Lawrence Fishburne) is still a meme y\u2019all find funny, y\u2019all was cool with the Whitney Houston remark made the other week and a bunch of other jokes about well known legends. FOH.\u201d

— Jasmine Noelle (@Jasmine Noelle) 1674625073
\u201c@lowkeykai_ White Boston show runners never heard about Nipsey, shocker\u201d

— J2 \ud83e\udd88 (@J2 \ud83e\udd88) 1674579034
\u201c@lowkeykai_ I don\u2019t care if he made a valid point. They should\u2019ve kept this one in the drafts tbh. Play with Elvis, Kurt cobain and John Lennon\u201d

— J2 \ud83e\udd88 (@J2 \ud83e\udd88) 1674579034
Hussle's death also resonated with young gang leaders in LA enough for hundreds of gangs to inspire a cease-fire.
Members agreed to stay away from each other's territories and to stop shooting at people as part of the peacemaking deal.
He is still being remembered.
At the 62nd Grammy Awards in 2020, Hussle was posthumously awarded Grammy Awards for the songs "Racks in the Middle" and "Higher" in the Best Rap Performance and Best Rap/Sung Performance categories respectively.

Fellow music artists DJ Khaled, Kirk Franklin, John Legend, Meek Mill, Roddy Ricch, and YG all paid tribute in honor of Hussle's legacy at the awards show.
On August 15, 2022–on what would have been Hussle's 37th birthday–he was honored with a star in the recording category on the Hollywood Walk of Fame in front of Amoeba Music store.