nick jonas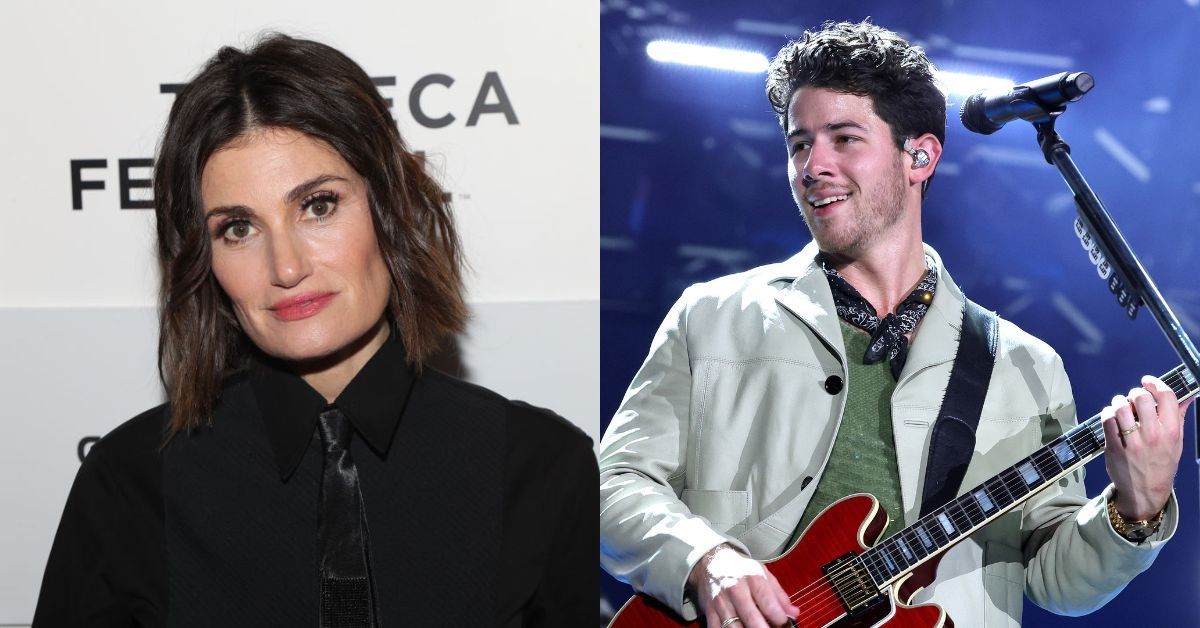 Manny Carabel/WireImage/GettyImages, Kevin Mazur/Getty Images for Live Nation
Broadway veteran Idina Menzel offered encouraging words to pop star Nick Jonas after he fell during a concert into an opening on the stage floor—a hole that either wasn't supposed to be there or that Jonas forgot about.
And her fans knew exactly what she meant by the accompanying hashtag in her post.

Jonas is currently on tour as part of a trio with his brothers, Kevin and Joe, in the heavily anticipated Jonas Brothers World Tour, which covers music from their five-album discography.
On Wednesday night's show in Boston, Jonas stumbled backward into a hole mid-song while holding a handheld mic.
Fortunately for him, the hole on stage was not that deep.
Jonas landed sitting in an upright position, quickly assessed the situation, and was immediately able to get back up and resume his performance like the pro that he is.
The moment was caught on video, which you can see here.
The clip went viral and inspired memes and jokes on social media.
The clip also got the attention of Wicked star Idina Menzel.

In response, Menzel shared the footage of Jonas on X (formerly Twitter) and told the musician to:
"Hang in there."
Menzel tagged Jonas in the post, and her caption was followed by the hashtag #iykyk—"if you know you know"—as a nod to those who might remember her similar experience.
In the Broadway musical Wicked, Menzel originated and starred in the leading role of the misunderstood character Elphaba, which earned her a Tony for her iconic performance.
She also experienced a nasty fall live on stage.
The incident occurred in the melting scene during her penultimate performance on January 8, 2005, which prevented her from performing her final show on January 9 after having been in the show since its opening in 2003.

Unlike Jonas, who seemed to be okay after falling, Menzel sustained an injury that resulted in her being taken to the hospital, still dressed in her character's black corset and green makeup.
She fell five feet through the stage floor when a trap door opened at the wrong time, leaving her with a cracked rib.
You can watch her recount the incident to James Corden on his show in the clip below.
Idina Menzel Broke a Rib On Her Final Weekend In 'Wicked'youtu.be
Fans of Menzel remembered all too well her final bow from Wicked.
Although Menzel was unable to perform her last show in Wicked, she did make a special appearance that day in a red tracksuit and performed her last song, which was followed by a five-minute standing ovation.
The "Queen of Broadway" made her stage debut in 1996 as the original Maureen Johnson in the rock musical Rent, for which she nabbed a Tony Award nomination for Best Featured Actress in a Musical.
She won the Tony for Best Actress in a Musical for Wicked.

The affable stage star also found success in Hollywood, with appearances in the musical TV series Glee, and in Disney films like Enchanted, and most notably for voicing Elsa in the animated Frozen franchise.
She became a crossover success as the first Tony Award-winning actor to earn a top-10 song on the Billboard Hot 100 for "Let It Go," the power pop anthem from the first Frozen film, which peaked at number 5 on the chart.

Keep reading...Show less