Tag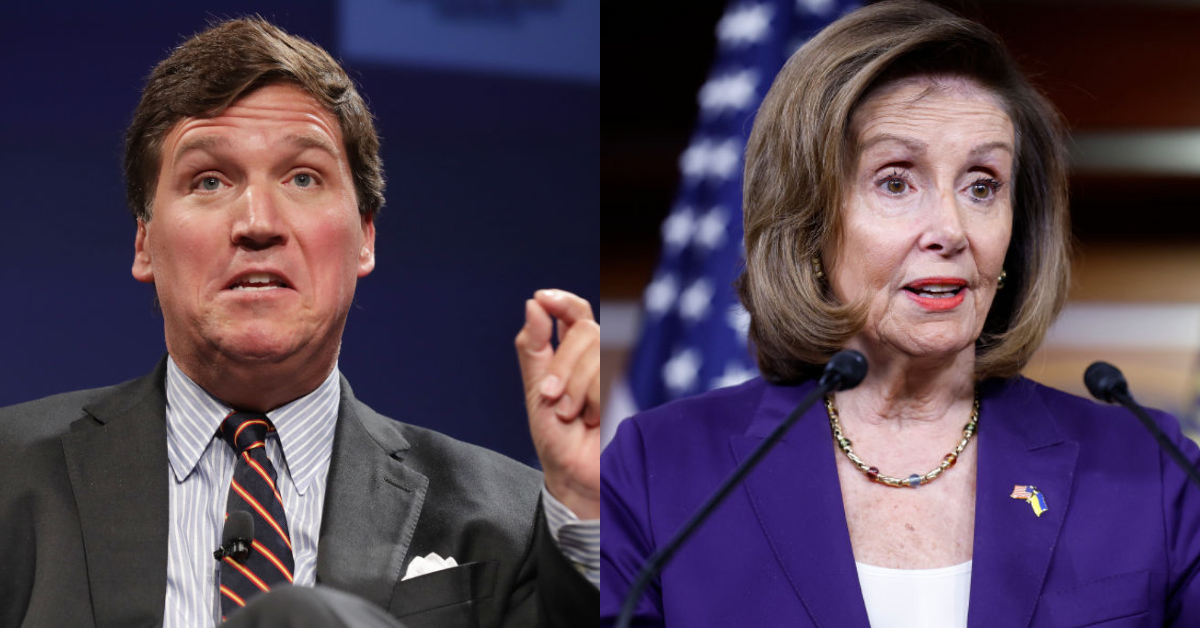 Chip Somodevilla/Getty Images; Anna Moneymaker/Getty Images
A Fox News producer has filed a lawsuit alleging rampant sexism and misogyny on the set of Tucker Carlson Tonight.
Abby Grossberg claims that she was greeted on her first day at work with blown-up photographs of former House Speaker Nancy Pelosi in a "plunging bathing suit revealing her cleavage," intended as a joke by host Tucker Carlson's team.
According to the lawsuit, the images of Pelosi were plastered all over the office, including Grossberg's computer, and the "joke" was that the Speaker of the House looked terrible in a bathing suit. But that was just the tip of the iceberg, as Grossberg alleges that the show's male staff exhibited pervasive misogyny and objectification of women.
In the lawsuit, Grossberg details instances of hostile and sexist behavior toward host Maria Bartiromo, who executives reportedly called "crazy," "menopausal," and "hysterical." Grossberg also claims that a producer for Bartiromo called her "not as credible as male anchors" at the network.
And it wasn't just Bartiromo who experienced sexism at Fox News.
Grossberg alleges that women with tattoos, nose piercings, or rainbow-colored hair were deemed "disgusting" by one producer.
The lawsuit states that a room designated for Fox News employees to pump breast milk was referred to as a "waste of space" and that the producer suggested it should be replaced with a "room of tanning beds for the guys to tan their testicles."
The lawsuit also claims that Grossberg was "isolated, overworked, undervalued, denied opportunities for promotion, and generally treated significantly worse than her male counterparts, even when those men were less qualified than her." She alleges that there was "overt sexism" among employees of Carlson's show and that they discussed the "f**kability" of female politicians.
Many were unsurprised by the allegations and criticized the network for its culture of sexism and misogyny.

In addition to this, Grossberg's suit also alleges that lawyers for Fox News forced her to provide false testimony during Dominion Voting Systems' $1.6 billion defamation case against the news network.

However, Fox News responded by filing a lawsuit against Grossberg, asking a judge to prevent her from filing her suit and claiming that it would divulge privileged information. At present, the judge has yet to make a ruling.
Fox News has stated that Grossberg's allegations regarding the Dominion case are unfounded even though its hosts—particularly Carlson—floated claims about the integrity of the 2020 election that they knew were false.