hallmark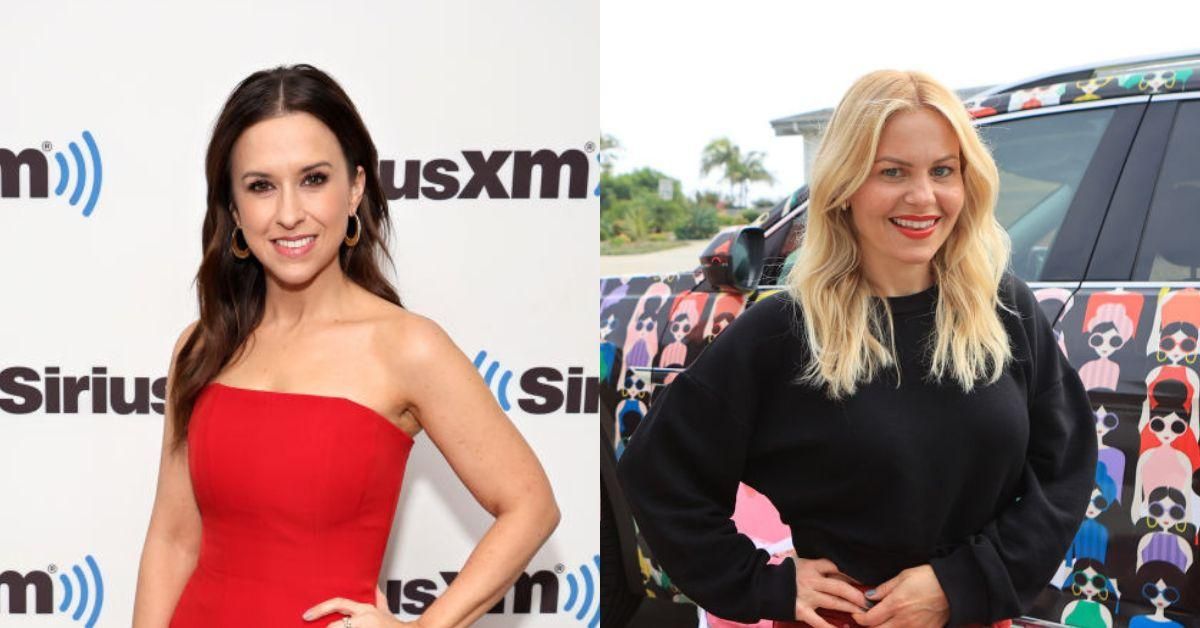 Cindy Ord/Getty Images; Rachpoot/MEGA/GC Images/GettyImages
Former Party of Five actress Lacey Chabert said she's found a home on the Hallmark channel and she is not planning on leaving the network anytime soon.
Lacey, who starred in over 35 projects for Hallmark, said in an interview with Vulture:
"I'm able to be more of who I am here than possibly anywhere else I've worked."
Her comment came as actress Candace Cameron Bure–a conservative Evangelical Christian–fled for the Great American Family (GAF) channel–citing a "change in leadership" that was not to her liking.
She joined GAF CEO Bill Abbott–the former CEO of Crown Media Family Networks, which was the parent company of Hallmark.
In addition to starring in her choice of movies, Cameron Bure became GAF's chief creative officer.
With 29 Hallmark films under her belt, Cameron Bure said she chose to leave the channel after it became "a completely different network than when I started."
Her criticism likely referred to Hallmark's push for stories with LGBTQ+ characters, like in this holiday season's The Holiday Sitter–the network's first movie featuring a same-sex couple as the primary focus.

In a Wall Street Journal interview, the Full House alum claimed that GAF will not feature same-sex couples in their movies but instead focus on "traditional marriage."
She said of her decision to change networks:

"My heart wants to tell stories that have more meaning and purpose and depth behind them
"I knew that the people behind Great American Family were Christians that love the Lord and wanted to promote faith programming and good family entertainment."
Chabert, on the other hand, commended Hallmark for its positive new direction.
"Any shift I've felt has been embracing our creative ideas."
"And it's my responsibility to the audience who continue to tune into my movies that I give the best I have to offer."
She continued:

"That's always my mission. I'll never abandon what Hallmark means for me, which is that everything is centered around the heart."
"I don't think there are any plans for that to change anytime soon."
Other actors that have left Hallmark and signed on to other projects with GAF include Danica McKellar, Jen Lilley, Jessica Lowndes, and Trevor Donovan.

When asked about the exodus of actors joining Hallmark's new competitor, Chabert offered:
"You know what, I wish everybody the best."
"I really can't comment on it further other than I care about everybody involved."
Although the Mean Girls actor didn't specify whether or not GAF tried to lure her over to their network, Chabert maintained:

"I'm with Hallmark, and I work for them. I'm so sorry, but I'll just have to leave it at that,
Actors who are staying put include holly Robinson Peete, Andrew Walker, Brennan Elliott, Heather Hemmens, Taylor Cole, Aimeé Teegarden, Luke Macfarlane, and another Mean Girls alum, Jonathan Bennet–who was the star in Hallmark's first Christmas film in 2020 featuring an LGBTQ+ storyline, The Christmas House.
Cameron Bure faced backlash for her comment about GAF's plan to "keep traditional marriage at the core" by not featuring same-sex couples in their movies.

When she denounced Hallmark for its shift in programming that didn't align with her conservative and religious beliefs, the network commented:
"We want all viewers to see themselves in our programming and everyone is welcome."
Keep reading...Show less