eharmony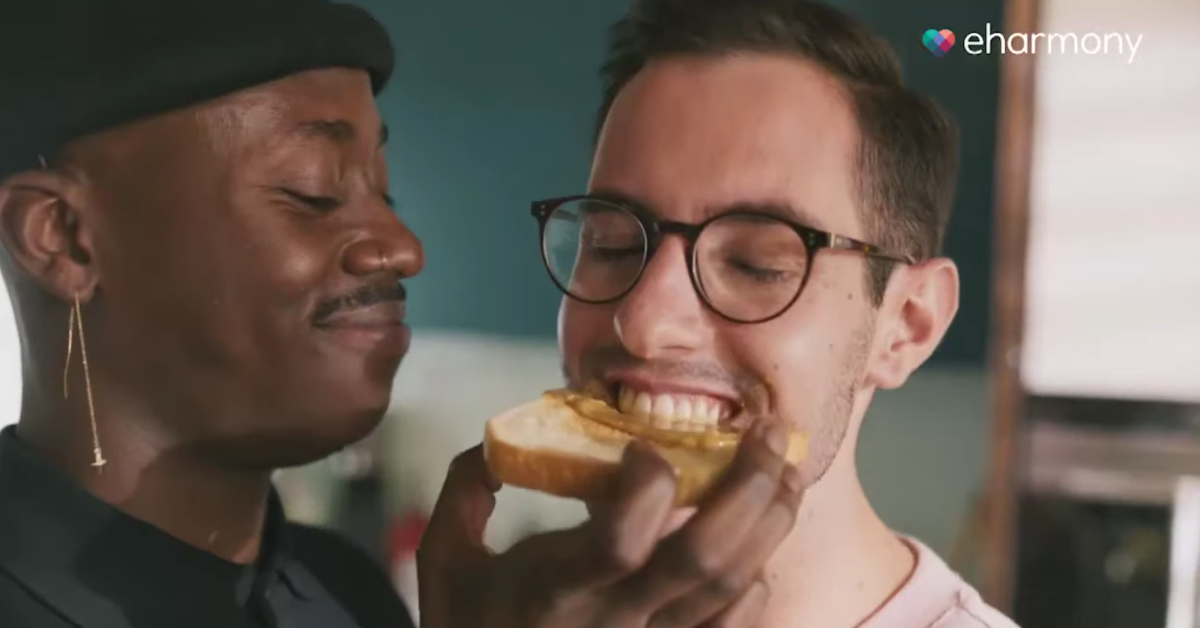 Alfred Verhoeven/YouTube
An Australian dating site ad has caught the attention of the United States' Evangelical Christian LGBTQ+ hate group, One Million Moms.
The advertisement is for eharmony Australia's "Here for Real Love" campaign.
You can see the offending ad below:
It depicts an interracial, same sex couple, sharing a piece of toast topped with peanut butter, and then embracing.

Apparently this is too salacious for the misnomered organization One Million Moms.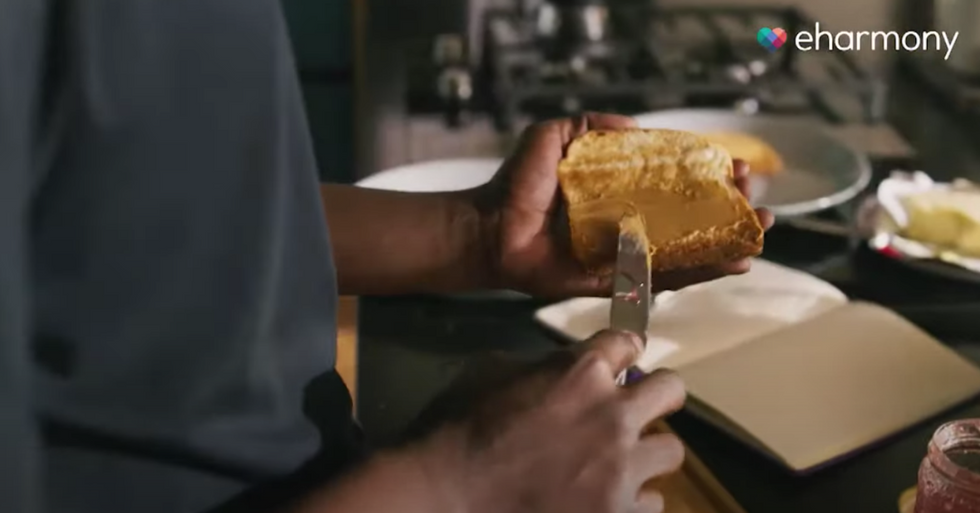 Alfred Verhoeven/YouTube
Really titillating stuff.

Monica Cole, the defacto leader of One Million Moms, sent an e-mail blast out to group members addressing the scandalous commercial. LGBTQ Nation reported on its contents.

Cole started by accusing the dating site of being on the wrong side of a "culture war."
"It's the site's attempt to normalize and glorify the LGBTQ lifestyle by featuring a homosexual couple hugging, feeding each other, and wiping the other one's mouth."
"By promoting same sex relationships, eharmony wants to make it clear where they stand on this controversial topic instead of remaining neutral in the culture war."
She then alluded to the oft-mentioned "hidden agenda" of anti-LGBTQ+ rhetoric.
"There is concern about the way this advertisement is pushing the LGBTQ agenda, but an even greater concern is that the commercial is airing when children are likely watching television."
Cole went on to describe same-sex love as "unnatural" and "forbidden."
"This eharmony ad brainwashes children and adults by desensitizing them and convincing them that homosexuality is natural, when in reality it is an unnatural love that is forbidden by Scripture just like love rooted in adultery is forbidden."
And just in case her point wasn't clear, she ends her message with:

"Homosexuality is immoral."
The ad was shared on YouTube by user Alfred Verhoeven.
They had no patience for homophobia in the comments.
Cody Ross/YouTube
Alfred Verhoeven/YouTube
Many of the commenters were pleased to see eharmony AU's inclusive ad.
Derek Williams/YouTube
Purple Blaze/YouTube
One person cheekily argued the most disturbing part of the ad was the preparation of the toast.


ThinWhiteAxe/YouTube
LGBTQ Nation shared the news on Twitter.

People had a lot to say about One Million Moms.
OMG, hugging another man. Worse than an asteroid hitting the Earth!

— runnerman51 (@runnerman51) 1643460226
Christians who act like that are not real Christians. True Christians are LGBTQ+ allies. Being LGBTQ+ isn't a choice or a sin.

— Ivy \ud83c\udff3\ufe0f\u200d\ud83c\udf08\ud83e\udde3\ud83c\udff3\ufe0f\u200d\u26a7\ufe0f (@Ivy \ud83c\udff3\ufe0f\u200d\ud83c\udf08\ud83e\udde3\ud83c\udff3\ufe0f\u200d\u26a7\ufe0f) 1643484322
They nail their colours firmly to the mast yet want other to remain neutral?\n\nOkay\u2026

— The Essential Lion Man \ud83e\udd81\ud83c\udf7a (@The Essential Lion Man \ud83e\udd81\ud83c\udf7a) 1643391485
One Million Moms often attacks brands and shows for creating content with LGBTQ+ representation.
It's only January.
We cannot wait to see what mundane content outrages them this year.
Keep reading...Show less