Tag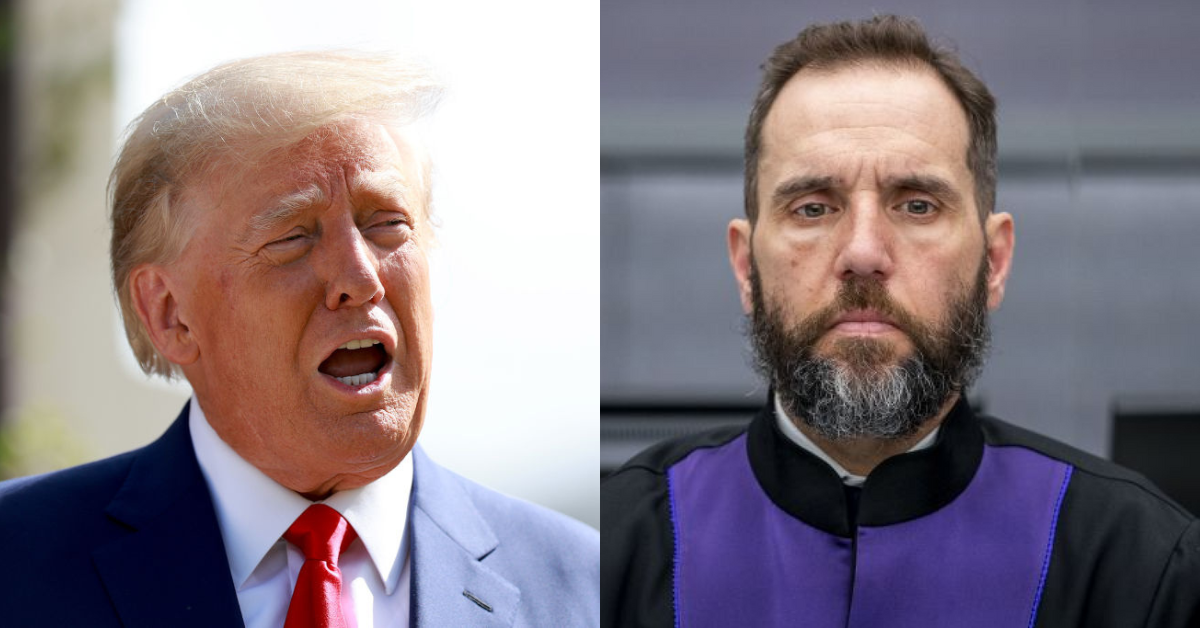 Joe Raedle/Getty Images; Jack Lampen/Pool/AFP via Getty Images
Former Republican President Donald Trump accused Jack Smith—the prosecutor and independent special counsel responsible for overseeing Justice Department (DOJ) investigations into Trump's actions during the Capitol riot as well as his mishandling of classified documents—of being a "terrorist."
Trump made the claim during an appearance on the radio show of conservative commentator Mark Levin wherein he erroneously suggested Smith is "best friends" with Andrew Weismann, the attorney who was appointed to a management role on the 2017 special counsel team investigating Trump's obstruction of an inquiry into Russian election interference headed by Robert Mueller.
Rieterating a comment he made earlier this week referring to Smith as a "Trump hater," Trump said Smith's investigations into his alleged criminality are "disgraceful" and called on him to resign.
You can hear what Trump said in the audio below.
Trump said:
"This prosecutor should resign. He's got a conflict. My prosecutor... his name is Jack Smith... I wonder what his name was before Smith."
"I don't know, maybe it was Smith, but it seems like such a nice name. Jack Smith. Uh, he is a terrorist. He is a Trump hater."
"His best friends are [Andrew] Weismann and all of these characters, uh... [United States Deputy Attorney General] Lisa Monaco at the Justice Department, one of the top officials. This is... this is a disgraceful situation. He should resign."
"His wife [documentary filmmaker Katy Chevigny] hates Trump, probably even beyond him, and his wife... and his wife has a sister who openly hates, like a level you can't even believe."
"And this is the man who is going to give me fair."
Trump's remarks came shortly after he labeled Smith a "Trump Hater" and "political hit man" who shouldn't be "allowed" to investigate him because of his purportedly biased family members. It's a claim Trump likely made because Smith's wife, a documentary filmmaker, worked on Becoming, a documentary about former First Lady Michelle Obama.
Many condemned Trump for once again attempting to discredit investigations into his conduct both during and after his tenure in the White House.
More than a few pointed out his actions might only invite further scrutiny from Smith.
Trump has repeatedly impugned the DOJ as well as the Federal Bureau of Investigation (FBI) in recent weeks, particularly as the House Select Committee tasked with investigating the Capitol riot prepared to release its final report which ultimately held Trump responsible for the attack to subvert the 2020 election results and backed criminal charges against him.

Last month, Trump was accused of gunning for a repeat of the Capitol riot after he issued an ominous call to action to his supporters, declaring "thugs" from the DOJ and FBI "must be dealt with."
Writing on his social media platform, the conservative playground Truth Social, Trump falsely claimed the FBI was "absolutely" involved in a "coordinated effort to change election results."
He painted an image of a country in crisis, beseiged by the "Crooked FBI," the "so-called Department of 'Justice' and 'Intelligence,'" and "all parts of the Democrat[ic] Party and System," likening their influence to a "Cancer" rotting the country from the inside out.