david hogg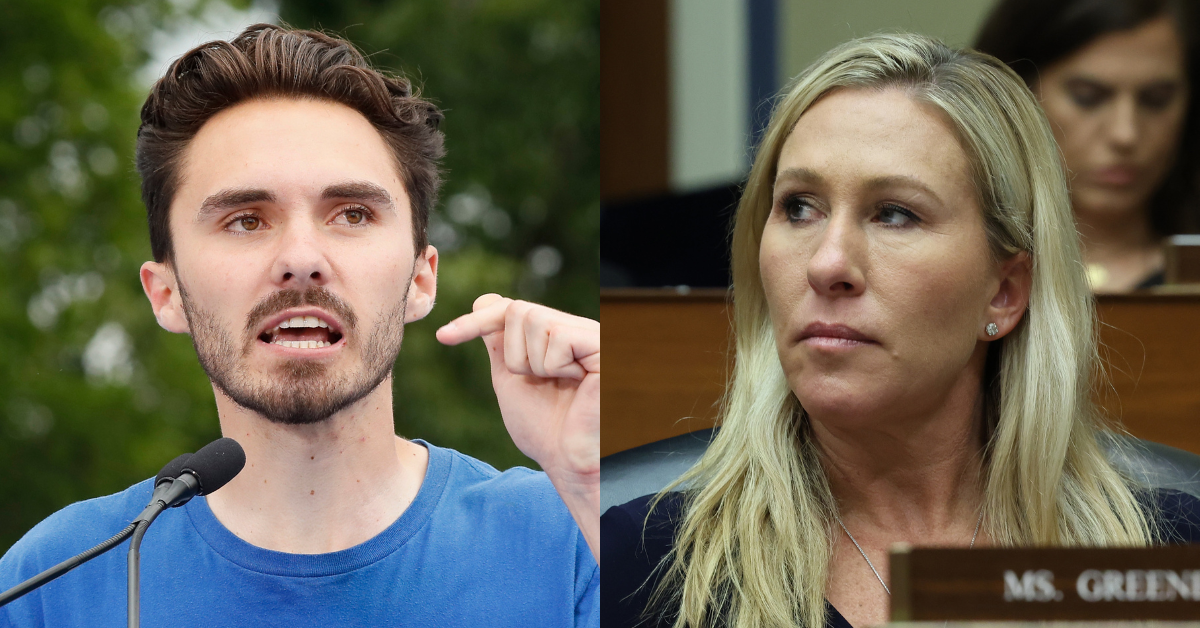 Paul Morigi/Getty Images for March For Our Lives; Kevin Dietsch/Getty Images
Georgia Republican Representative and QAnon espouser Marjorie Taylor Greene tweeted a complaint she was "attacked" after she was confronted in a restaurant.

She claimed a woman and her adult son screamed at her in the restaurant because of her "political views."
Greene tweeted:
"I was attacked in a restaurant tonight by an insane women [sic] and screamed at by her adult son."
"They had no respect for the restaurant or the staff or the other people dining or people like me who simply have different political views."
"They are self righteous, insane, and completely out of control."
Given some of the absolutely unreal things Greene is infamous for believing in and spreading—like QAnon conspiracy theories, her claim space-based lasers were being used to start forest fires to somehow benefit Jewish-owned businesses, and her oft-repeated belief all school shootings are false-flag operations—it is a bit bizarre for her to be calling anyone else "self righteous, insane, and completely out of control."
She wasn't done there, though.
"I was sitting at my table, working with my staff, and never even noticed these people until they turned into demons."
"People used to respect others even if they had different views. But not anymore. Our country is gone."
@mtgreenee/Twitter
Especially rich from someone who was calling for a "national divorce" between blue and red states which would almost certainly lead to another civil war just last week.
And someone who screamed insults during the last two State of the Union adresses.
Twitter users absolutely weren't having it.
Parkland school shooting survivor and gun control activist David Hogg replied as well, pointing out the sheer audacity of Greene's tweet considering the fact she harassed him in public in 2018.

Echoing her own tweet, he commented:
"Man that sucks."
"I was attacked and screamed at in 2018 by an insane woman named Marjorie Taylor Greene."
"She had no respect for the privacy of me as an 18 year old school shooting survivor or my staff."
"She was self righteous, insane, and completely out of control"
Hogg was far from the only one to point out Greene followed and harassed him in 2018 while videoing herself doing it.
She also yelled at Representative Alexandria Ocasio-Cortez's staff through the mail slot in her office door in 2019—and livestreamed the whole thing...
...and screamed "liar" at President Biden throughout this year's State of the Union Address.
Hogg and others have been calling for Greene's removal from Congress for years because of this sort of behavior.
In addition to following people and yelling at them through mail slots, Greene has amped up her intimidation tactics in recent years. In 2020, she posted an image of herself holding a rifle next to photos of members of "The Squad"—Democratic Representatives Alexandria Ocasio-Cortez, Ilhan Omar, Ayanna Pressley and Rashida Tlaib with the caption "Squad's Worst Nightmare."
Will Greene ever face consequences for her "self righteous, insane, and completely out of control" actions?
With her new best buddy Speaker of the House Kevin McCarthy desperate to remain popular with the chaotic elements of his party, no one is holding their breath.
Keep reading...Show less