Tag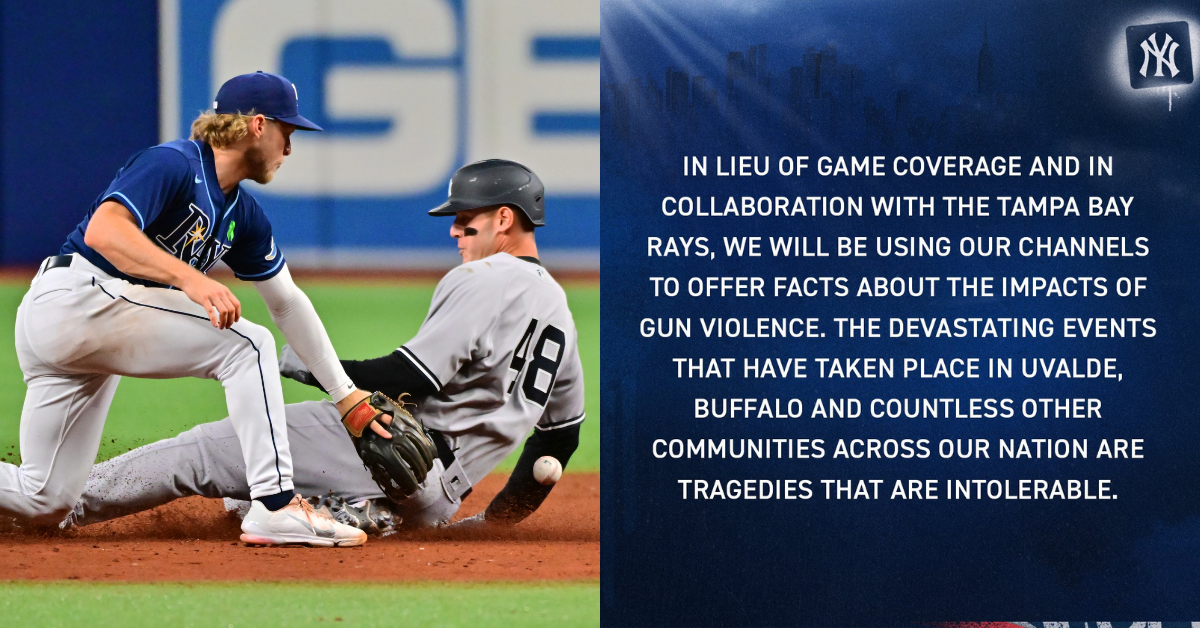 Julio Aguilar/Getty Images; @Yankees/Twitter
Both the Tampa Bay Rays and the New York Yankees, who were facing each other in a game last night, decided to devote their Twitter feeds to sharing facts about gun violence rather than their usual game updates.
The decision by the teams was motivated by two recent mass shootings—one in Buffalo, New York where a White nationalism motivated domestic terrorist opened fire in a grocery store and killed 10 people, and one at Robb Elementary School in Uvalde, Texas where a shooter entered the school and killed 19 children and 2 teachers.
Both teams shared their intentions on Twitter before the game.
The Yankees kept it short and to the point, tweeting:
"In lieu of game coverage and in collaboration with the Tampa Bay Rays, we will be using our channels to offer facts about the impacts of gun violence. The devastating events that have taken place in Uvalde, Buffalo, and countless other communities across our nation are tragedies that are intolerable."
The Rays went a little more in-depth with their tweet:
"We all deserve to be safe — in schools, grocery stores, places of worship, our neighborhoods, houses and America. The most recent mass shootings in Buffalo and Uvalde have shaken us to the core. The Tampa Bay Rays are mourning these heartbreaking tragedies that took the lives of innocent children and adults."
"This cannot become normal. We cannot become numb. We cannot look the other way. We all know, if nothing changes, nothing changes."
"The Rays organization stands committed to actionable change and has made a $50,000 commitment to Everytown for Gun Safety's Support Fund. Everytown is the largest gun violence prevention organization in America. Rather than our usual game coverage on social media tonight, we've partnered with Everytown to amplify facts about gun violence in America."
"We understand that no single organization can solve this crisis alone, but working together, we can make am impact. We invite you to join us and do what you can, when you can, where you can — because our lives depend on it."
The teams shared many relevant facts throughout the game, which the Yankees won 7-2.

Twitter users, especially fans of the teams, appreciated what the teams were doing.

Several people who were lifelong fans of other teams said their loyalties were expanding because of the teams' actions.
Everytown, the organization the Rays donated to, is a national non-profit that advocates for an end to gun violence through grassroots organizing, advocacy, research, awareness campaigns and more.