Tag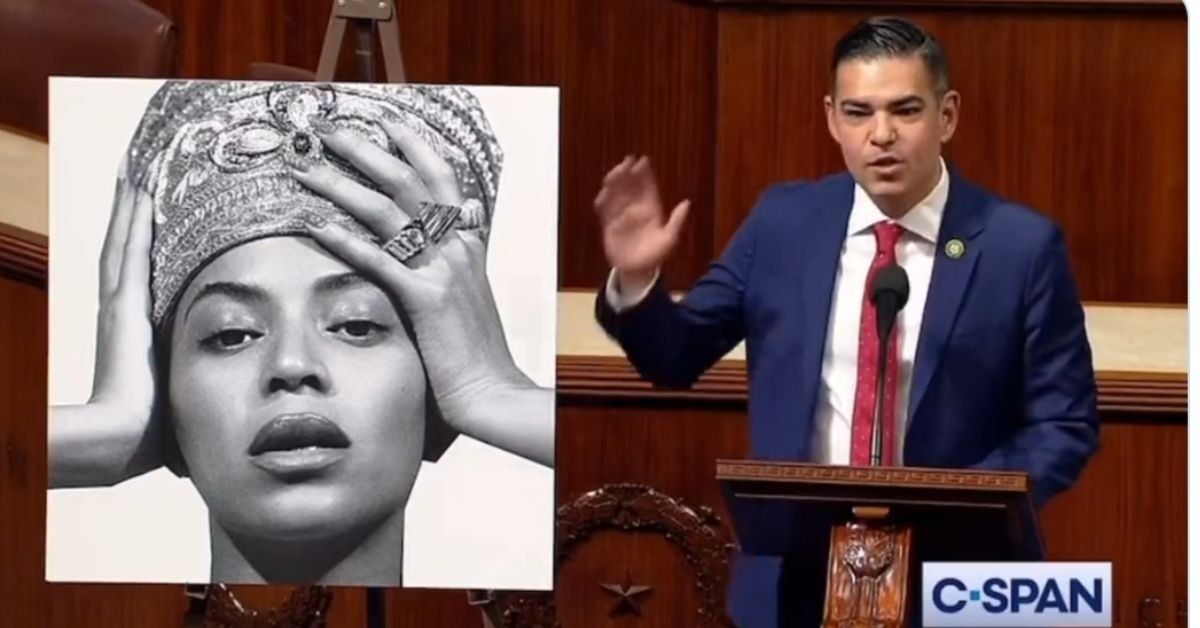 @RepRobertGarcia/Twitter
Out Democratic Congressman Robert Garcia declared his love for R&B music icon Beyoncé like XO when he took to the House floor and paid tribute to the music icon.
The Representative for California's 42nd congressional district gave an impassioned speech honoring Queen Bey to mark the end of Black History Month—February—and the start of Women's History Month—March.
He displayed a giant placard of Bey as she appeared on the black & white cover of her fifth live album, Homecoming, which was recorded during her historic 2018 Coachella performance.

Garcia said he wanted to recognize an individual who epitomized both important annual celebrations.
"She's an icon, she's a legend, and she's now and forever the moment," he said, adding:
"I want to celebrate none other than who I believe is the undisputed queen of pop and R&B, Beyoncé Knowles Carter."
He praised her recent achievement winning her 32nd Grammy award–the most by any artist in music history.
He noted Bey was "so much more than a performer and a singer."
"She's a creator and an artist."
"When the radio said to speed it up, she went slower," he said, referring to Bey's 2013 electro-R&B song "Partition."
Known as one of the world's best-selling recording artists–having sold over 100 million records globally–Bey made an indelible impression on the future Congressman back when he saw her group Destiny's Child perform live for the first time.
"It was life-changing for me and the way I experienced music," he recalled. "I became an instant fan then, and I've been a huge fan ever since."
Garcia's flattering speech was elevated by the powerful image of Bey looking on as she secures her crown.

He continued:

"Beyoncé's also a role model for millions across the country."
"She stood up for voting rights, for feminism, for women and girls, for my community—the LGBTQ+ community."
"For my generation and so many others, she simply is the greatest of all time. Her story is history."
Before yielding back the floor, he congratulated the singer for her career achievements and:
"...for winning the most Grammys ever in the history of our country."
Gesturing towards the music idol, he said, "You are 'irreplaceable'."
The description was a reference to the artist's 2006 song "Irreplaceable" from her second studio album, B'day.

Here is the video Representative Garcia posted of his speech.
Twitter was impressed.
The Beyhive was buzzing.

The Hill noted it's not uncommon for members of Congress to take to the House floor and pay one-minute-long tributes to honor public figures, constituents or policies such as when Illinois Democratic Representative Mike Quigley paid homage to The Simpsons in honor of the show's 20th anniversary in 2010.
In 2017, New York Democratic Representative Hakeem Jeffries honored Notorious B.I.G. on the 20th anniversary of the rapper's death by reciting the lyrics to his 1994 song "Juicy."

Garcia became the youngest and first openly LGBTQ+ person to be elected as the 28th Mayor of Long Beach, California on July 15, 2014.

In January 2023, he became the first Peruvian-American to be elected to Congress and is one of the first two fully Latino LGBTQ+ members of Congress along with New York Republican Representative George Santos.
Garcia made headlines when he was sworn into office using an original Superman #1 comic from 1939, in addition to using the US Constitution, a copy of his US citizenship certificate and a photograph of his parents–both of whom died in 2020 from COVID-19.