Tag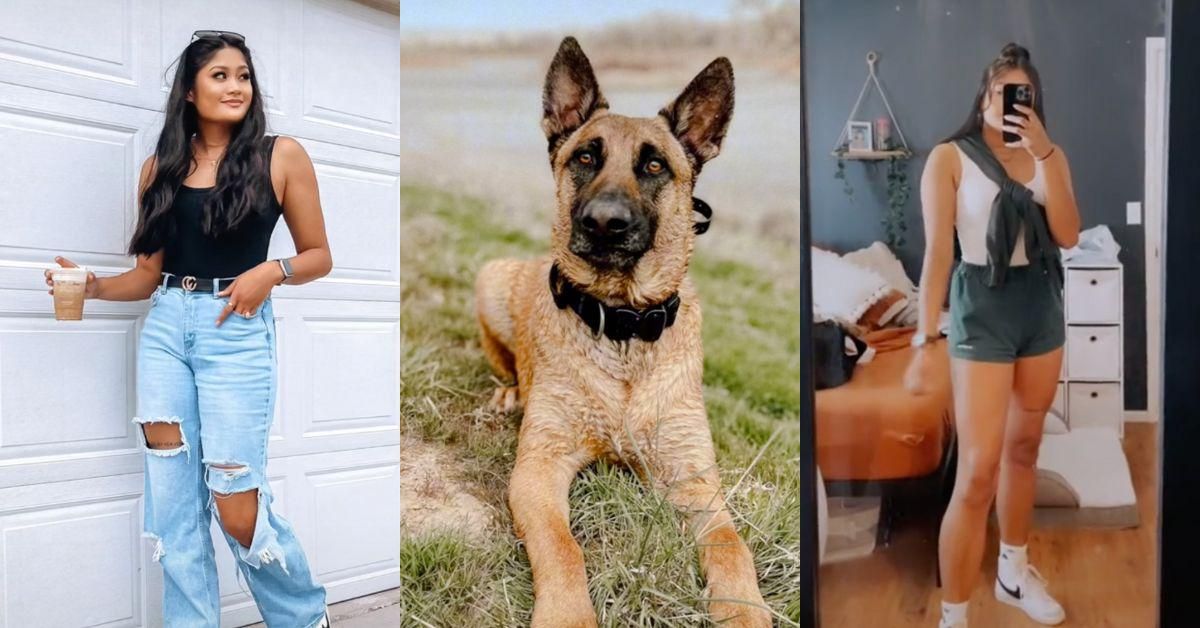 @mirasgall/TikTok
*WARNING: the following contains descriptions of sexual assault and animal abuse
***
A significant other playfully showing more affection to a pet than to its pet-owner can cause envy, but it is still perceived as being cute.
However, the manner in which one particular ex-boyfriend paid more attention to a dog has appalled the internet.
TikToker @mirasgall claimed she walked in on her now ex-boyfriend "cheating" on her with her dog.
Mira posted a TkTok video on July 1 captioned with, "I wish I were kidding."
The clip was synced to an audio of Nicki Minaj's verse on "MotorSport" that says, "watch your man, you should watch your mouth."
She showed a picture of herself posing for a selfie in front of a mirror with a text overlay that read, "show you, then who he cheated with."
The picture that followed was of her dog, suggesting the ex had sexually assaulted the animal.
People were hoping their assumption based on what was implied in the clip was a joke.

@mirasgall/TikTok

@mirasgall/TikTok

@mirasgall/TikTok
When a commenter needed more clarification and asked exactly what the ex was doing to the dog, Mira said he was "driving stick"–meaning the ex was giving the dog a hand job.


@mirasgall/TikTok
TikTokers were mortified.

@mirasgall/TikTok

@mirasgall/TikTok

@mirasgall/TikTok

@mirasgall/TikTok
After numerous requests for more details about the incident of animal abuse, Mira posted a follow-up clip in which she warned her storytime contained a trigger warning.

@mirasgall

Reply to @adelheid1995 if y'all have any more questions or want more information, feel to ask! i'm sorry, i am not great at storytimes 🥴 #cheater #storytime #dog
She prefaced things by clarifying the man whom she was referring to was not her current boyfriend and also confirmed "Bam Bam" was in fact her dog and he was safe in her custody.

When TikTokers asked how she found out about the incident, she said she walked in on something "no one should have to walk into."
Mira emphasized while the ex did not have penetrative sex with the dog, she saw the ex boyfriend fondling her pet's genitals.
The censored text overlay further detailed:
"He was j3rking him off. He would also pretend to have seggs with him before this encounter."
"I shut it down but never thought anything more of it because you know, who would?"
She said she was "surprised, shocked, disgusted" as anyone would be. The ex claimed it was "just a joke" and "it was funny."
Another question many TikTokers had was "did she call the cops?" Mira said she didn't contact authorities because of the ex's history of violent abuse towards her.
She was worried about what he might do to her.

@mirasgall/TikTok

@mirasgall/TikTok
One user suggested those who were shaming her for not reporting the incident have never been a victim of domestic violence themselves.


@mirasgall/TikTok
Mira additionally said of her ex:
"Also, he was the police. But little did I know, our entire relationship he was hiding his identity from me and he wasn't the police."
At the end of the clip, Mira admitted she should have reported the incident but said she was "too scared" at the time.

In 2019, The Preventing Animal Cruelty and Torture (PACT) Act, a federal anti-cruelty bill, officially became law.
The passage of the animal protection measure was hailed as "a defining moment for establishing federal protections for animals."
The US Humane Society said repeated studies have shown there is a close link between extreme cruelty towards animals and violence towards people.
They added bringing charges against those who engage in animal cruelty can potentially prevent individuals from acting on their impulses to inflict violence on people.