Tag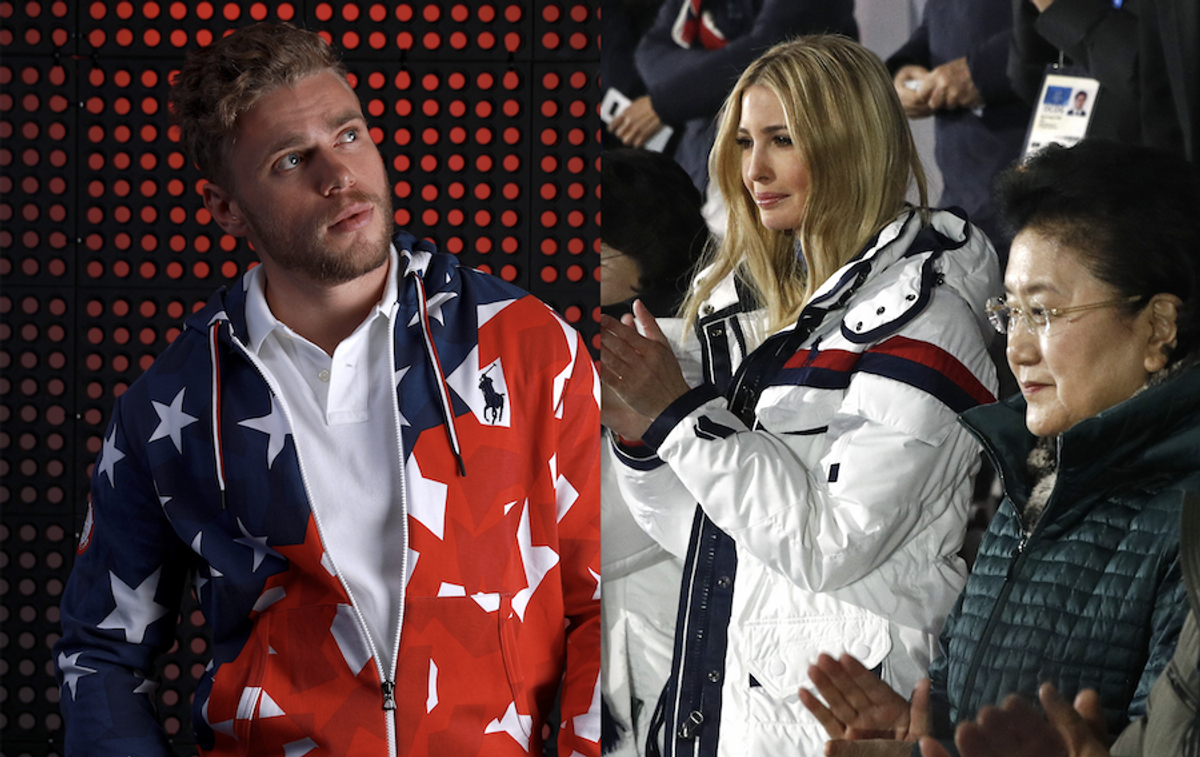 (Tom Pennington/Getty Images, Patrick Semansky - Pool /Getty Images)
The excitement of the 2018 Winter Olympic games culminated with the lively pageantry of the closing ceremonies in Pyeonchang that was attended by dignitaries, including South Korean President Moon Jae-in and the daughter of the U.S. president Ivanka Trump.
Ivanka's attending the reverential curtain call for the Winter Olympics didn't sit well with the two-time U.S. Olympian, Gus Kenworthy.
"So proud of all these people!" Kenworthy tweeted early Saturday. But the beaming tone of his tweet was short-lived with his confusion over Ivanka's presence. "Everybody here has worked so hard to make it to the Olympics and have the opportunity to walk in the closing ceremony! Well... Everyone except Ivanka. Honestly, tf is she doing here??"
So proud of all these people! Everybody here has worked so hard to make it to the Olympics and have the opportunity… https://t.co/DDp9zznNay

— Gus Kenworthy (@Gus Kenworthy) 1519557946.0
Despite Kenworthy's disapproval, Ivanka did have a reason for being there. She was sent by her father to lead the U.S. delegation team during her three-day trip.
She dined with the South Korean President on Friday and met with silver medal-winning bobsledders Elana Meyers Taylor and Lauren Gibbs and mingled with other Olympians including two members from the U.S. ladies team of figure skaters, Bradie Tennell and Karen Chen.
Donald Trump couldn't have been more proud for his daughter to attend the ceremonies.
My daughter, Ivanka, just arrived in South Korea. We cannot have a better, or smarter, person representing our country.

— Donald J. Trump (@Donald J. Trump) 1519391227.0
However, Ivanka was already being widely snubbed on social media before landing in South Korea.
The pushback after the announcement of her attending the festivities included, "Ivanka ..nominated to carry the Russian Flag .At the Closing Ceremony," "Some one has to represent the American mafia. Lock her up while she's over there," and "I just saw where Ivanka is going to South Korea to lead the American Team in he closing ceremony ........The Question is WHY ???? What gives her the right to Lead anyone."
Why the hell is @IvankaTrump leading the #usolympic team at the closing ceremony? How embarrassing. https://t.co/KEwpWaz2Nk

— Lisa Fittko (@Lisa Fittko) 1519355607.0
@lisafittko @IvankaTrump So true. She does not represent all Olympians. Wonder how many children could have something to eat! Ashamed

— Teri Fish (@Teri Fish) 1519583661.0
@lisafittko @IvankaTrump Costing $millions for security, flights, etc. for this bimbo w/no foreign policy experienc… https://t.co/P0NHaaGXSG

— xmiami (@xmiami) 1519507209.0
@IvankaTrump @TeamUSA Ultimate participation award goes to...Ivanka Trump! Daddy is gonna let her pretend to be an… https://t.co/RzjxxWTAXA

— Be Best Witch Hunter! (@Be Best Witch Hunter!) 1519357742.0
After Kenworthy posted his tweet, the British-born American free skier, who represented the U.S. in slopestyle in PyeongChang, received a few theories from his followers about Ivanka's presence at the closing ceremonies.
@guskenworthy Business deals for the Trump brand no doubt. She's neither qualified or cleared to represent the US in an official capacity.

— The Hamage. (@The Hamage.) 1519558298.0
@GrimJacc @guskenworthy https://t.co/UORUJ1msOr

— Wunderkammer (@Wunderkammer) 1519564903.0
@guskenworthy Mishandling most classified information without total security clearance, doing sweatshop business fo… https://t.co/ksT7wwAqk0

— Cortney Miller (@Cortney Miller) 1519560056.0
@law4teta @guskenworthy Correction: I don't want to know ANY of these morally bankrupt, self serving people.… https://t.co/dHnXcBWsYZ

— Cortney Miller (@Cortney Miller) 1519580543.0
The openly gay athlete, who placed 12th during the Olympics, advocated for gay rights and called for the end of dog meat farms during the games.
But he's mostly known for NBC's screen grab of him locking lips with Matt Wilkas at the bottom of the slopes.
A first -- NBC just showed Gus Kenworthy getting a kiss from his boyfriend Matt Wilkas on live TV at the @Olympics.… https://t.co/naJymQYV3t

— Outsports (@Outsports) 1518919960.0
So it wasn't surprising the prominent Olympian had his share of backlash after throwing shade at Ivanka.
@guskenworthy Why is it the ones who preach love have so much hate?

— Katie Kramek (@Katie Kramek) 1519570584.0
@guskenworthy You self important POS. I miss the days when athletes were just athletes and not second rate political activists. ESAD.

— Sal Moanella (@Sal Moanella) 1519567424.0
Kenworthy wasn't the first to make a dig at the Trump family and administration.
When USA Today's Christine Brennan asked Olympic figure skater Adam Rippon what he thought about vice president Mike Pence heading the delegations for the PyeongChang opening ceremonies, he said, "You mean Mike Pence, the same Mike Pence that funded gay conversion therapy? I'm not buying it."
The 28-year-old added that he would skip out on the meet-and-greet between the U.S. delegation and the Olympians prior to the opening ceremony.
If it were before my event, I would absolutely not go out of my way to meet somebody who I felt has gone out of their way to not only show that they aren't a friend of a gay person but that they think that they're sick. I wouldn't go out of my way to meet somebody like that.
Rippon added, "I don't think he has a real concept of reality. To stand by some of the things that Donald Trump has said and for Mike Pence to say he's a devout Christian man is completely contradictory."
H/T - USAtoday, HuffingtonPost, Twitter, IndyStar

Keep reading...Show less