Tag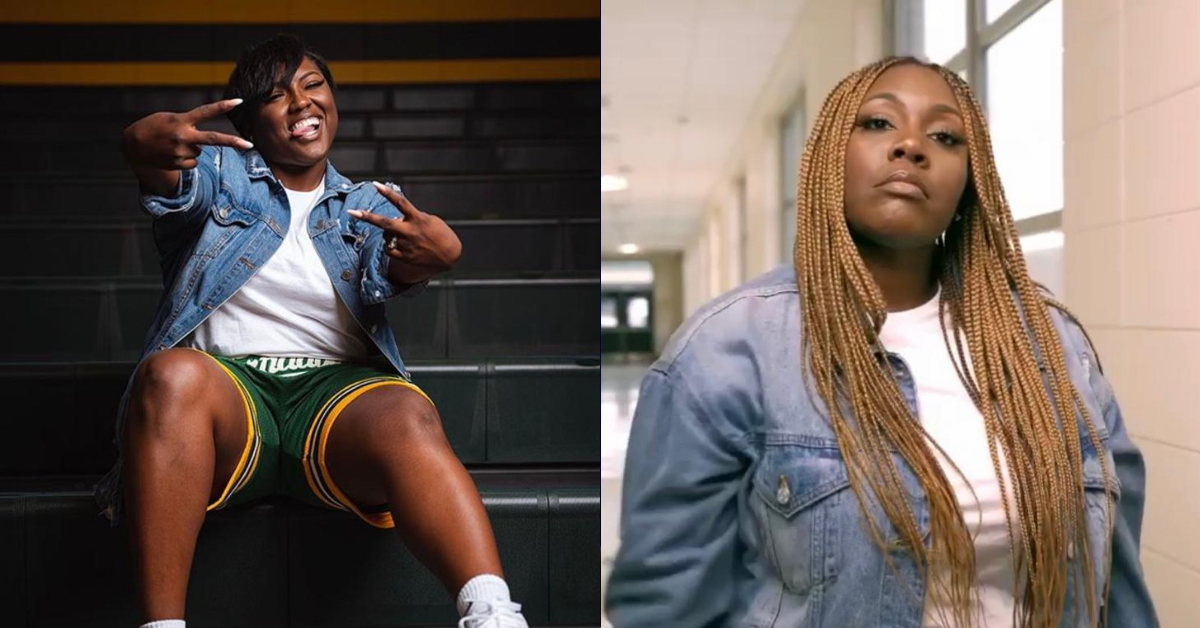 @audriwill_/Instagram; @coolcal/Instagram
With schools reopening amid the pandemic, two Georgia teachers got creative to get students excited about heading back to school online by keeping their school spirit poppin' with a remix of a popular rap song.

When the video went viral, rapper Jack Harlow took notice of their remake of his hit "WHATS POPPIN".
Watch Harlow's original video here:
Jack Harlow - WHATS POPPIN (Dir. by @_ColeBennett_)youtu.be
Teachers Callie Evans and Audri Williams collaborated on the lyrical remix that showcased not only the teachers' creative talents but the dance skills of the Monroe Comprehensive High School cheer squad which Williams coaches.

Each teacher shared their sections of the video to their individual Instagram accounts along with lyrics and personal messages.
We have come a long way since the matronly, tight lipped teacher stereotypes of old.
Get it ladies!

Jamel Overstreet directed the turned up teachers in the full music video available here:
What's Poppin' (Back to School Teacher Edition)youtu.be
Harlow surprised the teachers in a Good Morning America (GMA) interview in which he praised their revised lyrics saying:
"Thank you for making my song better, you killed it—I love you guys."
You can watch the GMA interview here:
GMA also shared the interview on their Twitter feed.
The comments were filled with overwhelming support for the two educators, commending both their talent and dedication to students.
WHAT'S POPPIN'! These Georgia teachers' back to school rap video has gone viral and we had the ULTIMATE surprise fo… https://t.co/xgDCP2uWRl

— Good Morning America (@Good Morning America) 1597926486.0
That video is EVERYTHING! They got flow! That's wassup for @jackharlow to pop up on em too ❤. With his sexy af voice 🔥🔥
— Sunshine🌞 (@fiftyshades71) August 20, 2020
Teachers that make it a point to motivate and engage with the students boosts confidence. I loved classes where i felt my teacher actually gave a damn. If you just read out the book with all the answers in it, I dont feel your needed. I can read the book on my own

Luv n respect
— TE3ZY (@TE3ZY214) August 20, 2020
I'm sooooo proud to have the High school I graduated from get so much media attention the way it has!!! #mchs for life baby!!!💚💛💚💛💚💛💚💛💚💛💚💛💚💛💚💛💚💛💚💛💚💛💚💛💚💛💚💛💚💛💚💛
— LaShun B. (@lashun_b) August 20, 2020
Some drew parallels between Evans and Williams and already famous musical artists.
Both of these verses better than DaBabys
— tyler hoffman (@tylerhoffman22) August 20, 2020

Others speculated how Ben Shapiro is handling another confident female duo rapping.
Sorry Ben!
Putting me in such a great mood! 🥰Love these teachers for hyping up their students in a trying time! Way to be positive and creative to spread a message! 🎉we need more teachers like them!
— missnataliemae (@missnataliemae1) August 20, 2020
Williams responded to the GMA tweet with appreciation for her experience on the show.
Thank you all so much for having me! 😭❤️
— audriwill_ (@audriwill_) August 20, 2020
We hope that everyone is able to both stay safe and enjoy this school year and look forward to hearing more from these talented teachers.