t i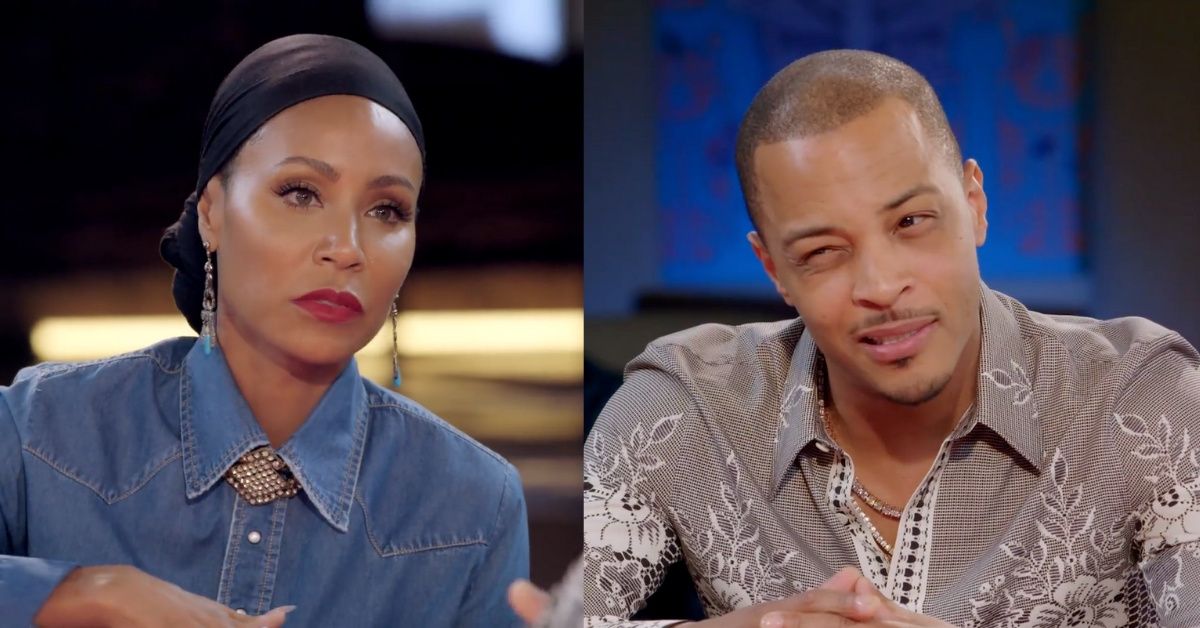 Red Table Talk/Facebook
Rapper T.I. generated a large amount of negative controversy earlier this month.
He commented on a podcast he regularly visited the gynecologist with his daughter to "check her hymen" to make sure she was still a virgin.
While that's not how the female body works and "hymen health" doesn't indicate virginity or lack of it, there was a lot more to unpack with his comments.
Hoping to explain himself following the backlash, T.I. appeared on Jada Pinkett Smith's Red Table Talk.
T.I. claimed his flippant remarks were taken too seriously.
"From a place of truth, I began to embellish and exaggerate. I think a lot of people took it extremely literal. Who I am as a father — honestly, I thought people knew me better than that."
When Smith asked whether T.I. understood how loaded the subjects he was discussing were, he responded:
"No, but I do now. However, my intentions have terribly misconstrued and misconceived. Never said I was in any exam room, never said it was being done present-day, never said that her mother wasn't present."
Smith then asked whether his wife had any problem with him joining her and her daughter at the gynecologist.
"There was never any objection. She did have a problem with me talking about it, though, and I am incredibly apologetic — to her — for that."
"Not to any of these other strangers and any of these weirdos who toss lies around for fun. She understands my intentions and who I am — and who I've always been."
T.I. expressed frustration, saying he simply wanted to play a role in shaping his daughter's life.

"I wanna know the purpose and place of a father in this society. A father like myself that wants to be involved and attentive as me — we could draw the conclusion that we just donate sperm and pay for things."
That's when Smith stepped in, however, and let T.I. know there was a difference between doing your part and overstepping.

"I don't think anyone has a problem with you protecting your daughter. It's the hymen. Having been a young girl myself, having raised several young women, and realizing a woman's journey, in regards to her sexuality, has to be guided mostly by mothers."
"That's just me personally. Mother takes her daughter's hand and walks her through."
"That's how I worked it out with Will [Smith]. There's certain things about raising a man that I can't know. I would say, 'Love your daughter. Let me teach her'."
T.I. didn't agree completely, however:

"I'm talking about all the slimy, grimy, chubby-fingered little boys, who want to defile and destroy the sanctity ... The thing that's the most important in my life — I'm going to deal with that with extreme care."
"I'm not there to protect 'virginity.' I just know that is a big move. Once you make that move, there are a lot of big things that follow. You have to be equipped. I don't know if you're equipped. Awareness is my first line of defense."
Smith responded:

"That's different. That's education. You only have but so much control."
When asked what losing her virginity might mean to his daughter, T.I. said:
"You ended your childhood. It's time to begin adulthood. You must heighten the level of responsibility. You need to have a plan."
Perhaps sensing the conversation needed to set a new foundation, Smith laid out the basics of her feminist perspective.

"Here's what you need to understand. There's a patriarchal structure — it's structured by the views and outlook of men."
"It tends to be, at times, oppressive to the feminine journey. There's a lot that happens in the feminine journey."
"It's often told and seen and led through the eyes of men, who know nothing of what we're going through."

Hopefully T.I. learned something.
Pinkett Smith's children's picture book Girls Hold Up This World is available here.
Keep reading...Show less