Tag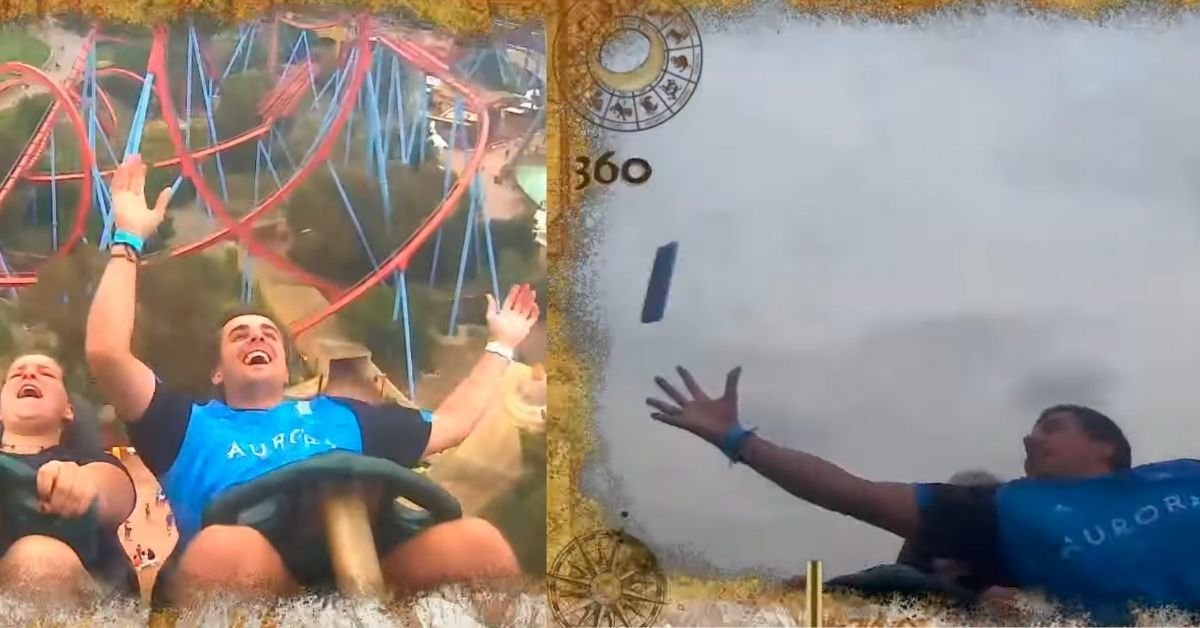 You may want to secure your loose items on roller coasters after seeing this amazing footage where a thrill seeker at a famous theme park in Spain took athleticism to new heights.
Samuel Kempf was reaching the crest of another hill while riding the Shambhala roller coaster at Port Aventura when he saw an airborne iPhone X that belonged to another rider a few rows in front of him.
Thanks to his quick reflexes, he was able to snatch the phone in mid-air with his hand as the coaster was about to plummet down another drop.
The jaw-dropping footage of Kempf's amazing feat was caught courtesy of an on-ride camera.
Catching a strangers phone on roller coasteryoutu.be
Kempf told 1 NEWS:
"Long story short I caught it. This roller coaster is moving at over 130 kms (81 miles per hour) and was once Europe's tallest and fastest coaster."
After catching the dislodged phone from the first drop, he kept a tight grip for the rest of the three-minute, stomach-turning ride experience.
Some YouTube viewers had agita while watching the rest of the footage:
"I was deadly afraid the dude was gonna drop it shortly after catching it."
Another said:
"I had anxiety the whole time he was holding that phone. If he drops it it'll be the biggest hero to zero story in history."
Rest assured, our hero came through.

After disembarking, Kempf returned the device to its rightful owner.
"He was super surprised and happy at the same time. He gave me a big hug and said he was going to buy the on-ride video for me."
There ought to be a term for this impressive play.

Kempf was visiting the country after representing New Zealand at the Fistballing World Championships in Switzerland.

Fistballing is a European sport similar to that of volleyball where players try to hit a ball over a net.
Not only did he display his awesome agility, Kempf also prevented other park goers from being struck by the free-falling device.

He's got mad skillz.
Shambhala: Expedición al Himalaya located at PortAventura Park in Salou and Vilaseca, Spain is popular among coaster geeks.
Manufactured by Bolliger & Mabillard, the hyper steel coaster had the distinction of being the tallest (256 ft) and fastest hypercoaster (83 mph) in Europe when it opened in May 2012. Those records have been surpassed in July 2018 by Hyperion at Energylandia.
(Red Force at Ferrari Land beat Shambhala's height record at 367 feet when it opened in April 2017. As of 2019, it remains the tallest and fastest roller coaster in Europe.)
According to a press release, Shambhala:
"takes the name of the mythical Shambhala, situated supposedly beyond Tibet and that is considered to be an inaccessible paradise, a magic place of peace and wisdom."
Now, it adds the distinction of boasting a titan who once reunited a man with his lost treasure.
This legendary hero has a name: Samuel Kempf.

If you're a fan of roller coasters, you can purchase Ticket To Ride: The Essential Guide to the World's Greatest Roller Coasters and Thrill Rides on Amazon here.
Keep reading...Show less