Tag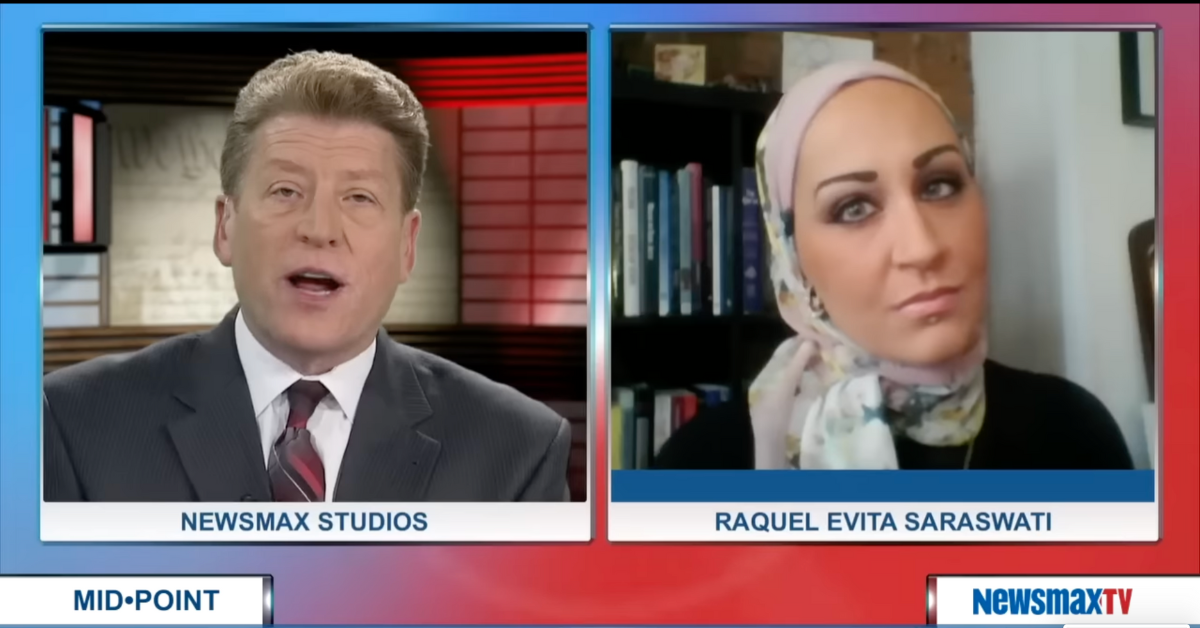 Newsmax/YouTube
Raquel Evita Saraswati, a muslim woman well-known for championing Muslim and LGBTQ+ causes, is facing allegations she lied about her race.

Amid these allegations, Saraswati stepped down from her position as Chief Equity, Inclusion and Culture Officer for the Quaker-founded organization American Friends Service Committee last week.
According to their website:
"AFSC works for a just, peaceful, and sustainable world free of violence, inequality, and oppression."
The allegations surfaced in the form of an incredibly well-cited open letter released by anonymous AFSC members on February 10 of this year.
The letter presented evidence Saraswati was not Arab, Latine and South Asian as she had claimed, but in fact of German and Italian ancestry.
\u201cNew Rachel Dolezal just dropped\u201d

— Fifty Shades of Whey (@Fifty Shades of Whey) 1676690046
Saraswati's mother, Carol Perone, said in an interview with The Intercept that their family had British, German and Italian ancestry—not any of those that Saraswati has claimed.
She said:
"I don't know why she's doing what she's doing. [...] I'm as White as the driven snow and so is she."
In addition to her own mother, another family member who wished to remain anonymous confirmed Saraswati is White.
\u201cUPDATE: "Raquel Saraswati" aka Rachel Elizabeth Seidel has put out a statement, but hasn't addressed her mother's claims that she is "as white as the driven snow"\u201d

— Fifty Shades of Whey (@Fifty Shades of Whey) 1676690046
Perone said her daughter converted to Islam in high school.
She seemed to begin to feel the need to cover up the fact she is White at some point after that.
"I'm German and British, and her father was Calabrese Italian. She's chosen to live a lie, and I find that very, very sad."
Saraswati's mother is far from the only person confused by her claiming to be a different race. Oskar Pierre Castro, who participated in the committee that hired Saraswati, said she presented herself as a "queer, Muslim, multiethnic woman" and he feels deceived by her.
Castro said of Saraswati's credentials and personality:
"It really touched all the points."
He said she seemed such a good fit for the DEI role because:
"It seemed that there was an element of lived experience and understanding because of the lived experience, not just the academic and extra training that come with being in a position where you are an equity and inclusion practitioner."
He expanded on his thinking at the time, and how he feels looking back:
"In my mind it was, 'Great, a person of color, a queer person of color, who happens to be a Muslim, it's a woman, all these things, and someone who seemed to get it.' I definitely feel conned. … I feel deceived."
Some are worried Saraswati lying about her racial background is more than just an attempt to escape Whiteness, though.
\u201c@joyce_afsc please fire \u201cRaquel Evita Saraswati\u201d. She is a racist, troubled, culture vulture who is an attention seeker that does not care about harming all the ethnicities, races and religions she stole. Please do not make AFSC complicit to her crimes. FIRE HER!\u201d

— SailorMoonLight (@SailorMoonLight) 1676823611
The open letter also voices concern about Saraswati possibly holding hidden and harmful, political beliefs. It cites her post-9/11 appearances on conservative media like Newsmax, and connections to right-wing groups.
During those appearances, she was consistently presented as a "moderate" Muslim who opposed Islamic extremism. She also appeared in a documentary produced by the Clarion Project—an organization recognized by the Southern Poverty Law Center as an anti-Muslim group.
An AFSC leader, who asked to remain anonymous to avoid retaliation, voiced concern about the possibility of Saraswati having ulterior motives—especially since she never acknowledged or apologized for her comments during that time.
They told The Intercept:
"People are concerned. There's a fear that she could be an agent, because she started her career right-wing. She was a token Muslim voice in that milieu. She never publicly apologized."
They also disclosed AFSC has, in the past, been infiltrated by the FBI—not an uncommon occurrence for a racial and social justice group—and they have faced attacks from anti-Muslim and pro-Israel groups multiple times because of their work with Palestinian groups.
"Imagine the trauma of people who confided in her, trusted her, and shared sensitive information about their work and about their lives, thinking that she's a fellow person of color. And now all of a sudden, it's a white woman with a right-wing history. It's scary."
In a statement in response to a request from Friends Journal, a monthly Quaker magazine, before Saraswati chose to step down from her role, AFSC's Chief Marketing and Communications Officer Mark Graham said:
"We are in receipt of the documentation alleging that our Chief Equity, Inclusion, and Culture Officer, Raquel Saraswati, has been misrepresenting her identity."
"AFSC has given Raquel the opportunity to address the allegations against her, and Raquel stands by her identity. Raquel also assures us that she remains loyal to AFSC's mission, which we firmly believe."
"AFSC does not require any employee to 'prove' their heritage as a condition of their employment, or in order to be valued as a member of our team. We are committed to an inclusive workplace free of discrimination and prejudices."
In an email to her former colleagues, Saraswati declared her intent to resign:
"I want AFSC to move forward in the work in a way that creates the most ease for you. Therefore, I have let my colleagues in leadership know of my intention to separate from the organization."
After Saraswati resigned, Graham sent another statement to Friends Journal:
"AFSC's Chief Equity, Inclusion, and Culture Officer, Raquel Saraswati, who is facing public allegations that she misrepresented her background and past associations, has informed us of her intention to separate from the organization. AFSC supports her in this difficult decision"
Graham affirmed AFSC will remain committed to Diversity, Equity, and Inclusion moving forward, and acknowledged the situation with Saraswati uncovered issues that require further discussion.
"We acknowledge that the public allegations against Raquel have brought to the surface many critical issues that warrant further discussion and this situation has been difficult and distressing for many AFSC staff and community members. AFSC has processes for staff and volunteers to confidentially raise their concerns and share their suggestions, and we are committed to listening carefully to that input, discerning, and moving forward on a path of healing for all."
When Friends Journal reached out to Saraswati, she declined comment but indicated that she is considering making a statement in the future.