Tag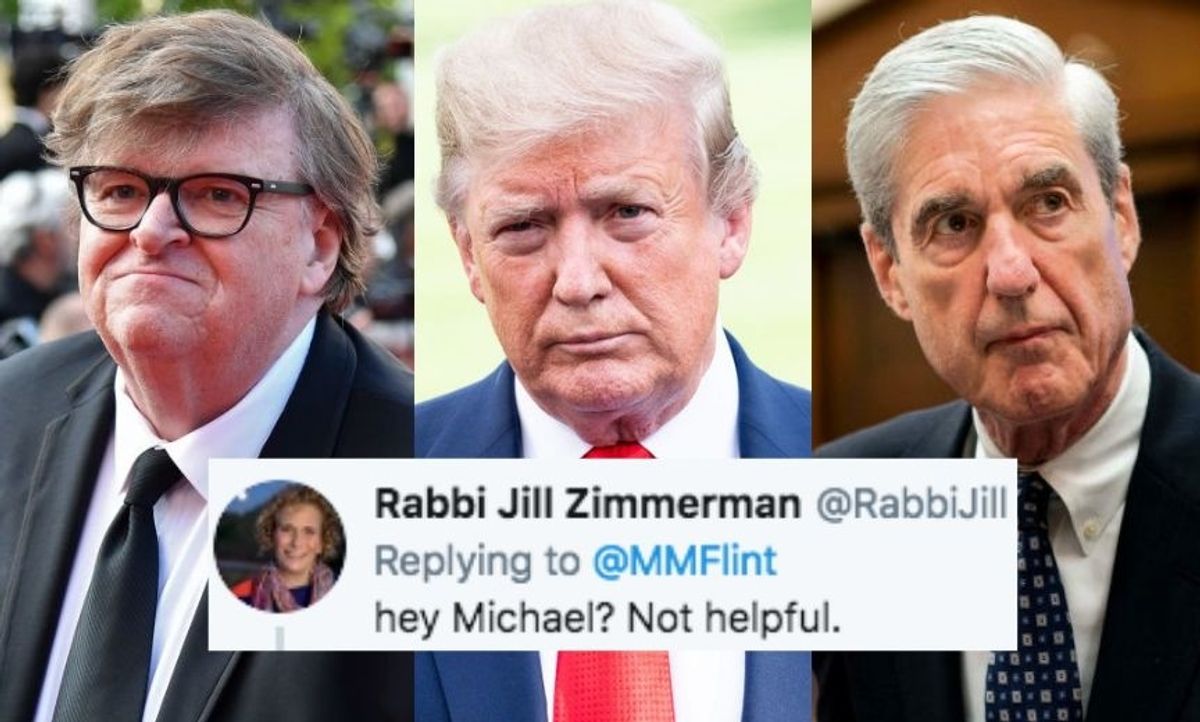 ALBERTO PIZZOLI/AFP/Getty Images // Michael Brochstein/SOPA Images/LightRocket via Getty Images // Melina Mara/The Washington Post via Getty Images // @RabbiJill/Twitter
It's one day after former special counsel Robert Mueller's hotly-anticipated testimony regarding his report on Russian interference in the 2016 presidential election and President Donald Trump's attempts to obstruct the investigation.
Both sides of the aisle have expressed disappointment in Mueller's cautious demeanor throughout his testimony to the House Judiciary and Intelligence Committees.
Filmmaker and Trump critic Michael Moore took his dismay a step further—and people aren't happy.
Moore took to Twitter to shame Democrats for what he perceived to be a dependence on Mueller to sway political dynamics toward impeachment hearings against Trump.
In reality, few Democrats expected Robert Mueller to deviate from the contents of his original report. In fact, Mueller explicitly said he wouldn't in a press conference this past May.
Democrats instead hoped that the widely watched hearings would clarify some of the more damning revelations revealed in the 400+ pages of the report to Americans who hadn't read it.
To make matters worse, Trump gloated by retweeting Moore's words.
Moore soon responded.
Many felt that Moore's digs at Mueller's age and his derision of Democrats only gave Trump ammunition to spin a narrative that the Mueller Report is meaningless.

Trump wasn't spared either.
In fact, it seems like the only person people weren't mad at was Robert Mueller, whom they valiantly defended.
With Mueller's testimony over, it's unclear what the next move will be.
Republicans like Senator Lindsey Graham (R-SC) are hoping the testimony shuts the book on words like "Mueller" and "Russia" once and for all.
Democrats in the House are using committee powers to further investigate the numerous instances of obstruction laid out in the report, as well as other wrongdoings within the administration.

The full Mueller report is available here.
Keep reading...Show less