Tag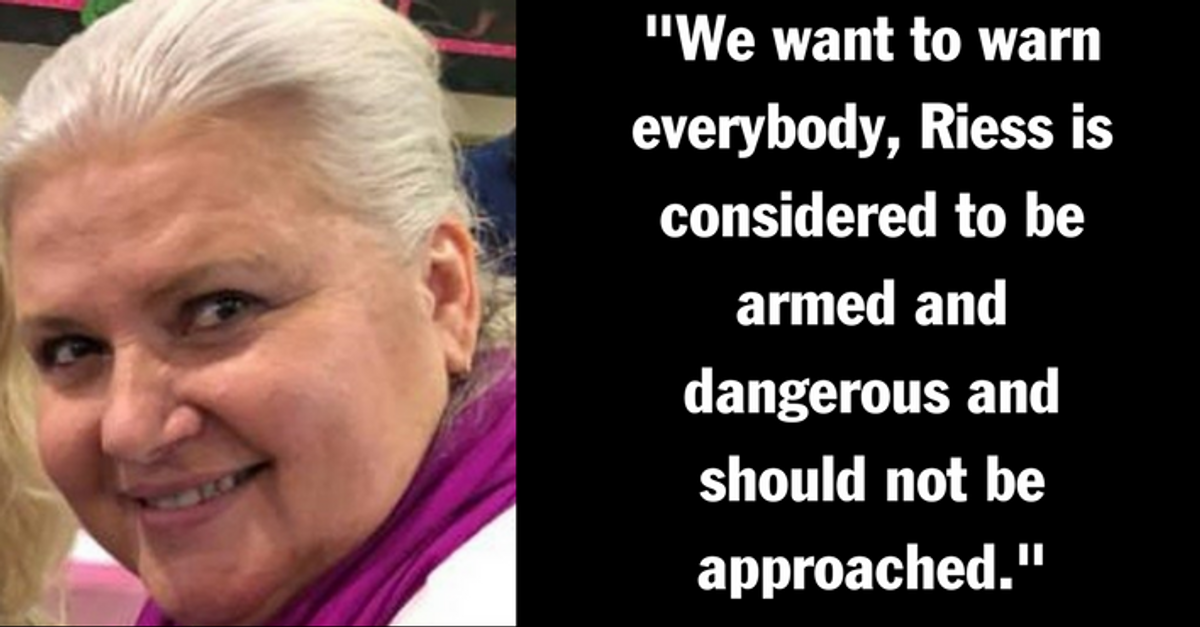 @DCSOSheriff/Twitter
A 56-year-old grandmother wanted for identity theft and double murder is now the subject of a nationwide manhunt.
Lois Riess of Blooming Prairie, Minnesota, is suspected of murdering her husband and then traveling to Florida where she allegedly killed a woman in an effort to steal her identity. Dodge County officials have asked law enforcement agencies across the country to aid in the search the Riess, whom police consider armed and dangerous.
"The Dodge County Sheriff's Office and the County Attorney's Office are now preparing second degree murder charges against Lois Riess for the murder of her husband, David," Dodge County Sheriff Scott Rose said.
What began with murder and theft in Dodge County is now a nationwide dragnet. Lois Ann Riess, 56, remains on the r… https://t.co/4XabqWgZ6G

— WCCO - CBS Minnesota (@WCCO - CBS Minnesota) 1523670301.0
Police found the body of Riess's husband, David, in his home after his business partners reported that they had not seen him for two weeks, and asked authorities to do a welfare check on Riess. Riess was found to have been shot several times. His wife had cashed $11,000 in checks from his business account, and allegedly stole his Cadillac Escalade.
@leesheriff releases new surveillance video as nationwide manhunt for Lois Riess continues. Riess is seen smiling,… https://t.co/Qy7x6xxfGz

— JessicaAlpern (@JessicaAlpern) 1523879513.0
The Escalade was discovered in a park near Fort Myers Beach, Florida, shortly before the body of 59-year-old Pamel Sellars Hutchinson was found in her condominium. Police quickly connected the victim to Riess, whose modus operandi "is to befriend women who resemble her and steal their identity," Lee County Undersheriff Carmine Marcino said. "We want to warn everybody, Riess is considered to be armed and dangerous and should not be approached," Rose added.

UPDATED VEHICLE INFORMATION - RIESS HOMICIDE **PLEASE SHARE** https://t.co/l04KCfiu7Y

— Sheriff Scott Rose (@Sheriff Scott Rose) 1523574222.0
HOMICIDE INVESTIGATION: If you see Lois Riess or have any information on her whereabouts, please contact Southwest Florida Crime Stoppers at 1-800-780-TIPS (8477).

Suspect: Lois Ann Riess / DOB: February 28, 1962
Race: White / Sex: Female
Hair: Blonde / Height: 5'5" / Weight: 160
May be using the alias of Pamela Hutchinson, a white female with a date of birth of September 1, 1958.
Lois Riess may be traveling in a stolen, white 2005 Acura TL, bearing Florida tag #Y37TAA, registered to Pamela Hutchinson.
Authorities allege that Riess shot Hutchinson with the same gun used to kill her husband, and that she stole Hutchinson's identification, car, and credit cards before fleeting the scene.
Lois Ann Riess photos https://t.co/UZjCi0V4Ge https://t.co/A45KhwEodz

— The News-Press (@The News-Press) 1523845621.0
Police believe Riess may be attempting to escape to Mexico, and urge anyone with information to report her whereabouts, but to use caution. Investigators warn that Riess is likely to kill again in her bid to outrun the law.

"After Riess left Florida investigators believe she drove 1,300 miles along the gulf coast to Louisiana and Texas. They believe her last known whereabouts is in the Corpus Christi area where they've yet to locate her," CBS Miami reported.
UPDATED VEHICLE INFORMATION - RIESS HOMICIDE **PLEASE SHARE** https://t.co/l04KCfiu7Y

— Sheriff Scott Rose (@Sheriff Scott Rose) 1523574222.0
Keep reading... Show less