Tag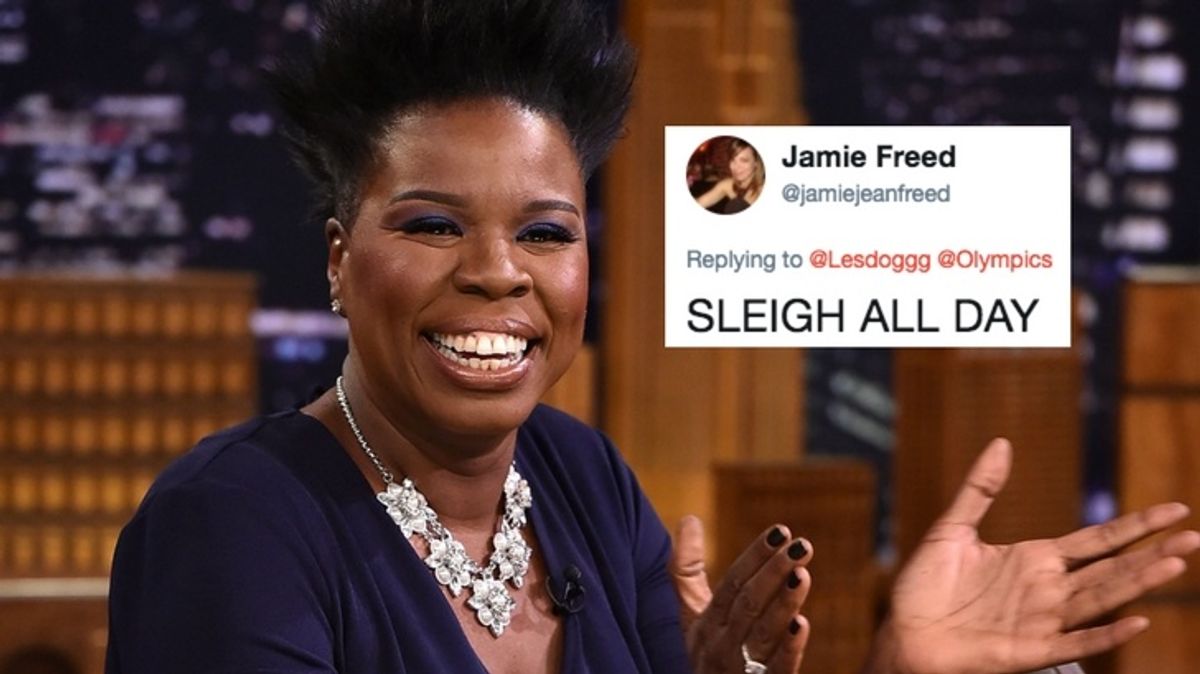 Theo Wargo/Getty Images for NBC, Twitter: @jamiejeanfreed
As the world gears up for the 2018 Winter Olympics in Pyeongchang, South Korea, starting next week, NBC and Leslie Jones just made an announcement that has Olympic fans cheering.
In a video posted to Twitter, Jones, who is an enthusiastic Olympics fan, made the announcement that she will be joining the NBC team as a special correspondent for the games. Given Jones' hilarious sense of humor, as seen on late-night TV staple Saturday Night Live and in movies like the blockbuster reboot of Ghostbusters, we're in for a treat.
Clad in her red, white, and blue, Jones exclaimed, "Slay all day, baby!" before saying, "Y'all know what the hell's going on, ok. You know what I'm doing."
Guess What Time It Is Y'all!!!!! And Guess Where I'm Going!!!!! Slay All Day USA!!!!!!! @olympics https://t.co/H4dNd6msHB

— Leslie Jones 🦋 (@Leslie Jones 🦋) 1517275031.0
For those thinking the comedian's inclusion on the broadcasting team is an odd choice, it actually has precedence.
During the 2016 Summer Olympics in Rio de Janeiro, Jones entertained fans by live-tweeting her excitement about Team USA, and many people seemed to be more engrossed in watching Jones watch the games than they were in watching the games themselves.
Yep I love the Olympics it's the only time all countries come together to compete! I love it!! https://t.co/YQue72tQ5c

— Leslie Jones 🦋 (@Leslie Jones 🦋) 1470509220.0
Like a relay in the water I fucking love it! https://t.co/tbpI0B3aUH

— Leslie Jones 🦋 (@Leslie Jones 🦋) 1470537231.0
After a while, NBC executives started to take note, leading to an invitation from Jim Bell, the production and programming president for NBC Olympics, who offered an invitation to Jones to fly down and join the team, which Jones gladly accepted:
@shoemakermike OK @Lesdoggg you're officially invited to Rio. Want to come?

— Jim Bell (@Jim Bell) 1470544658.0
@Lesdoggg wow is this what good Twitter feels like? Great call @shoemakermike TY. Leslie will connect wu tomorrow. Everyone else stay tuned!

— Jim Bell (@Jim Bell) 1470552101.0
And Twitter was pleased as punch:
@shoemakermike @jfb #GETLESLIEJONESTORIO MAKE THIS HAPPEN!! 🇺🇸🙌🏽🙌🏽 @Lesdoggg

— Dana Elle (@Dana Elle) 1470582943.0
Given the enthusiasm for Jones in 2016, her inclusion in 2018 was pretty much a no-brainer for the network.
"Experiencing the Olympics through the lens of Leslie is unlike anything else," Bell said in a statement. "Her passion for Team USA is contagious, and her adventures in South Korea should be fascinating."
And based on the reactions from Jones' announcement, people agree:
@corrie_hulse @Lesdoggg @Olympics Facts!!!

— Marisa Tigney (@Marisa Tigney) 1517281780.0
@Lesdoggg @Olympics YAAAASSSS!!! I am soooo happy!!! Have a blast!!! https://t.co/tXy7wBioAr

— Yvette (@Yvette) 1517276357.0
@Born2lbFat @Lesdoggg @Olympics @alroker Truly nothing funnier than Al Roker ribbon dancing 😂

— Serra Klunk (@Serra Klunk) 1517285051.0
Oh sweet, Leslie Jones is going to cover the #Olympics. Make sure you're following her! She's hysterical and she r… https://t.co/36S87wmdo6

— Candice Frederick (@Candice Frederick) 1517347645.0
@Lesdoggg @Olympics SLEIGH ALL DAY

— Jamie Freed (@Jamie Freed) 1517283062.0
@Lesdoggg @Olympics https://t.co/4cLggAmzy4

— Bill T (@Bill T) 1517276617.0
@Lesdoggg @Olympics The Olympics are millions times better with your commentary and enthusiasm!! Can't wait!! #TeamUSA #Olympics2018

— AWise,APRN (@AWise,APRN) 1517276613.0
Olympic coverage begins on Feb. 8, with competition starting on Feb. 9.
And you know we'll be tuning in to see Jones do her thing!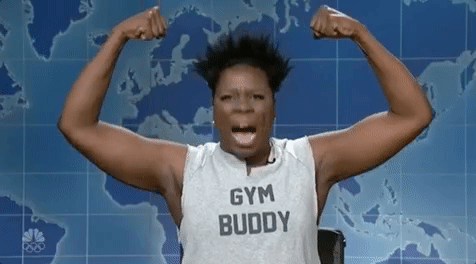 USA! USA!
H/T: Twitter, Mashable, Huffington Post
Keep reading... Show less