Tag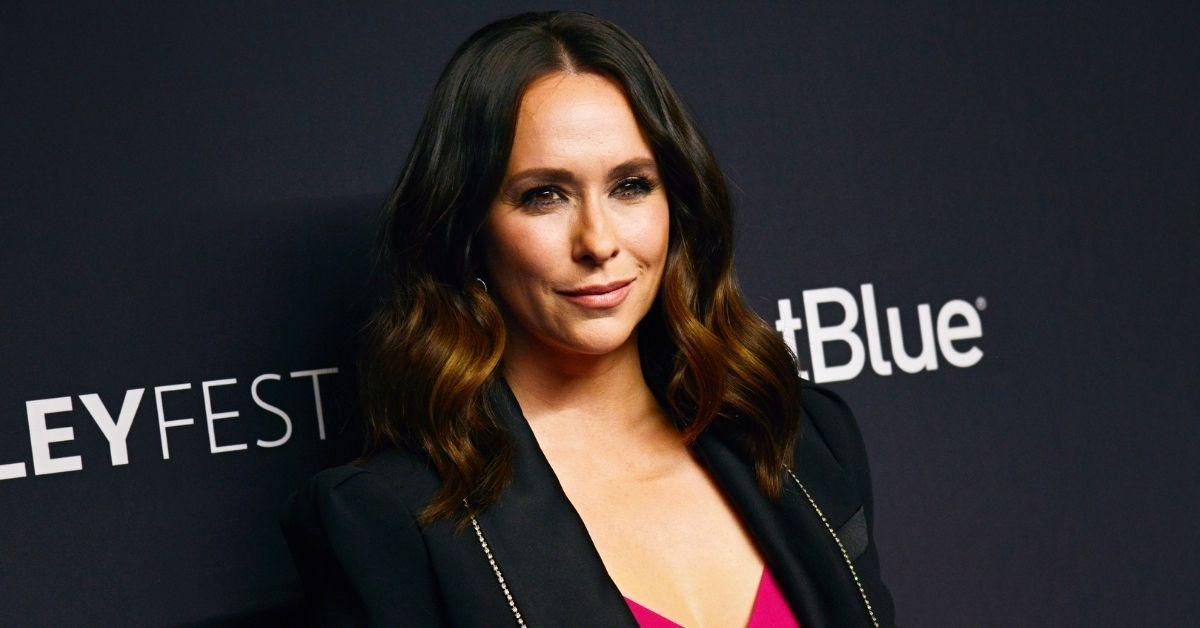 Chelsea Guglielmino/WireImage, GettyImages
Jennifer Love Hewitt offered a mass apology to fans after a misunderstanding over the proper use of an emoji.
According to Yahoo News, the 9-1-1 actress was home scrolling through TikTok videos when she came across one that addressed the correct use of the folded hands emoji—which might be familiar if you're thinking of this icon: 🙏.

Hewitt, who is a mother of three, had apparently been using the emoji to convey prayer, all this time.
However, based on the unspecified TikTok video's explanation, the emoji is intended for a use that has nothing to do with faith.
The mortified actress took to Instagram Stories and came clean after learning the emoji, according to the TikToker, actually represents a celebratory occasion marked by two people high-fiving each other.
"Guys, I can't even talk about what I've just recently learned," she said.
"I thought that the hands that are together in the emoji section of the phone, I thought those were prayer hands."
"I have, for a very long time, been sending those to people when I pray for them, when I pray for their family members or their situations, particularly during COVID."
"Praying, sending goodness, love, light."
She continued:

"I did not know and so, this is a public apology to all the people that I have sent what I thought were praying hands to, to say I'm with you."
"I'm praying for you and your loved ones or your friends or your family or for all of us, sending goodness and all of that, and I have actually been high-fiving you the whole time."
"I'm so sorry. I'm 195 years old. I didn't know!"
You can watch her apology video, here.
At the conclusion of her video, Hewitt still had questions.

"Where are the praying hands? Are there praying hands? Because I would like to be able to go back to sending those."
She is not alone in her confusion, as many social media users also seemed to have misinterpreted the emoji.
Some assured her no apology was necessary.

Dictionary.com, addressed the confusion, arguing the folded hands emoji "represents an array of abstract and concrete concepts," and added some of these were positive, like "gratitude, spirituality, and hopefulness."
The website also added the emoji appears differently on certain devices.

On some devices, only the folded hands appear—which is interpreted as a high-five—while on other devices, "the entire upper half of a person is visible."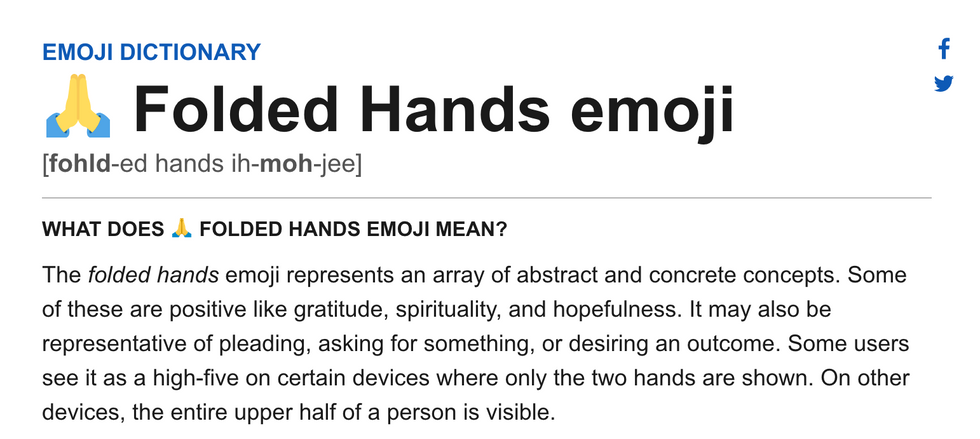 Dictionary.com
Because emojis can be interpreted in many different ways, it can be overwhelming trying to decide which one to use accurately.
Thankfully, the emoji search bar is a handy tool.
When you type in "pray" or "prayer," the folded hands emoji does appear as it does when you also type in "high five."

You're all good, Jennifer!