Tag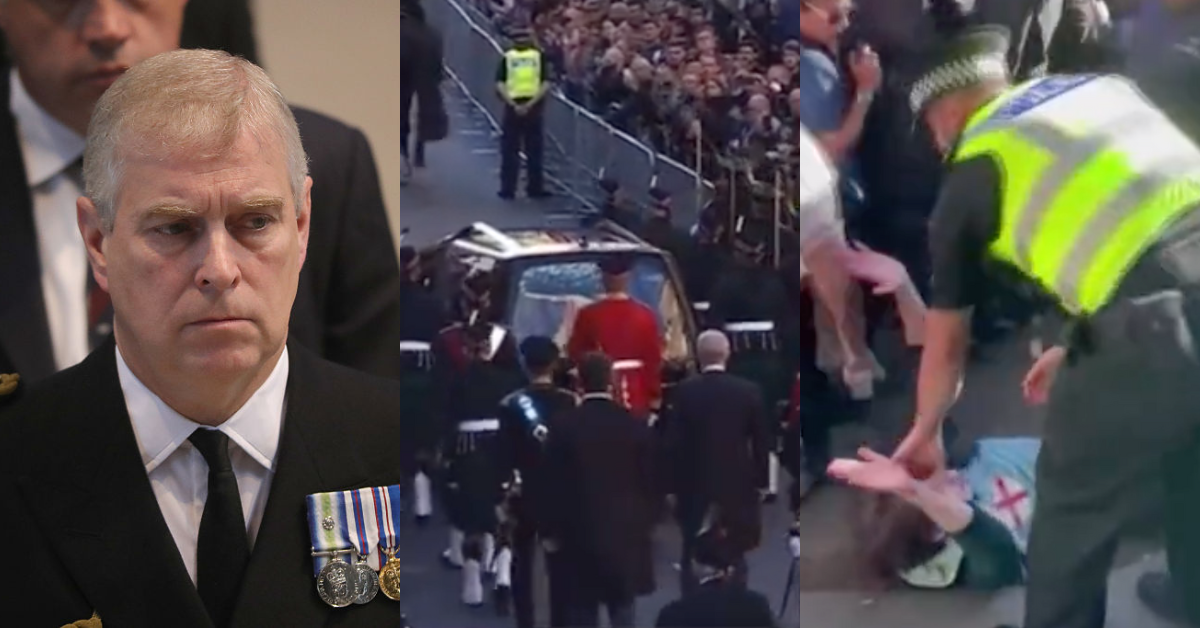 Christopher Furlong/WPA Pool/Getty Images; Sky News; CBS News
A heckler was shoved to the ground after he called Prince Andrew, the Duke of York, a "sick old man" during the funeral procession for his mother, Queen Elizabeth II, who died on September 8 at the age of 96, ending her 70-year reign as Britain's longest reigning monarch.
Prince Andrew has been the subject of enormous controversy since sex trafficking and sexual assault allegations against him came to light, and he has thus far failed to distance himself from the crimes of deceased American financier and convicted sex offender Jeffrey Epstein in the eyes of the British public.
The man was shoved to the ground by authorities, who arrested him.
You can watch what happened in the video below.
The 22-year-old protester, who goes by Rory, explained why he did it.
Powerful men shouldn't be allowed to commit sexual crimes and get away with it.
Rory was reportedly charged with "breach of the peace."

Andrew has been under heightened scrutiny since allegations about his involvement in Epstein's sex trafficking operation drew considerably more attention in the last few years, particularly after Epstein died by suicide while in police custody.
In 2019, he sat down for an interview with journalist Emily Maitlis for BBC's Newsnight about his relationship with Epstein. His responses in the interview received negative reactions from both the media and the public.
The blowback against Andrew proved so harsh that it was announced he would indefinitely withdraw from his public roles, just before he settled a civil sexual assault lawsuit where he was accused of performing sex acts with an underaged girl who had been trafficked by Epstein.
Many condemned Prince Andrew's actions and cheered the heckler after footage of his arrest during the otherwise solemn event went viral.
While most were on the heckler's side, some felt it wasn't the time or place for such a protest.
The allegations against Andrew proved considerably more explosive following the civil litigation filed by Virginia Giuffre, who said she was trafficked to him at least three times when she was 17 in 2001.
Giuffre claims that Epstein and his associate Ghislaine Maxwell took her to Tramp nightclub in London, where she met and danced with Andrew, and that later that night, while en route to Maxwell's Belgravia residence, Maxwell instructed Giuffre to have sex with him.
She alleged Epstein paid her $15,000 to have sex with Andrew. A photo that shows Giuffre, Andrew and Maxwell in Ghislaine's apartment has been widely circulated since 2011.
In early 2022, Andrew agreed to an out-of-court settlement by paying an undisclosed sum of money.