Tag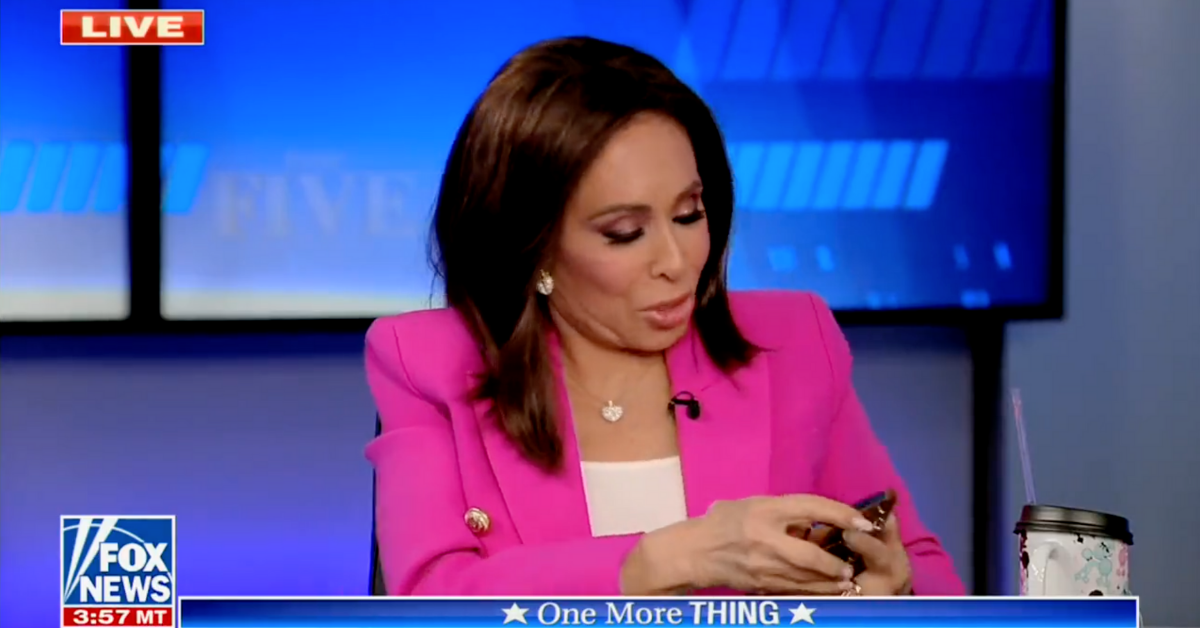 Fox News
Fox News personality Jeanine Pirro's cellphone went off live on air during the April 20 edition of "The Five," the program she co-hosts. Turns out her ringtone is just what you'd expect her to have.
Just before Pirro's co-host Greg Gutfeld began his recurring "Animals Are Great" segment on the show, Pirro's phone rang, allowing listeners to hear a few seconds of "I Love This Bar," a song by country singer Toby Keith.
The moment sparked laughter in the studio, prompting co-host Geraldo Rivera to joke it's "a good thing we're not on like, Broadway."
You can watch what happened below.
The song seems a fitting one for Pirro.
"I Love This Bar," released in 2003 as a track on Keith's album Shock'n Ya'll, includes such lyrics as "I love this bar/It's my kind of place/Just walkin' through the front door/Puts a big smile on my face," which appear to go hand in hand with Pirro's own record of public drinking.
In March 2020, Pirro denied she was drunk on the air when she slurred her words and appeared disheveled during her first at-home broadcast since COVID-19 forced industries to shutter their offices.
Fox News said there were "several technical difficulties" that day, including the lack of a teleprompter and the fact the shutdown meant there was no one to do Pirro's hair and makeup. Pirro herself claimed she'd been wearing an earpiece that had tugged at her hair, accounting for her disheveled appearance.
Pirro's behavior on Fox gained even more notoriety after she was parodied in several episodes of Saturday Night Live by actress Cecily Strong, who once regaled audiences with a rendition of Frank Sinatra's "My Way" while standing in a tub of boxed wine.
Many found Pirro's ringtone to be quite on brand.
That Pirro has a ringtone of a Toby Keith song is also unsurprising given Keith is a rather proud Republican.

Keith performed at the pre-Inaugural "Make America Great Again! Welcome Celebration" held at the Lincoln Memorial in Washington, D.C. in celebration of the beginning of the presidency of Donald Trump.
At the time, Keith performed "Courtesy of the Red, White and Blue (The Angry American)," a song he wrote in the aftermath of the terror attacks of September 11, 2001 that has been criticized for its blatantly militaristic and nationalistic sentiment.
Shortly before leaving office in 2021, Trump awarded Keith the National Medal of Arts, the highest honor given to artists and arts patrons by the United States government.