Tag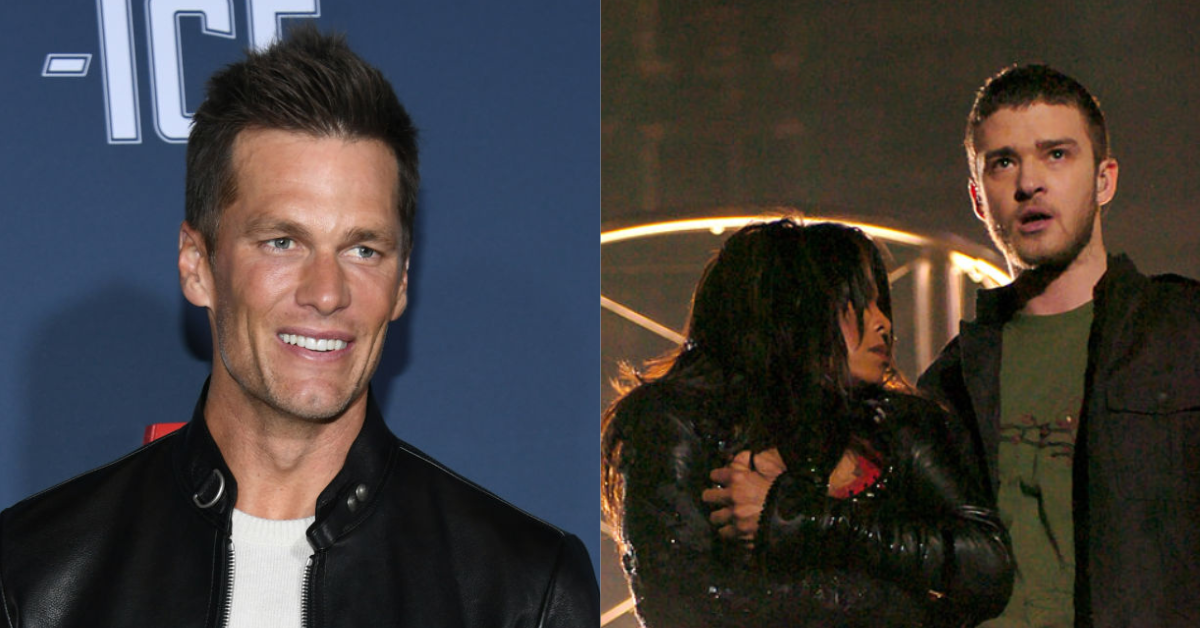 Jon Kopaloff/Getty Images; Kevin Mazur/WireImage/Getty Images
Former New England Patriots and Tampa Bay Buccaneers player Tom Brady is facing criticism after he spoke about the "wardrobe malfunction" during the 2004 Super Bowl halftime show.
Brady described the incident on his podcast as "probably a good thing" because it brought the National Football League (NFL) significant publicity.
The Super Bowl XXXVIII halftime show broadcast live on February 1, 2004 featured Justin Timberlake and Janet Jackson.
The show is infamous for the moment Timberlake exposed Jackson's breast for a moment.
During a duet of Timberlake's hit song "Rock Your Body"—specifically when Timberlake sang the line "Gonna have you naked by the end of this song" he pulled off Jackson's costume top, briefly revealing her right breast.
The incident—sometimes referred to as "Nipplegate"—was widely criticized as a publicity stunt and started a nationwide conversation about perceived indecency in broadcasting.
But alongside that discussion came another, this one about racism, sexism and misogyny in the entertainment industry.
While Jackson—who is Black—saw her career suffer for years after the incident, Timberlake walked away largely unscathed, publicly joked about the moment he referred to as "every man's dream" and mocked it during his 2011 Super Bowl performance.
Timberlake, who coined the term "wardrobe malfunction" in response to the incident, only apologized for his treatment of Jackson in 2021, 17 years later.
Brady recalled learning about what happened to Jackson backstage.
He said he initially didn't realize what reporters were asking him about.
"I didn't see much… Even I remember when we beat Carolina… We came off the field and that was when we had the wardrobe malfunction with Justin Timberlake and Janet Jackson."
"[The media was] asking me about that. I couldn't even understand what they were telling me about. They said, 'Did you see the halftime show?' and I said, 'I didn't see anything.' I was thinking about the game." ...
"I think in the end, it was probably a good thing for the NFL because everyone got to talk about it, and it was just more publicity and more publicity for halftime shows."
"Is any publicity bad publicity? That's what they say, so, who knows?"
Brady's remarks quickly brought criticism online as many came to Jackson's defense.
The Super Bowl XXXVIII halftime show is considered to be one of the most controversial televised events in history.
Jackson was later listed in the Guinness World Records as the "Most Searched in Internet History" and the "Most Searched for News Item."
Her career has since rebounded and she has been recognized for playing a pivotal role in crossing racial boundaries in the recording industry, being inducted into the Rock and Roll Hall of Fame in 2018.
In December 2022, Jackson announced she was going on tour again starting in April 2023 and teased new music.