jacket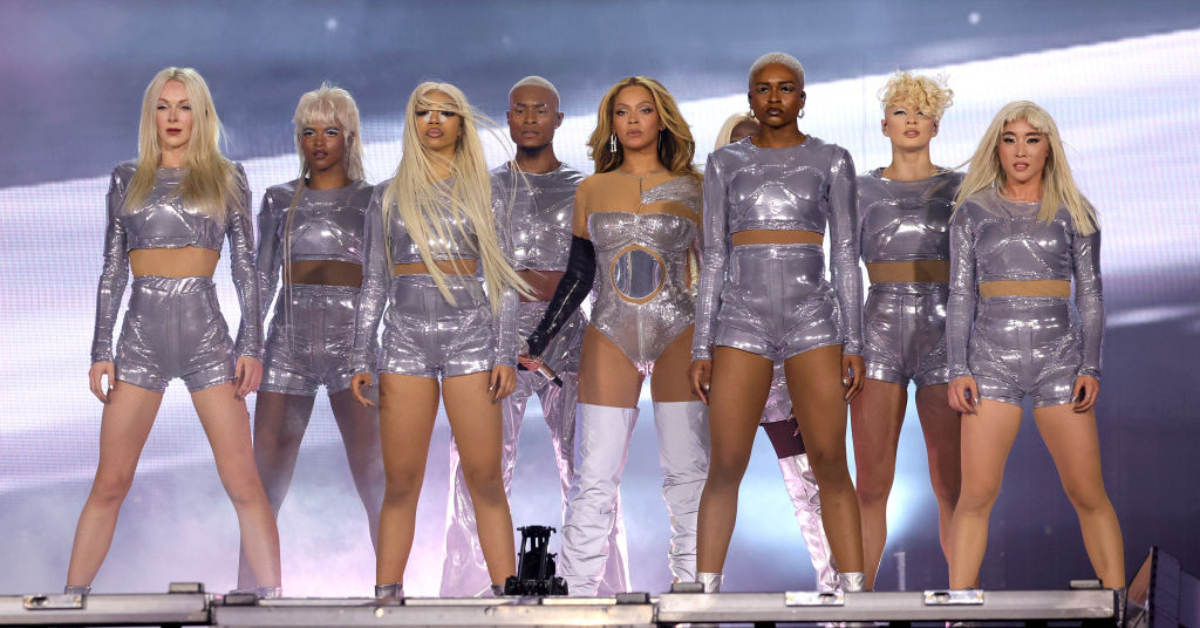 Kevin Mazur/Getty Images for Parkwood
The legendary Beyoncé recently embarked on her ninth concert tour, in conjunction with her seventh studio album, Renaissance.
Launching this past February in Stockholm, Sweden, the tour has received glowing reviews and amassed record-breaking ticket sales.
In addition to praise for the 32-time Grammy winner's vocals, the tour has gained massive attention for its impressive designs, which include robots, and its nearly three-hour running time, broken up into six distinct acts and featuring every single song heard on the album.
A recent performance of the concert set Twitter ablaze, though not owing to anything the former Destiny's Child member did on stage, but rather one of her backup dancers, Honey Balenciaga.
A dancer from the ballroom—the queer POC created artform featured in the documentary Paris Is Burning and the FX series Pose—House of Balenciaga, Honey competed with her house on season 2 of HBO Max's series Legendary.
In a seven-second video posted to Twitter, Honey Balenciaga could be seen kicking what appeared to be a concert goer's jacket off the stage, before seamlessly jumping right back into her dance just as Beyoncé approached her during the performance.
Twitter user @whowantsfudge shared the practically blink and you'll miss it video to their Twitter page:
Once the video began going viral, Honey Balenciaga herself stepped forward and rightly owned her decision to kick the jacket from the stage.
Honey made it clear in her post's caption she had zero tolerance for whomever it was that put the jacket on the stage, saying:
"Cause why would you throw a whole jacket on stage and muva is walking by?"
"I ate that."
Anyone familiar with Honey's ballroom performances knows improvisation and responding to the environment are central to the artform.
Twitter users gave Balenciaga a standing ovation.
They cited how she so narrowly avoided an on stage mishap. Many expressed how they could have easily assumed it was just part of the choreography.
Beyoncé was no doubt appreciative of how Honey handled things.
Considering that in addition to her stunning beauty and gorgeous vocals, Beyoncé is equally well known for her unwavering professionalism, it shouldn't come as much of a surprise that her backup dancers would follow suit.
The fact Honey Balenciaga could do it in those heels makes it all the more impressive.
But then this isn't her first rodeo.
One can, hopefully, safely assume no future audience members with tickets to the sold-out world tour will even think about leaving anything on the stage going forward.
Especially should they be in the vicinity of Honey Balenciaga.
The Renaissance tour is currently making its way through Europe, with Paris, London, and Amsterdam among the scheduled stops before making its US premiere in Philadelphia this July, following its North American premiere in Toronto.
Keep reading...Show less