Tag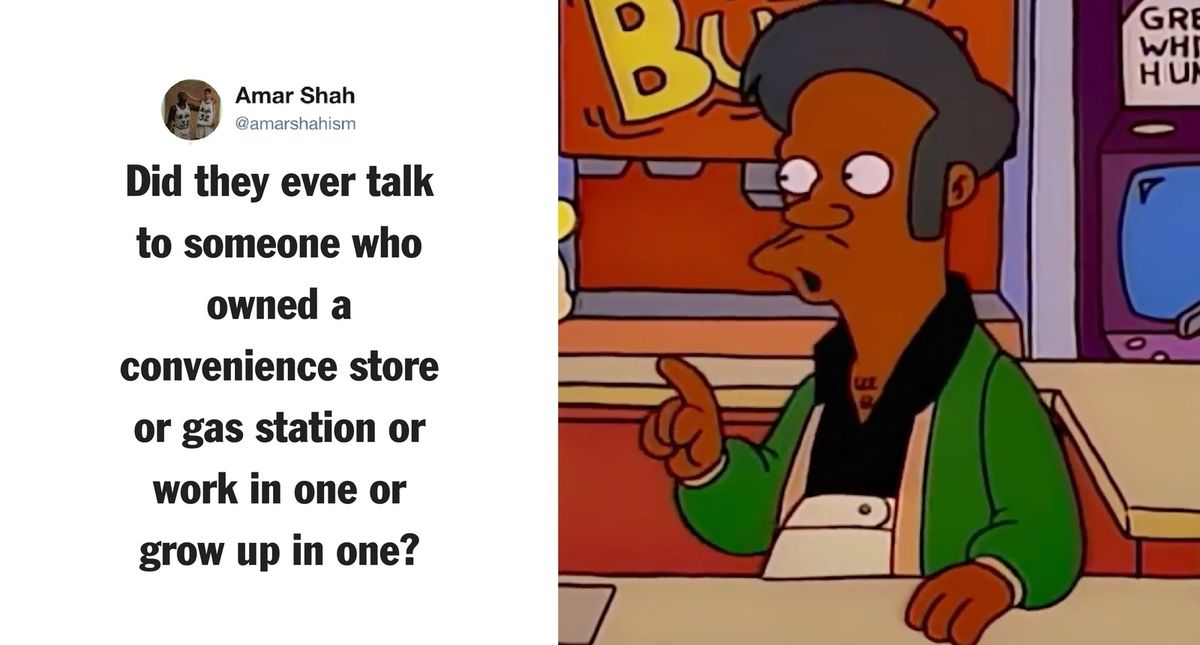 (Washington Post/YouTube, @amasrshahism/Twitter)
On Sunday's episode of the longest-running animated sitcom The Simpsons, Lisa tackled the hot topic of political correctness by asking "What would you do?"
The episode titled "No Good Read Goes Unpunished" was an attempt to address the controversy surrounding the Indian immigrant character, Apu Nahasapeemapetilon.
In response, Twitter user Amar Shah compared growing up with a father like Apu after the show's attempt to address racial profiling frustrated viewers.
The caricatured portrayal of Apu was the subject of comedian Hari Kondabolu's November 19th documentary, The Problem With Apu, in which he discussed the marginalization of South Asians.
Kondabolu comments on racial stereotyping and how he grew up with a lack of South Asian role models.
In 'The Problem with Apu,' I used Apu & The Simpsons as an entry point into a larger conversation about the representation of marginalized groups," Kondabolu thumbed out in a tweet. "The Simpsons response tonight is not a jab at me, but at what many of us consider progress.
In the episode, the typically liberal character of Lisa asked Marge to read from her favorite book, which was rife with racial stereotyping. Marge, attempting her best to remain politically correct by changing the story line featuring a cisgender protagonist, proves futile when Lisa asks, "Something that started decades ago and was applauded and inoffensive is now politically incorrect. What can you do?"
The focus shifts to a photo of Apu signed with the words, "Don't have a cow. Apu."
Kondabolu responded to the episode, saying, "The Simpsons response tonight is not a jab at me, but at what many of us consider progress."
Amar Shah joined the conversation by sharing his own experiences growing up with a father who tried to make a better life for his family. "Everybody has an opinion about Apu," he wrote on Twitter. "But did they ever talk to someone who owned a convenience store or gas station or work in one or grow up in one? You know, like my dad and I?"
Like Apu, Shah's father became a proprietor of his own business. Later, a desire to leave the cold weather led the family to Deland, Florida.

His father eventually moved the family to Orlando where he purchased a Texaco. Shah recounted the memories of practically growing up in the store. Some were pleasant, others were odd encounters with various customers.
Comparisons to the character of Apu became a usual part of a conversation.
But, the strangers who came into their lives were forever ingrained in his childhood.
Working at the store carried risks and only reinforced the hardships his father endured.
Shah addressed Kondabolu in one of his last tweets in the thread. "So yeah, I agree with some of your points @harikondabolu, but this is much more than some stereotype. For some of us, we lived this life. It was our story. It's my story."
Twitter praised Shah's tweet, which amassed over 1.5 thousand likes.
Kondabolu did interview local small business owners for his documentary, but those footage wound up on the cutting room floor due to time constraints. "Brother, thank you for sharing," he wrote Shah. "We interviewed Desi small business owners & it was left on the cutting room floor due to time. This still haunts me. There's nothing wrong with working in a gas station or store. These stories should be told with the honesty & care you just showed."
Keep reading... Show less