Tag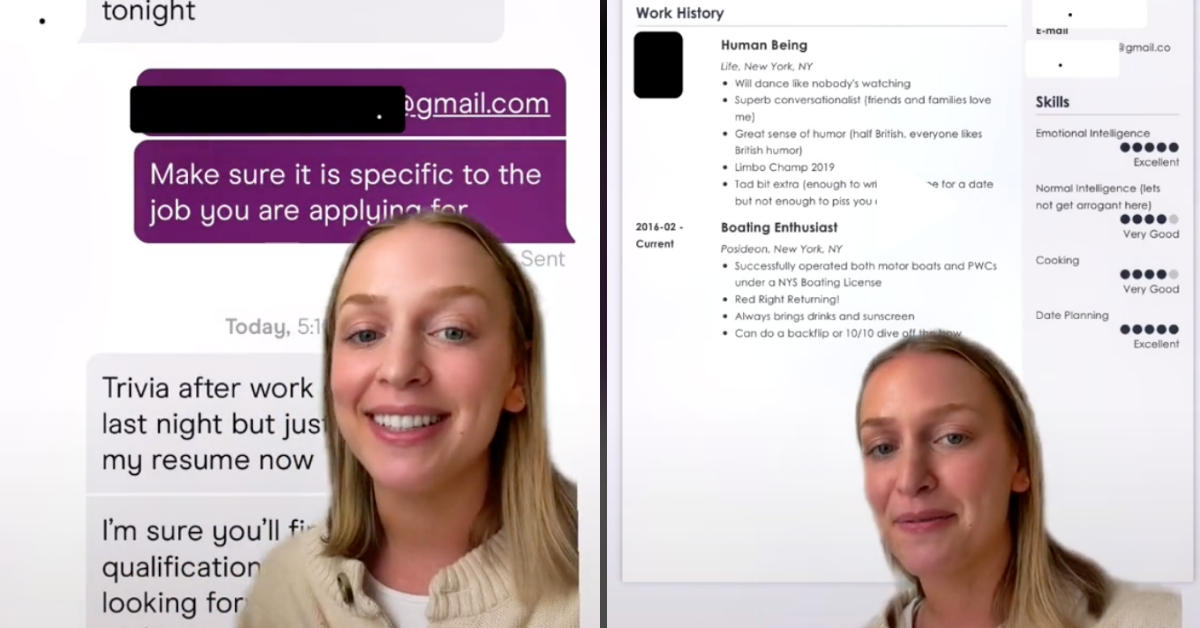 @blondebrokeandbougie/TikTok
Online dating is frequently a stressful and frustrating ordeal.
So much so, many people even find it to be a part time job.
One man took this idea to a whole new level, when he sent a resumé to a woman he met on the dating app Hinge in an effort to get a date.
The woman in question happily played along with it, and even shared her experience on her TikTok page, where she goes by the profile name Blonde Broke & Bougie (@blondebrokeandbougie)—let's call her 3B.
The video has gone on to receive over three million views.
3B shared one of her prompts on her Hinge profile is she owns a boat, something which piqued the interest of the unnamed suitor.
The man in question responded to the prompt by asking 3B what it would take to be invited for a ride on her boat.
This led 3B to ask him to "present his qualifications", which he swiftly acted on, emailing her a resumé the following day.
As 3B shared in the video, the resumé in question explained why this suitor would be an ideal date and potential boyfriend.
"Enclosed please find my resumé."
"After careful review, I believe you will find my qualifications exceed expectations and I would be the perfect fit for the position of Date/Guy to invite on your boat"
The resume included his qualifications as a "human being" and a "boating enthusiast".
3B was impressed by his qualifications, and didn't want the fun to stop.
She subsequently replied with an invitation to a first round interview.
"I let him know the skills I would be assessing, including your venue selection choice, conversation skills and overall appearance."
"And then I asked him to share some availability for Monday or Tuesday."
The suitor readily accepted the first round interview, checking off all the requirements, and offering possible times and places.
So determined was 3B to keep up the fake interview, she informed him "any conversation prior to the 'interview' would be evaluated."
The suitor happily played along, having his "assistant" confirm the time and place of their "first round interview", to which 3B replied by reminding him to bring several copies of his "resumé" to be evaluated.
The only prerequisite of the interview her suitor did not accomplish was showing up in "business formal" attire, but 3B was happy to overlook that, finding the whole exchange leading up to the interview to be an "A+".
Fellow TikTokers also ate up the "interview" lead up, with many finding this mystery man to be husband material for how willingly he played along.

@blondebrokeandbougie/TikTok

@blondebrokeandbougie/TikTok

@blondebrokeandbougie/TikTok

@blondebrokeandbougie/TikTok

@blondebrokeandbougie/TikTok

@blondebrokeandbougie/TikTok

@blondebrokeandbougie/TikTok
Understandably, everyone was also curious if the suitor succeeded in obtaining a second "interview", resulting in 3B posting a follow-up video.
3B revealed this mystery man did indeed impress her enough to warrant a second interview, but it was still too early to know whether or not he would be getting a "formal offer."
"Several interviews before an offer."
She also confirmed he knew she shared their interview lead up to her TikTok page, saying she needed to "respect people's privacy" and she would never post it without his permission."
3B also laughed off those who felt her mystery suitor was "love bombing" her, where someone uses influence in order to obtain someone's affection.
"I don't know where you saw love bombing in that."
"And I also feel like if you're saying that you're minimizing my contributions."
"I said so many funny things, and if you put this all on him, what about me?"
"I was funny!"
As she shared in another follow-up, this wasn't the first time where she had just the right response to a match on hinge.
In the forty second video, 3B shared a series of one-liners she used to end some less promising suitors she'd met on the app.

@blondebrokeandbougie

Reply to @deivineorangewine #greenscreen I'm not sure why I never ended up going on a date with these guys
"Excellent Hinge banter" seems like something which should be front and center on 3B's resumé.