Tag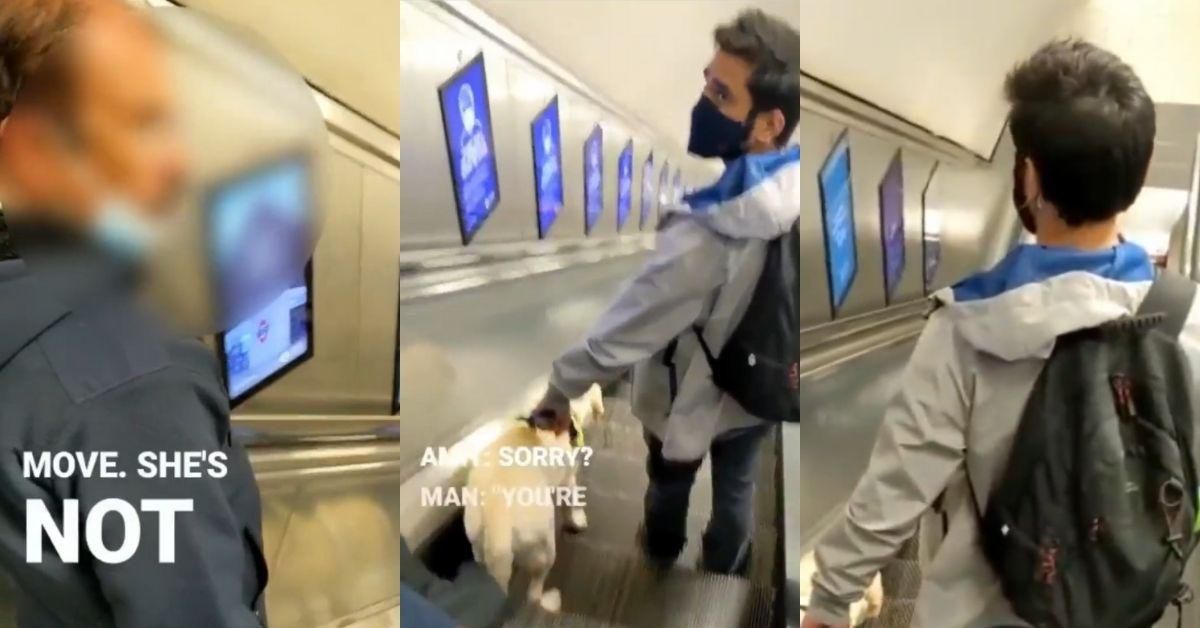 @BlindDad_UK/Twitter
A visually-impaired doctor wondered why people in certain instances are so quick to feel anger over compassion.
Dr. Amit Patel, an author and disability rights campaigner, relies on his guide dog to help navigate him around in public.
He had his trusted companion next to him on an escalator leading to a London subway station when he was confronted by a commuter who was tail-gating him and anxious to walk past them.
While commuters in major cities are generally aware of the unspoken rule of standing to one side on an escalator for courtesy, they are not obligated to do so.
Patel needed his guide dog to stay beside him for safety, and an impatient commuter failed to identify the situation and resorted to denigrating him.

In a clip Patel shared on Twitter, the frustrated commuter who was "blocked" on the operating escalator was heard telling Patel:
"You're worse than a dog if you don't understand the human being. I just want to catch the train."
Patel responded:

"Yes but I can't move, she's a guide dog. I can't physically move, she's not going to move. There's no point arguing."
The man then stopped complaining for the rest of the descent.

"Why do some people get so angry?" Patel later wrote in the Twitter caption.
"This guy may have forgotten what he said by the time he got on the tube, but it ruined my day. You can hear in my voice just how stressed I was."
"I'd never endanger @Kika_GuideDog or myself by attempting to move on an escalator."
Patel ended his post with a reminder to "Please, be kind."
The doctor had the full support of Twitter.

Those familiar with Patel's situation commiserated with him.

People called out the man's audacity in making a stink about a minor inconvenience.
The official Twitter account for the charity Guide Dogs also expressed support for Patel.
They wrote:
"We're so sorry you've had to endure this Amit. Hope you and @Kika_GuideDog are ok."
Guide Dogs also shared the clip on their page, writing:

"To reiterate from @BlindDad_Uk - It is incredibly dangerous to demand a guide dog owner 'moves' on an escalator."
In response to the video, Chief Customer Officer Mark Evers said in a statement obtained Indy 100:
"We are very sorry that Dr. Patel experienced this."
"Everyone has the right to travel around London safely without abuse and we encourage customers to be patient and mindful of other people's needs."
"We have reached out to Dr. Patel to ask for more information about this incident so we can ensure everything is being done to prevent this from happening again."