drew brees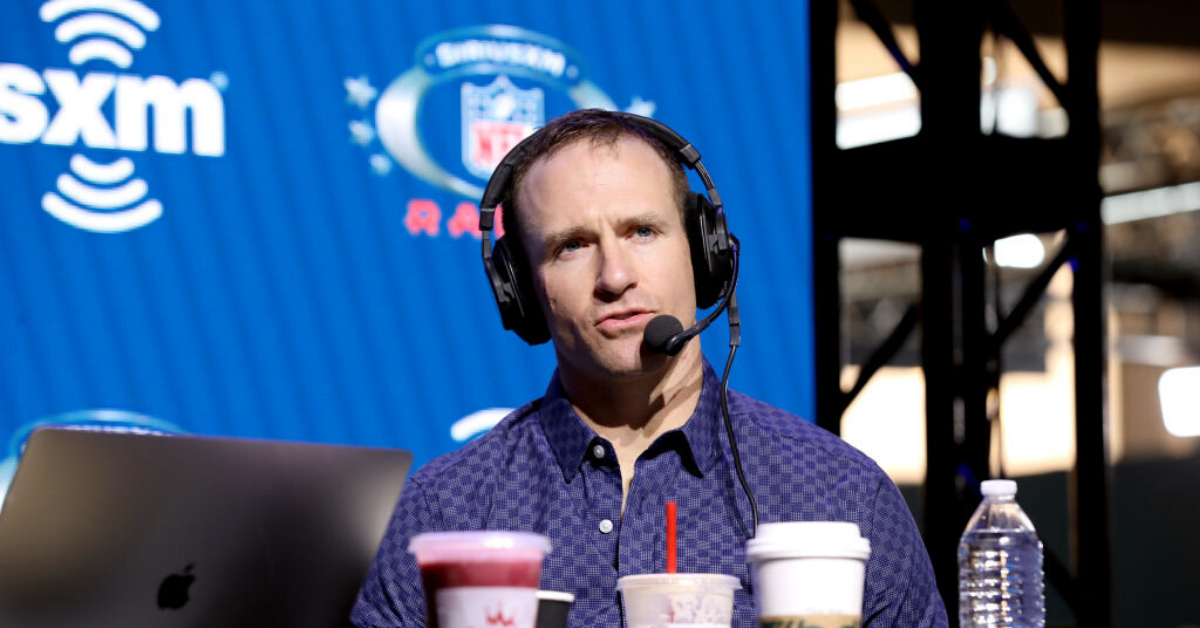 Cindy Ord/Getty Images for SiriusXM
During a recent interview with Yahoo Finance, New Orleans Saints quarterback Drew Brees denounced several professional athletes' for kneeling during the national anthem, a gesture meant to protest police brutality and racial bias in law enforcement resulting from systemic racism in the United States.
After Brees called the practice "disrespectful" to the American flag, the United States and people who served in the military, he faced a wave of backlash.
During the Yahoo Finance interview, Brees declared his opposition to the movement:
"I will never agree to anybody disrespecting the flag of the United States of America, or our country."
Brees then explained that he pondered his grandfathers, who served in the U.S. military, while standing during the anthem.

He then closed with the following.
"And is everything right with our country right now? No, it's not. We still have a long way to go."
"But I think what you do by standing there and showing respect to the flag with your hand over your heart, is it shows unity. It shows that we are all in this together, we can all do better, and that we are part of the solution."
Brees made that statement on June 3rd amidst sustained nationwide protests sparked by the death of George Floyd at the hands of Minneapolis police officers.
The kneeling protest began in the early days of the 2016 NFL season, when San Francisco 49ers quarterback Colin Kaepernick first took a knee during the anthem. Kaepernick was prompted by several incidents that year in which police killed unarmed Black men.

After Kaepernick first took a knee, the practice spread to several athletes across many professional and amateur sports leagues. Athletes have continued to kneel to this day, at least until the pandemic canceled nearly all sports.
The quarterback's comments drew harsh criticism from the public.
Many of Brees' New Orleans Saints teammates came forward to respond to his statement.
We don't care if you don't agree and whoever else how about that.
— Michael Thomas (@Cantguardmike) June 3, 2020
Smh.. Ignorant
— Emmanuel Sanders (@ESanders_10) June 3, 2020
Other influential athletes loudly criticized Brees as well.
WOW MAN!! 🤦🏾♂️. Is it still surprising at this point. Sure isn't! You literally still don't understand why Kap was kneeling on one knee?? Has absolute nothing to do with the disrespect of 🇺🇸 and our soldiers(men and women) who keep our land free. My father-in-law was one of those https://t.co/pvUWPmh4s8
— LeBron James (@KingJames) June 3, 2020
He's beyond lost. Guarantee you there were black men fighting along side your grandfather but this doesn't seem to be about that. That uncomfortable conversation you are trying to avoid by injecting military into a conversation about brutality and equality is part of the problem https://t.co/ON81UsOWPw pic.twitter.com/HH3EVTIH8p
— Richard Sherman (@RSherman_25) June 3, 2020
How can you be in the locker rooms, speaking to the players, know the reasoning, and yet still be dumb enough to believe it's about the flag. Like HOW???? He should know better than that. He just doesn't care. Damn man not Drew...
— Damon Harrison Sr. (@snacks) June 3, 2020
The public reponse eventually pushed Brees to issue a lengthy apology on his Instagram.
Among other things, he admitted how tone deaf the comments were in the current tense atmosphere.
"In an attempt to talk about respect, unity and solidarity centered around the American flag and the national anthem, I made comments that were insensitive and completely missed the mark on the issues we are facing right now as a country."
"I am sick about the way my comments were perceived yesterday, but I take full responsibility and accountability. I recognize that I should do less talking and more listening...and when the Black community is talking about their pain, we all need to listen."

See Brees' entire apology below.
Some people put the onus back on people of color.
Some even portrayed Brees as a victim.
@drewbrees/Instagram

@drewbrees/Instagram
@drewbrees/Instagram
But not everyone was willing to accept an apology citing the fault lay in how Brees "comments were perceived" rather than in what he actually said.
@drewbrees/Instagram
@drewbrees/Instagram

@drewbrees/Instagram
Fan Wes Anan wrote on Brees Instagram post:
"I want you to apologize to Kap. I want you to acknowledge that he was right and that because Kap made himself vulnerable for the sake of a movement that was beyond him, he was black listed."
"You have no idea how inflammatory your words were... you are someone a lot of Black people respect... or respected*. I do agree that ignorance should be matched with an opportunity to learn and that you are an educated man... however, you need to make a direct statement and apology to the men you discredited and the people he represents."
"Your comment showed that you still don't FULLY understand."
"Your following shows that WE still don't matter enough to y'all. 400 years, Drew... generation after generation born into a world that HATES us. That gas lights our thoughts and emotions."
"Some of your teammates are products of a vicious cycle perpetuated by that hate. It has influenced their greatness but at the cost of parts of their humanity."
"You were one of my favorite players, i'm glad that means nothing to you. But at least keep advocating for the lives of the guys that HELPED YOU GET TO WHERE YOU ARE. All the Black lineman that would lay down their lives for you. Who have had their bodies ripped up and careers cut short. They go back to colored faces that love them."
"I know you understand that... but in light of a flag with a twisted history... what means more to you? Without those Black faces is Drew Brees, Drew Brees? Uncle Drew, Almighty 9!"
"I'm in tears man... you were a super hero to me."
Saints practices may be an uncomfortable place for Brees when the NFL eventually does start back up again if a full and sincere apology is not received and accepted.

Keep reading... Show less