dig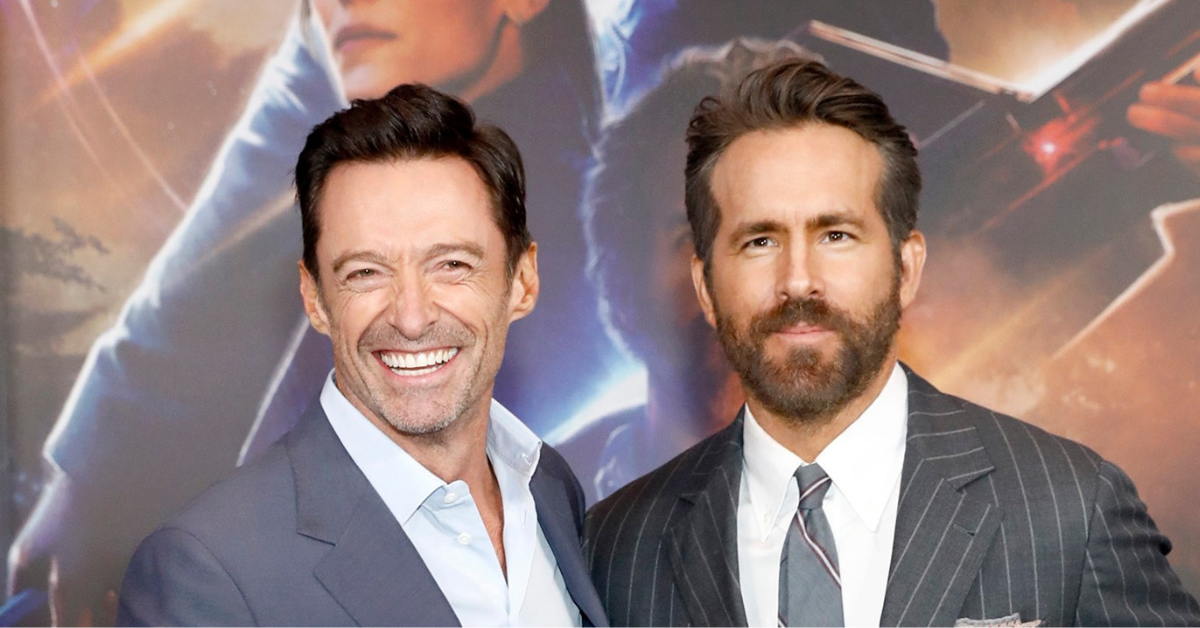 Monica Schipper/Getty Images for Netflix
Ryan Reynolds just amped up his competition with his faux frenemy Hugh Jackman over who's got the bigger biceps in a shared post on social media.
The photo originally posted by Reynolds' trainer Don Saladino showed the actor weightlifting in preparation for the upcoming Deadpool 3.
Reynolds and Jackman announced in September the two will appear together in the next installment of the Marvel superhero film. Jackman will be reprising his X-Men character Wolverine with an appearance rumored to be more than just a cameo.
In a recent post trolling his bestie, Reynolds wore a white tank top while doing bicep curls with a a 60-pound dumbell in each hand.
And he looked jacked!
Endeavoring to intimidate Jackman with his ginormous guns, Reynolds shared Saladino's post on Instagram Story and made a dig at Jackman in the caption.
"I'm not training for Deadpool."
"I'm training to spend several months with @thehughjackman—who's not as nice as everyone thinks."
Fans were here for the burn.

Jackman shared Reynold's post and wrote:
"Ur cute."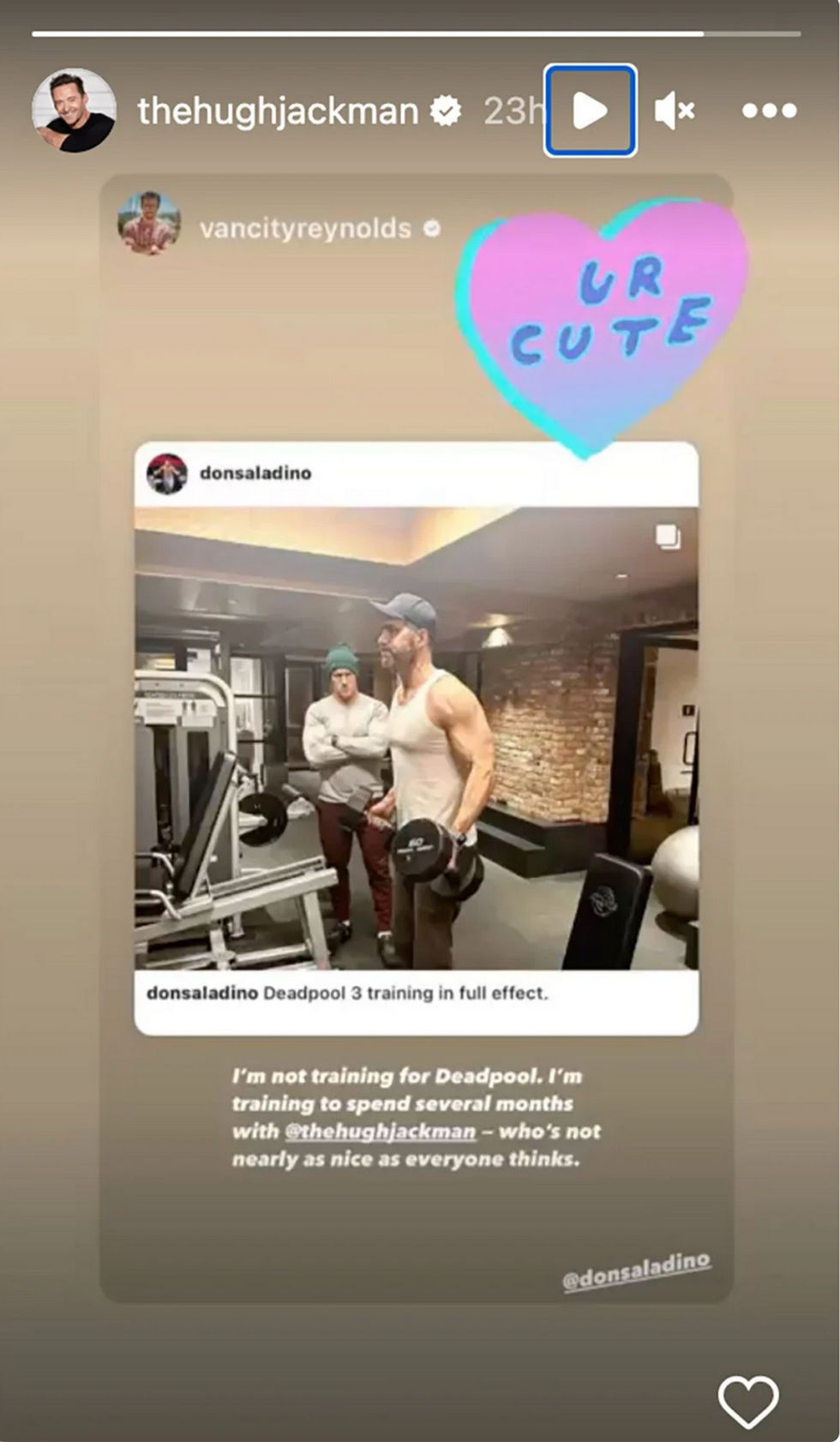 @thehughjackman/Instagram
The ongoing bromance between the two has been punctuated by periodic burns leveled at one another to the amusement of fans on social media.

In January 2017, the friendly trolling became more apparent when Reynolds became obsessed with his Deadpool character doing another movie with Jackman's Wolverine. The pair actually played the same roles in 2009's X-Men Origins: Wolverine, but the changes made to Reynold's Deadpool in the film were widely panned by fans of the wisecracking character.
Reynolds remained determined to manifest his wishes for a redux even after Wolverine retired his claws in what was believed to be his final film Logan.
Speaking to Variety at the time, Reynolds said of Jackman:
"I have no idea if I can change his mind."
"It's the audience: I would exclusively exploit that relationship to get Hugh back for another one."
When it became official the two characters would reunite in Reynold's Deadpool franchise, the trolling between the pair ramped up.
Last month, Jackman campaigned against Reynold's holiday movie musical Spirited getting an Oscar nomination for best song.
Upon hearing the Academy was considering the film's song "Good Afternoon"–which features Reynold's vocals–in the Best Song category, Jackman said:

"Ryan Reynolds getting a nomination in the Best Song category would make the next year of my life insufferable."
"It would—I mean, I have to spend a year with him shooting Wolverine and Deadpool."
"Trust me, it would be impossible. It would be a problem."
Jackman noted he enjoyed Spirited and had mad respect for all those involved in the Netflix film including Reynolds' co-stars Will Ferrell and Octavia Spencer and songwriting team Benj Pasek and Justin Paul.

However, Jackman maintained:

"But please, please, from the bottom of my heart—do not validate Ryan Reynolds in this way. Please."
Reynolds responded by taking the high road and advocating for Jackman to be nominated for Best Actor for his performance in The Son.

"You know last week Hugh Jackman lovingly asked the Academy to not vote for our song 'Good Afternoon' in the Best Song category," said Reynolds in a video post.
He continued:
"Well, I'm not going to stoop to that level."
"I'm going to rise to the occasion and rise above it all and say right now that I loved Hugh's performance in The Son."
"There's zero sarcasm here. No wink, wink, nudge, nudge."
Jackman has played the Marvel character of Wolverine a total of nine times since his first appearance in 2000's X-Men.
In an October interview with People magazine, Jackman joked that their characters spending too much time together in the third installment of Deadpool–which he likes to call Wolverine 10–will eventually take a toll.
"I think being on set with [Ryan] every day and those two on film in every city together every day … I think it's fair to say they'll be punching the sh*t out of each other the whole time."
He added:

"All jokes aside, I'll probably have more fun on this movie than any other I've ever done."
Deadpool 3 is due in theaters on September 6, 2024.
Keep reading...Show less