Tag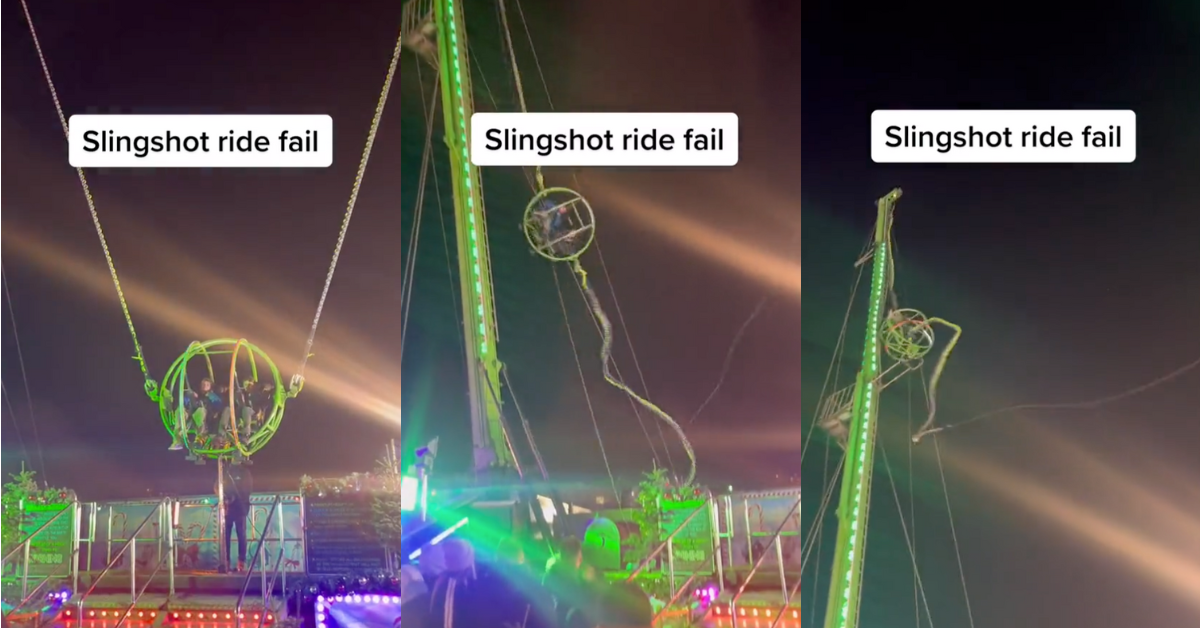 @AlbyLad_/Twitter
Well this is absolutely terrifying.
On Wednesday night, a ride malfunction at Hyde Park Winter Wonderland in London was caught on video.
Two boys were strapped in and ready for the amusement park's Slingshot ride for what should have been an exhilarating experience.
However, upon the ride's takeoff, one side of the ride malfunctioned. The teens were launched into a post and remained suspended in the air while the crowd below watched in horror.
You can watch the incident below.
\u201cWinter wonderland slingshot fail \ud83d\ude32\ud83d\ude32\u201d

— ALBY LAD (@ALBY LAD) 1671063436
Terrified viewers online chimed in.
Winter wonderland statement "technical issue" the chord snapped clean off 🤣🤣🤣
— Billy Sheldon ☠ (@Mr_Billyonaire) December 15, 2022
So lucky it failed when it did and not when it had got to its furthest point upwards!
— Paul Dyson (@PaulDys69631436) December 15, 2022
\u201c@jry_wales @AlbyLad_ Couldn\u2019t pay me all the money in the world to get on there\u201d

— ALBY LAD (@ALBY LAD) 1671063436
A bungy cable only has 1 elastic at least this has 2! Why do people seek out these thrills, is normal life not enough?!
— Graham (@swtorh1ll) December 16, 2022
Glad they will be okay! This is why I don't ride or get on these gizmos!
— Bob Delgman (@67_delgman) December 16, 2022
The amusement park workers were able to lower the ride and free the boys before a rescue crew arrived, and miraculously no injuries were reported.
News Shopperwas told by an inspector the accident was caused by a technical issue within the gearbox and the elastic cord and supporting steel wire rope had "not snapped or failed in any way."
The full statement from Amusement Device Inspection Procedures Scheme said:
"We can confirm that the elastic cord and the steel wire rope supporting the Reverse Bungee gondola in which the public sit has not snapped or failed in any way."
"We inspected the ride at 7am this morning and it was found that a technical issue had occurred within a sealed gear box that controls the release of the elastic cord and steel wire rope."
"The HSE has been informed."
A full statement from Hyde Park Winter Wonderland said:
"We can confirm that a technical issue involving the reverse bungee occurred on Wednesday evening."
"Both riders were safely escorted off the ride, checked by our on-site medics and were not injured."
"Safety is our highest priority and the ride is closed while further investigation takes place. All of our rides undergo rigorous and regular safety checks by experienced members of staff trained in health and safety."
"We also provide regular training for all staff to ensure our visitors can enjoy a fun and safe experience."
"All other attractions at Winter Wonderland are operating as normal."
Luckily the boys were able to walk away from this unscathed.