Tag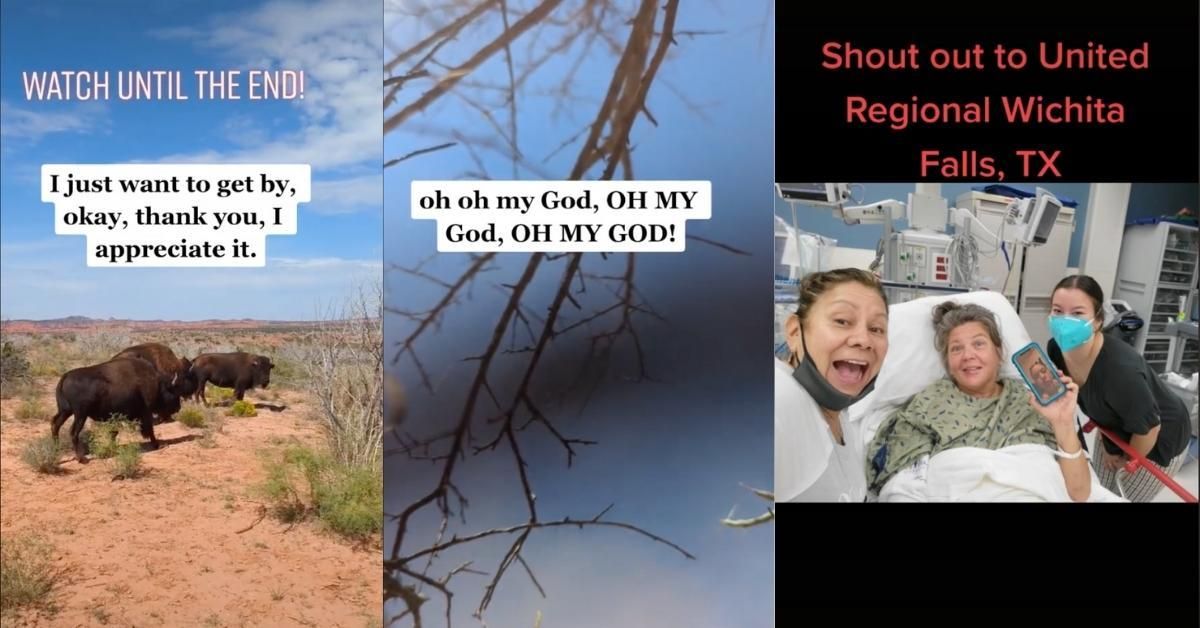 @rebeccaclark/TikTok
Bison are wild animals, and not at all domestic. This is a fact that Rebecca Clark—a solo hiker on the trail in Texas—learned the hard way when several bison crossed her path. Though Clark clearly tries to avoid them, one charges and injures her in a harrowing few seconds near the end of her TikTok.
@rebeccaclark

Solo hiking at Caprock Canyons State Park & Trailway in Texas. I was charged and gored by a bison because I was to CLOSE to be passing them on a trailway They are beautiful creatures protected by the Texas Parks & Wildlife Department (TPWD) and are a part of the Texas State Bison Restoration Project where the park has restored the historic Charles Goodnight Bison herd (The Official Texas State Bison Herd) to a portion of its former range in the park. I am posting to support safety while enjoying Texas State Parks #TPWD #bisonetiquette101 #hikingsafety #llbean #chaos #rei
She is okay! As she posted in a follow-up video, she was gored in the back by the bison seen charging at the end of the video above, thrown into a mesquite bush, and lay there for 50 minutes with limited cell service until rescue showed up. She was able to get texts through to family, and was taken via helicopter to a local hospital for treatment.
@rebeccaclark

I am okay! Thank you for all your concerns and to tell you the truth your humor as well. I'm on the road to recovery after a run-in with a bison at Caprock Canyon State Park. #caprockcanyonsstatepark #TPWD #hikingsafety
As with the combination of TikTok and someone interacting with a wild animal, reactions were swift to pour in.
Many people had well-meaning advice for Clark.

@johnranft1965/TikTok

@rose.bud.0/TikTok

@jodelmel/TikTok
Clark took to the comments to agree with everyone, pointing out that she had posted the video so as to educate people in how not to encounter a bison.

@wonderwomanlaracroft/TikTok

@elisabethwhiting/TikTok
She admitted to making mistakes, but had to defend her country status when accused of being a city-slicker.
@swordfish42o/TikTok
And then thanked someone who actually understood why she was posting herself making obvious wildlife encounter mistakes.

@thevacuous/TikTok
On the second video where she tells everyone she's okay, many people posted their relief at her survival and sent along prayers and thoughts for her recovery.

@redheadedmind/TikTok

@msll32/TikTok

@justnellie2pt0/TikTok
Finally, someone took away a message that is widely applicable from this video.

@braindoc1/TikTok
Clark has other less harrowing videos of views from the same state park in Texas, with a sweeter message.
Glad she survived the encounter, learned a good lesson, and passing it along to others.