Tag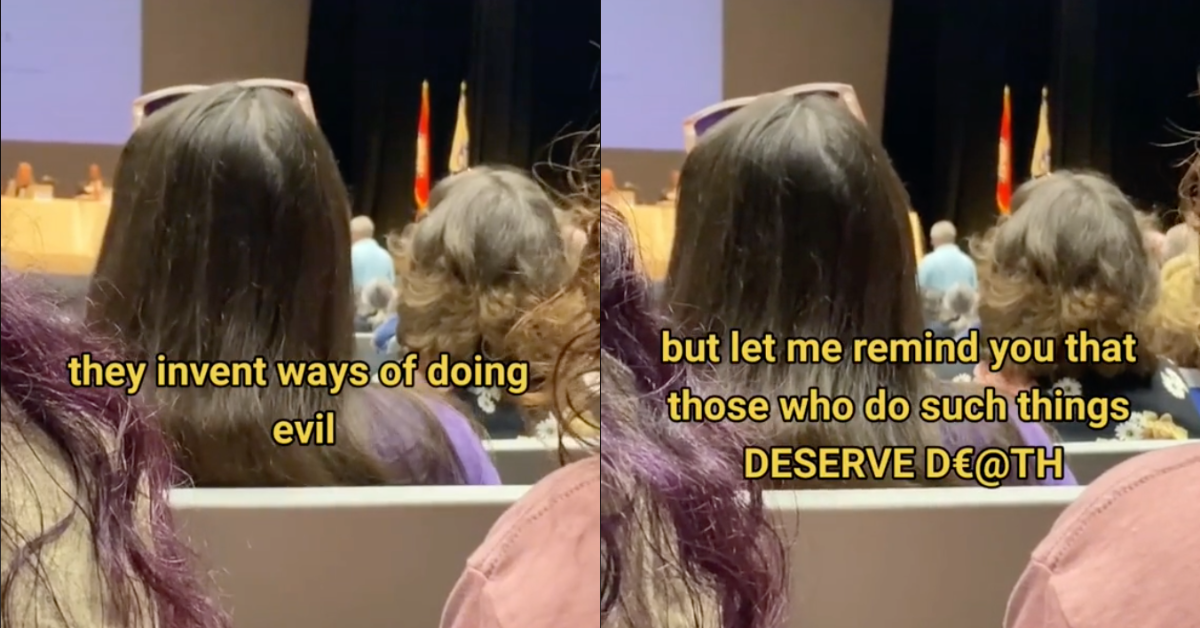 @layalaine/TikTok
A Conway, Arkansas school board meeting veered into unsettling and dangerous territory after a speaker used his time at the podium to proclaim LGBTQ+ people "deserve death."
The speaker—a gray-haired man later identified as a local Evangelical Christian preacher named Cal Paulson—claimed God gave LGBTQ+ people "over to a depraved mind so that they do what they should not be doing."
Paulson's remarks went viral after they were recorded by a TikTok user who posts under the handle Layalaine (@layalaine).
The video was captioned:
"If you thought this was a sermon at church, you'd be wrong. These were the words the Conway school board allowed to be spoken tonight."
"This man spoke right before a sophomore from Conway high who is a transgender student."
"He said, 'let me remind you that those who do such things deserve [death]'."
"He said those who do such things DESERVE [DEATH] and the school board sat there and did NOTHING. CPSD should be ashamed."
You can hear what he said in the video below.
Pastor Paulson said:
"God gave them over to a depraved mind so that they do what they should not be doing."
"They invent ways of doing evil."
"But let me remind you that those who do such things deserve death."
"The LGBT community not only continues to do these very things, but also approves of those who practice them."
The Conway School District's board meeting was mired in controversy.
During the same meeting the board approved anti-transgender policies, including one requiring schools to reserve multiple-occupancy restrooms or changing areas for the "exclusive use" of male or female students according to the gender assigned to them at birth.
Protesters against transphobia and homophobia were reportedly removed from the meeting.
Per the policy, a single-occupancy restroom or changing room may be provided as a "reasonable accomodation" to any student who asks for one.
Paulson's remarks amounted to an even bolder act of aggression against LGBTQ+ children.
Perhaps emboldened by Conway School District's institutionalized transphobia, Paulson felt empowered to declare a death sentence on all LGBTQ+ children.
His remarks were swiftly condemned online.
In an emailed statement to NBC News, Heather Kendrick, a spokesperson for Conway Public Schools, said the school district does not endorse Paulson's comments.
She wrote:
"The Conway Public Schools Board of Education allows patrons to speak for a specified amount of time to comment on current agenda items."
"While the Conway School Board appreciates the insight and perspectives given in these comments, the personal narratives of individual patrons do not represent the school district or school board's feelings or stances on issues."
More and more Republicans around the country have made headlines for espousing similar rhetoric.
Over the summer, Scott Esk, a Republican candidate in Oklahoma, was criticized after he said Christians would be "totally in the right" to stone LGBTQ+ people to death.
And in Florida—where the "Don't Say Gay" law continues to pose a grave threat to LGBTQ+ children as well as educators—Alisabeth Janai Lancaster, a Florida woman who ran in an August primary for Santa Rosa County School Board, was rebuked after she declared doctors who treat transgender children "should be hanging from the nearest tree."