Tag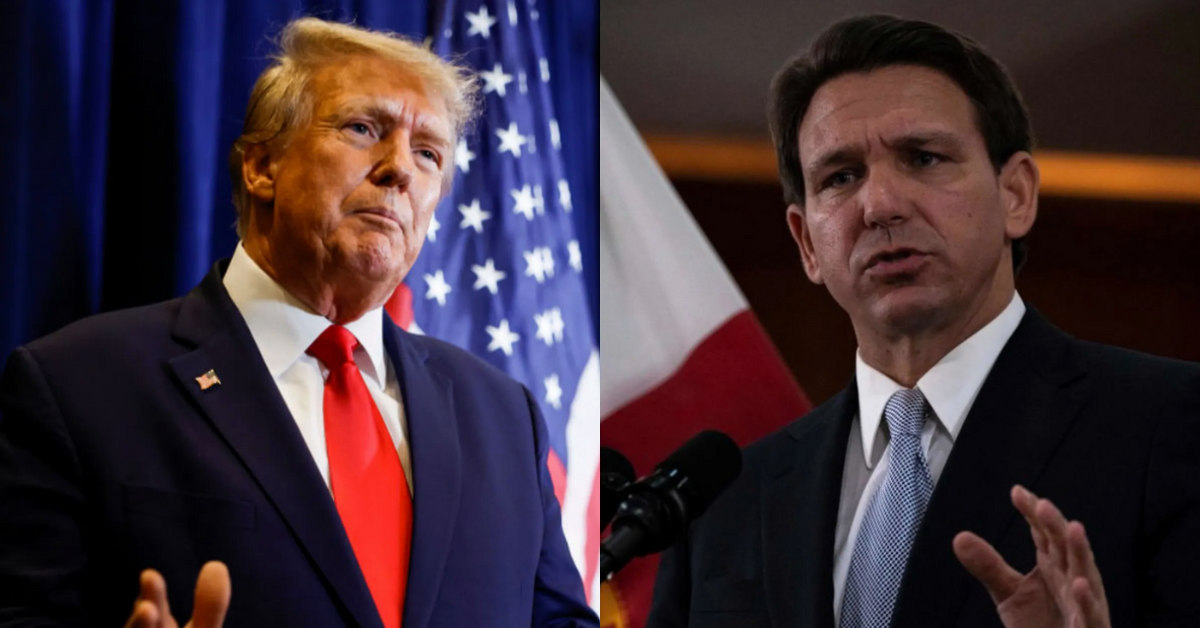 Anna Moneymaker/Getty Images; Cheney Orr/AFP via Getty Images
Former President Donald Trump unleashed a series of increasingly bizarre posts across his social media platforms to welcome Florida Governor Ron DeSantis to the Republican presidential race.
Trump's peculiar antics included a video denouncing DeSantis as an ungrateful politician who owes his career to Trump, alongside a peculiar clip featuring what appears to be a SpaceX rocket toppling over and exploding with the words "Ron! 2024" superimposed.
Furthermore, Trump shared an unusual video that mocked DeSantis' entrance into the race during a glitch-ridden Twitter event hosted by Elon Musk, the billionaire Twitter CEO.
In Trump's version of events, the video portrayed not only Musk and DeSantis but also featured Adolf Hitler, the devil, a coughing Dick Cheney, billionaire George Soros, World Economic Forum founder Klaus Schwab, and an FBI agent openly discussing a plot to "take out" Trump.
The video concludes with a fake voice that seems to be generated by an artificial intelligence program, hurling insults in Trump's style:
"The devil, I'm gonna kick your a** very soon. Hitler, you're already dead. Dick Cheney, sounds like you'll be joining Hitler very soon."
"Ron DeSanctimonious can kiss my big, beautiful 2024 presidential ass."
You can see the video below.
Trump shared this peculiar video on his official Instagram and Truth Social pages, although it quickly spread across Twitter through various users' shares.
Trump has been criticized by both conservatives and liberals alike.
Musk had envisioned a moment of triumph as he played host to DeSantis in a Twitter Spaces gathering, aimed at announcing the latter's presidential bid.
Nevertheless, the occasion swiftly devolved into a mortifying debacle, marred by vexing technical hiccups, inadvertent microphone mishaps, and fragmented exchanges that persisted for over 20 minutes before abruptly vanishing. Eventually, the livestream recommenced, leaving a multitude of listeners in suspense, eagerly awaiting even a solitary utterance from DeSantis.
As the Twitter audio livestream faltered, the reaction, both within and outside the platform, resonated with astonishment and derision.
The hashtag #Desaster proliferated across numerous posts, while others seized the opportunity to mock the failure. Even President Joe Biden's personal @JoeBiden account contributed to the chorus, sharing a donation link with a sardonic comment, "This link works."