acts of kindness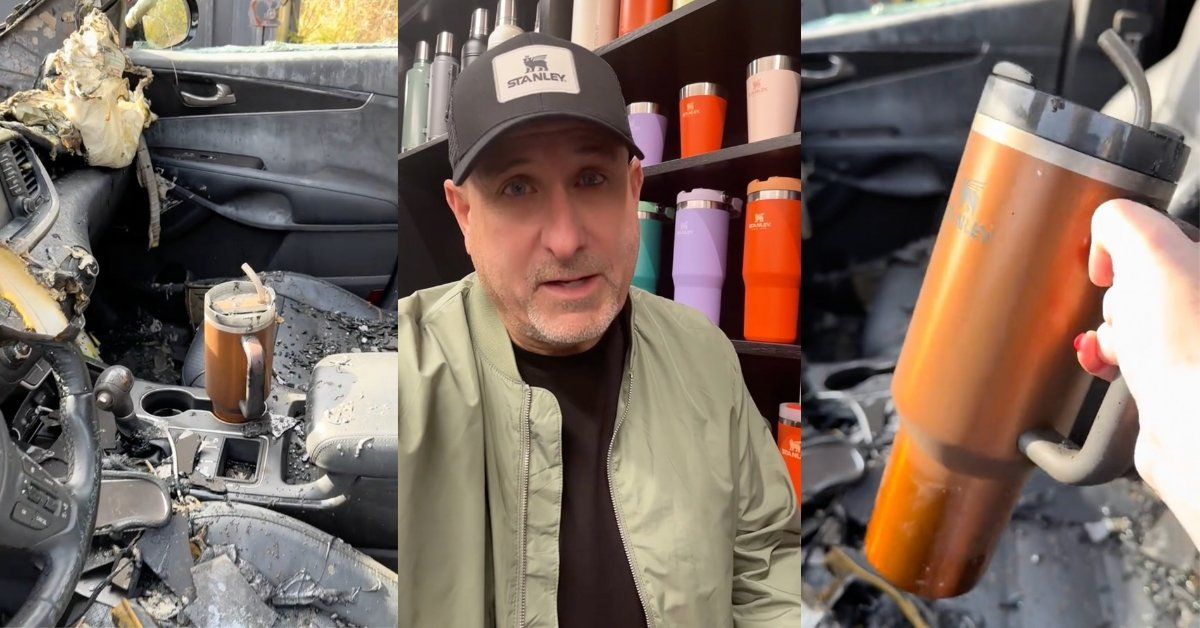 @danimarielettering/TikTok; @stanleybrand/TikTok
Stanley brand tumblers just got a major marketing push after a woman showed that her Stanley cup survived a car fire.
The stainless steel cup made by the company named after its "bottle innovator" William Stanley survived the conflagration, even still containing ice–proving the effectiveness of the vacuum-insulated lidded tumbler.
TikToker Danielle–a.k.a @danimarielettering–posted a video showing the inside of her charred-beyond-recognition KIA but with her orange Stanley cup still intact.
Danielle told viewers:
"Everyone's so concerned about if the Stanley spills."
She then yanked the cup from among the pile of melted debris and shook it to demonstrate that the rattling sound indicated that the ice inside had not melted.
She captioned the clip by tagging the tumbler company and wrote:
"Thirsty after you catch on fire? @Stanley 1913 is like no problem i gotchu."
You can see the clip here.

@danimarielettering

Thirsty after you catch on fire? @Stanley 1913 is like no problem i gotchu #fyp #carfire #accident #stanleycup
Suddenly, people were clamoring for a Stanley tumbler of their own.
@danimarielettering

@danimarielettering

@danimarielettering
@danimarielettering

@danimarielettering
In response to the viral video, Stanley President Terrence Riley posted a stitched video on TikTok, saying:

"Hey Danielle, my name is Terrance Riley, I'm the president of Stanley and we've all seen your video."
"Wow, what an ordeal and we're all really glad you're safe."
"Thanks for sharing the video, because, wow, it really shows how Stanley, our Stanleys, are built for life."
But his message came with a plot twist.

"Because of what it went through with you, I couldn't think of a better example of our product's quality," Riley continued.
"But anyway, we're glad you're safe. I've seen a lot of comments that we should send you some Stanleys."
"Well, we're gonna send you some Stanleys, but there's one more thing.'
He continued:

"We've never done this before, and we'll probably never do it again, but we'd love to replace your vehicle."
"All of us at Stanley, we'd really like to replace your vehicle."
Yesterday a video went viral on TikTok when a woman shared the inside of her car after it caught on fire \n\nIncluding her Stanley cup - still in tact and with ice in it!!!\n\nThe president of Stanley stitched the video in < 24 hours offering to replace her cup\u2026..and her car. \n\nThis\u2026

— (@)
Riley closed out the video by telling Danielle to check her DMs for details.
"Thanks. Be safe. Cheers."
Social media users were blown away by the gesture.

I love the fact he stressed the fact that they may never do it again before some ppl will probably start burning their cars 😃😃😃
— Elphizzy (@Iamharphyz) November 17, 2023
Didn't know Stanley. Now I know Stanley and I love them. Mission accomplished.
— Lance Ballz (@LanceBallz) November 17, 2023
Love this! I've said it 100 times and will say it 100 more:

The best marketing doesn't look like marketing
— Katelyn Bourgoin 🧠 (@KateBour) November 17, 2023
Let's get real for a sec. This whole Stanley cup situation? It's straight-up phenomenal. Like, this woman's car literally turned into a blazing inferno, and what survives? Her Stanley cup, chillin' there like a boss with ice still in it! That's not just luck; that's some serious…
— positivity moon (@arrtnem) November 17, 2023
How to be memorable 🚀

I won't be forgetting Stanley cups.

It's that easy folks… and it doesn't have to be Oprah level giveaways to stand out - just got to be there when it happens and actually care about it.
— Jason Barrett (@JasonDigital) November 17, 2023
Danielle's cup appeared to be the Adventure Quencher H2.0 Flowstate Tumbler, which is made with recycled stainless steel and can stay iced for 48 hours.

The company's website shared stories from customers praising the merchandise with similar survival stories they refer to as "Stanleyness."
One customer named Greg Gillard shared his anecdote involving his resilient Stanley thermos.
"My mother bought me my Stanley thermos in 1979 when I joined the plumbing trade," he said.
"I was working in Maryland years ago and the hotel I was staying at had a freak gas explosion and burnt down to the ground."
"I was not there at the time, but all my belongings were. I lost everything I had on me there."
"After the fire was put out and the rubble sifted through, the only thing left standing, basically untouched? My Stanley thermos."
He added:

"I've used that thermos every day since then. It's not green anymore and has quite a few dents, but still keeps my coffee piping hot all day, every day."
"I use it at work and when I am hunting or fishing. It is very seldom not with me. It joined the workforce with me and it is going to retire with me!"
An anonymous happy customer shared:
"This is short and sweet: My husband unknowingly dropped his thermos under his truck."
"He then rolled over it with all 18 wheels, loaded at 80,000 lbs. When he noticed it was gone, he backed up to find it - rolling over it again!"
"When he got out of the truck, he pulled out the thermos - which only had minor scratches on it! He poured out steaming hot coffee that had been there for at least 8 hours."
Now that's what we call a superior product. Well done, Stanley!
Keep reading...Show less