abortion rights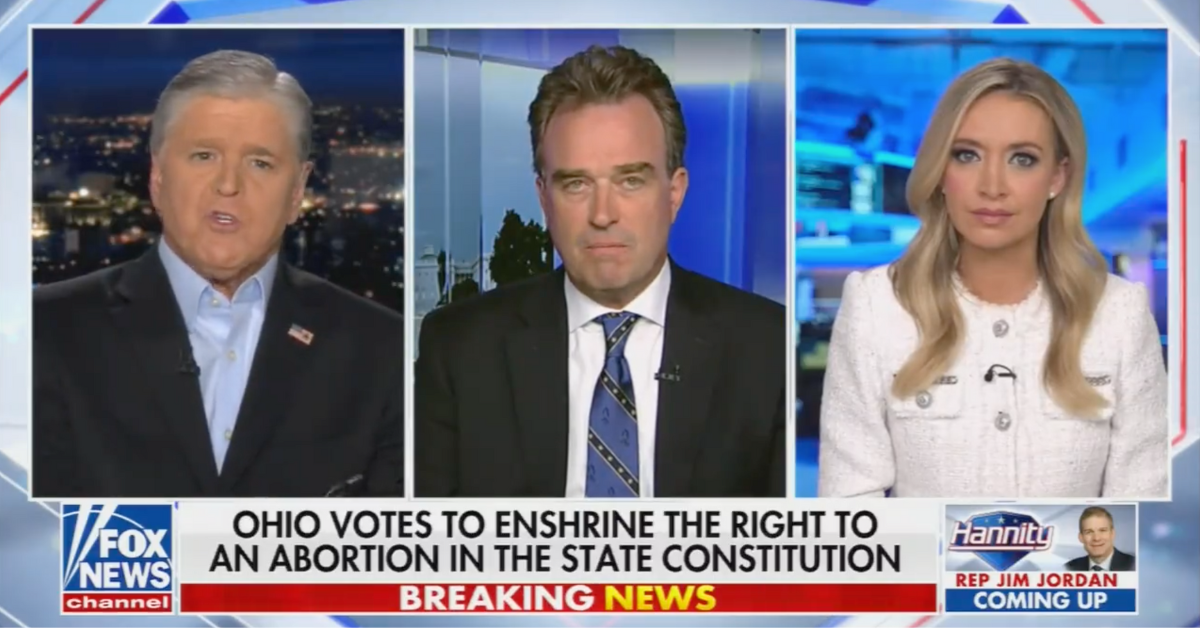 Fox News
Fox News personality Sean Hannity was swiftly called out after claiming on Election Night that "Democrats are trying to scare women into thinking Republicans don't want abortion legal under any circumstances."
Hannity's remarks were in reference to the election outcome in Ohio, where a significant milestone was reached as voters approved Issue 1, which enshrines the right to abortion into the state's constitution.

This win for abortion rights marked the seventh consecutive victory in state ballot measures since the overturning of Roe v. Wade in mid-2022. The passage of Issue 1 was met with a strong voter turnout.
You can hear his remarks in the video below.

Charlie Hurt, a contributor to Fox News, continued Hannity's remarks by incorrectly claiming that Democrats endorse abortion up to the moment of birth and "perhaps even further." This is a frequent distortion made by Republicans concerning abortions in the advanced stages of pregnancy, which are exceedingly uncommon and usually occur due to medical necessities or fetal abnormalities.
Since the conservative-leaning Supreme Court overturned Roe v. Wade last year, eliminating federal protections for abortion, Republicans in nearly two dozen states have sought to prohibit or significantly restrict access to abortions.
Hannity's remarks prompted many to point out that Democrats don't have to use abortion rights to "scare" women—in fact, the GOP has done a great job of that themselves.
Ohio's GOP leaders voiced concerns regarding the abortion amendment, even though repealing a constitutional amendment once it's in effect can be challenging.

The ballot measure's success in Ohio makes the state the seventh where voters decided to protect abortion access. Notably, Ohio was the only state to place abortion access on the ballot this year.
Republicans have reaped the consequences since the fall of Roe v. Wade. The GOP has been up in arms over the issue ever since it became clear voters would retaliate against them.
The first blow came just two months after Roe was overturned, when Kansas voters overwhelmingly rejected efforts to restrict reproductive rights in the state by moving to enshrine them in the state's constitution.
Democrats have won in key contests since, a development largely seen as a reaction to the radical Supreme Court decision.
Keep reading...Show less