Tag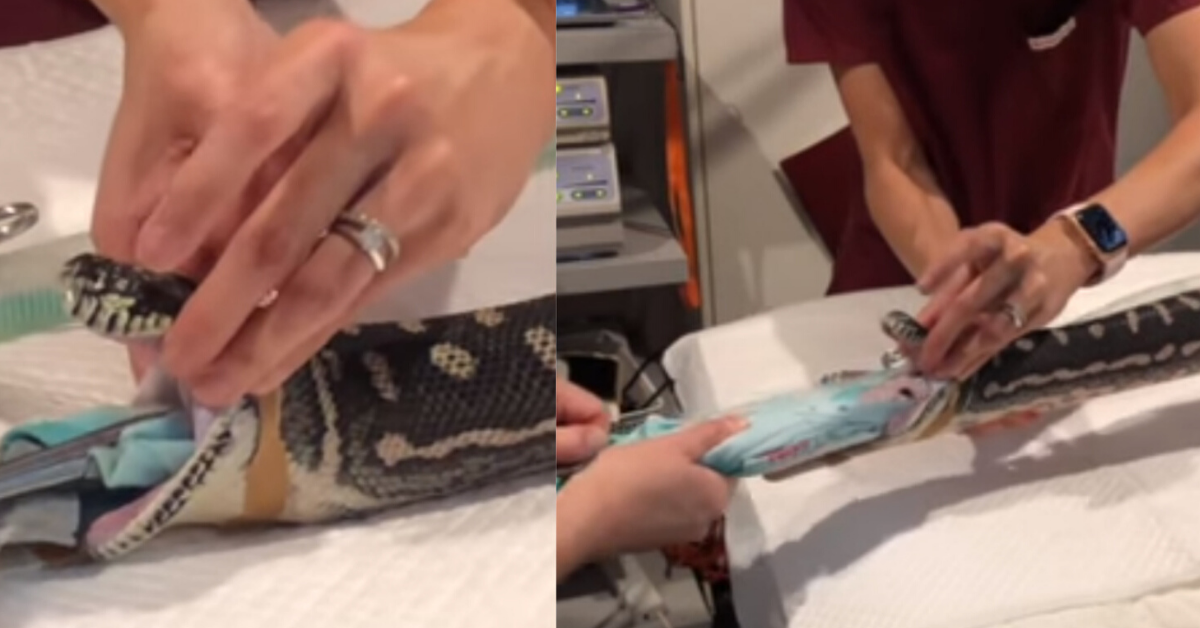 SASH, the Small Animal Specialist
Snakes like to eat. A lot. A greedy pet python didn't see an issue with swallowing a whole beach towel. Thankfully this vet was there to save it.
The horrifying moment the towel was pulled from the snake's throat was filmed by the team at the Small Animal Specialist Hospital in Sydney.
Monty is an 18-year-old jungle python. Get it? Monty the python. Anyway, was taken to the vet the day after her owner suspected she had eaten something she shouldn't have.
The lengthy procedure involved the snake being anesthetized, with radiographs taken to locate the towel — which was approximately one meter from her head.
We're all here for you, Monty!
@ConsumerSOS I hate snakes but even I was relieved they got it out 🥴

— meh ☘️ 💖💛💙 (@meh ☘️ 💖💛💙) 1582881209.0
@ConsumerSOS Snakes really are amazing animals.

— Barb Sews (@Barb Sews) 1582894108.0
@CBSNews Awww poor dude. I'm glad they were able to help him. That towel couldn't be digested and he would have d… https://t.co/mdornscxaZ

— Aim-ee (@Aim-ee) 1582900831.0
@CBSNews Better healthcare than whats given in america

— Slypig News Network (@Slypig News Network) 1582841608.0
@CBSNews This is why they should stop folding towels to look like swans at all hotels

— Michael (@Michael) 1582859982.0
A flexible endoscope was placed down Monty's gastrointestinal tract, to allow the vets to see the end of the towel sitting in her stomach.
"The snake ate the towel of her own accord. She has never done anything like this before," a spokeswoman for the hospital said.
"This was a life-saving procedure. If we had not been able to remove the towel, Monty would not have survived."
Monty has recovered well and is now back to eating normally.
Keep reading... Show less