trampoline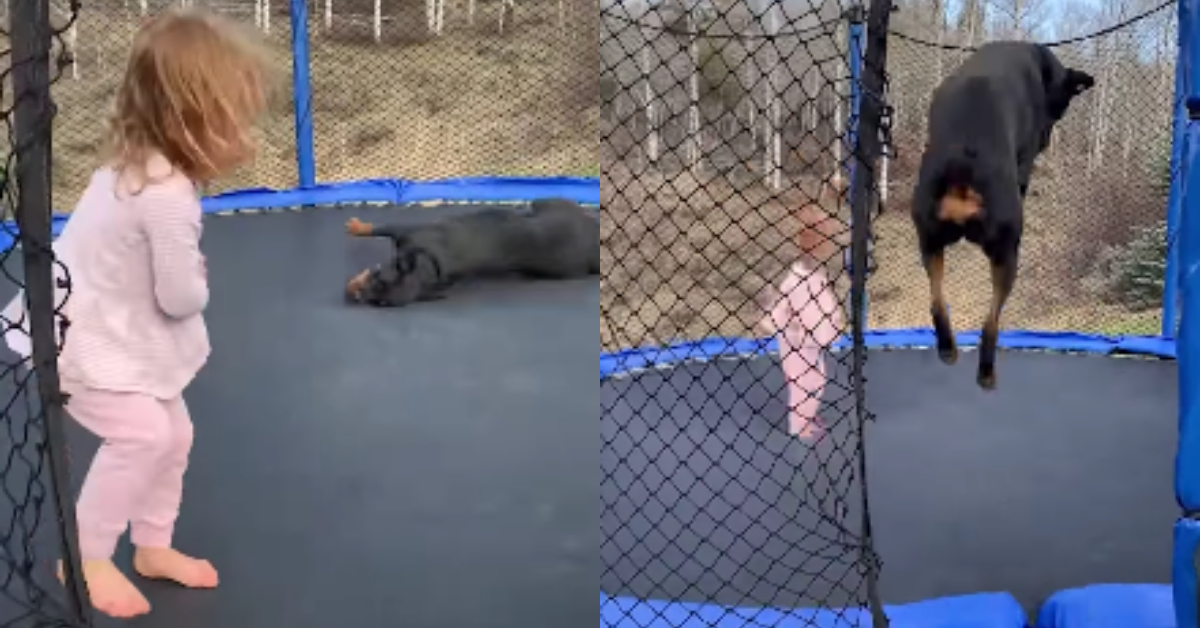 ViralHog/Facebook
Sometimes the exact thing the internet needs is a cute video with a giggling little girl, spontaneous dog and springy trampoline.
And one family in Jackson, Wyoming was ready to provide such a video, complete with canine acrobatics.
In the video that went viral, 3-year-old Alex is seen in a pink, comfy-looking outfit, bouncing up and down on the trampoline in the backyard. Inside the net with her was the family Rottweiler, 2-year-old Kona, who was barking, leaping, and even somersaulting his way around the ring.
You can watch the adorable video here:
Though this video made its appearance on May 5, it was hardly the first time something like this happened, according to Alex's parents.

They explained:
"Alex loves to jump on the trampoline with Kona."
"Kona is super sweet with Alex and is her best friend. They always are looking out for each other."
True to their word, Kona can be seen having a great time in the video, but it's also obvious how careful and mindful the dog is around the toddler. Never once does the Rottweiler bump into or jump on the child, or get too aggressive or overly playful.
Where some might worry about Kona getting carried away in his play, viewers instead were met with adorable forward somersaults and epic renditions of "roll over" on the trampoline's surface.
Alex can be heard repeatedly saying in the video to "bounce" and "wow," when, much to her delight, Kona seemed to listen to her commands. At the same time, Kona seems to try to encourage the girl to do what he does, either springing into the air or rolling over and then looking to the 3-year-old for approval or to follow suit.
Viewers have absolutely loved the video and only seem to want more.
Others were so floored by Kona's behavior, especially around such a small child at an excitable moment.
It seems clear the internet wants and needs more videos of Kona and Alex spending time together.

It could be another video on the trampoline or maybe some other activity, enjoying the Wyoming springtime.
As long as there are more videos, the internet surely won't be picky.
Keep reading...Show less