Tag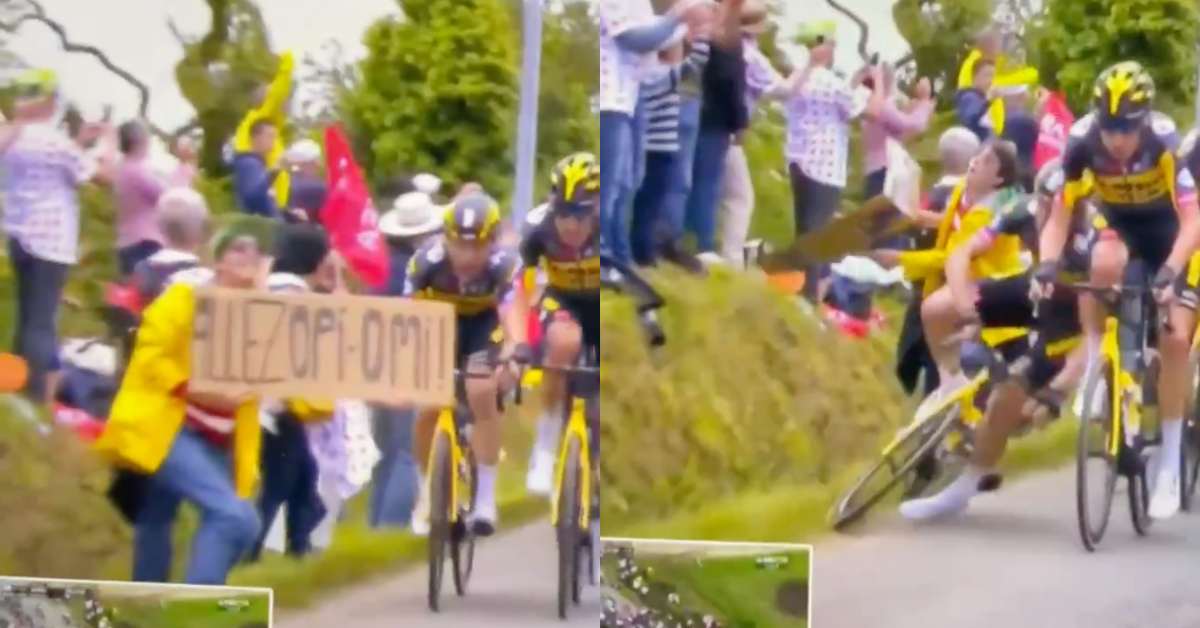 NBC Sports
This past Saturday, the 108th Tour de France kicked off to an international fanfare of excitement from cycling fans across the globe.
Like so many sporting events, the Tour saw markedly reduced spectator crowd sizes during last year's installment of the 23-day marathon bike race.
So this year, fans were abuzz with excitement as they cheered on the world's greatest cyclists as they left the gate at the start of the big race.
But one fan along the side of the track was a little too eager to be there.
Holding a big cardboard sign bearing a message to family members watching on television, the spectator obstructed the path of a racer, reportedly German rider Tony Martin, who fell off his bike.
You can see footage from multiple angles here:
Other riders then fell over Martin one by one, and a massive pileup took form.
Viewers were stunned the Tour started off with such immediate chaos.
They had plenty of commentary to add.
Others had a slightly different take on the incident.
As for the destiny of the woman who held the sign, CNN reported French Authorities have announced an open investigation into the cause of "unintentional injuries....by manifestly deliberate violation of an obligation of safety or prudence."

Tour de France Director Pierre-Yves Thouault told French publication AFP News Agency the organization plans to sue the woman "so that the tiny minority of people who do this don't spoil the show for everyone."
But according to CBS, the woman, believed to be German, quickly fled the scene and jumped on a plane. Authorities have been searching for her ever since.
As for the official Tour de France Twitter response, they tried to stop any future sign-holders from wreaking more havoc.