Tag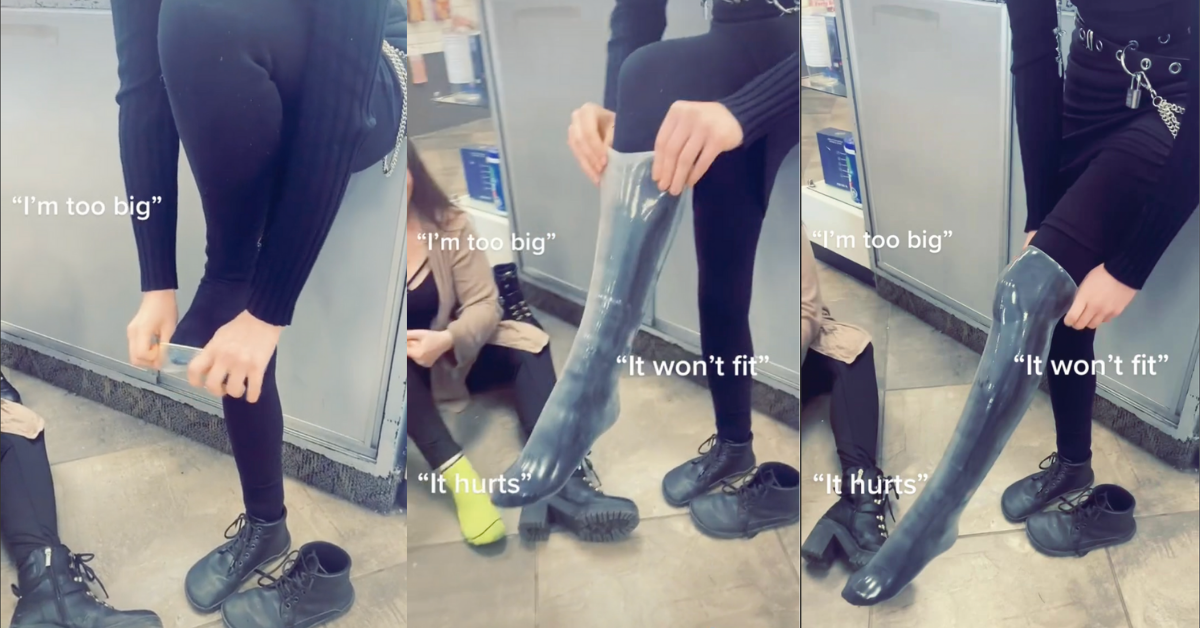 @theel_inloser/TikTok
To condom companies everywhere, there's a very real possibility a viral TikTok might have just given you your next big idea for an ad campaign.
A TikTok is seeing some serious action online after one user pushed a condom to its limits by putting it on her leg like a sock to prove there was no challenge too big for the contraceptive device.
Posted by TikTok user, @theel_inloser, the 27-second TikTok shows two individuals placing condoms over their respective feet and up to about knee-height.
Text stitched over the video surrounds the shenanigans.
The text includes mocking phrases like "I'm too big" and "It hurts" and "It won't fit."
Since being posted five days ago, the video has been viewed 13.4 million times, received 2.3 million likes, and 21,000 comments have been left in response to the antics of the two individuals.
Many comments were quick to weigh in on the rather controversial topic, with many taking the comedic route when posting their reaction to the video.
Including some insight from Trojan brand condoms.

@trojanbrandcondoms/TikTok

@brialynicole/TikTok

@idkancha3/TikTok

@boobytrapsnscoobysnacks/TikTok

@ohcoco24/TikTok
In the video, someone who is assumed to be @theel_inloser stood on one leg with her face off screen as she worked to cover her left foot in the durable piece of latex.
At the start of the video, the phrase "I'm too big" appeared on screen. As the video progressed, the phrases "It won't fit" and "It hurts" also appeared.
The camera then panned over to another woman sitting on the floor who also appeared to be trying to place a condom over her foot.
In the background, viewers can hear the song "Condom On Your Tongue" by Marvin Sease playing.
The video culminates with @theel_inloser successfully placing the condom all the way up to her knee without the condom breaking or tearing.

@jokedaddy/TikTok

@disasterdoujin/TikTok

@mullet_daddy_69_/TikTok

@smolandsquishy/TikTok
According to a study that was cited by The New York Times, up until recently the standard condom was reported to be an average length of at least 6.69 inches long.
However, the study referenced by the Times found the average penis length in America clocked in approximately one inch shorter than the reported size of condoms, with the average penis length being 5.57 inches.
@theel_inloser has since posted a follow up video which goes into further detail about just how wrong people maintaining they're "too big" for condoms really are.
@theel_inloser's experiment has really added clout to the saying "no glove, no love."