Tag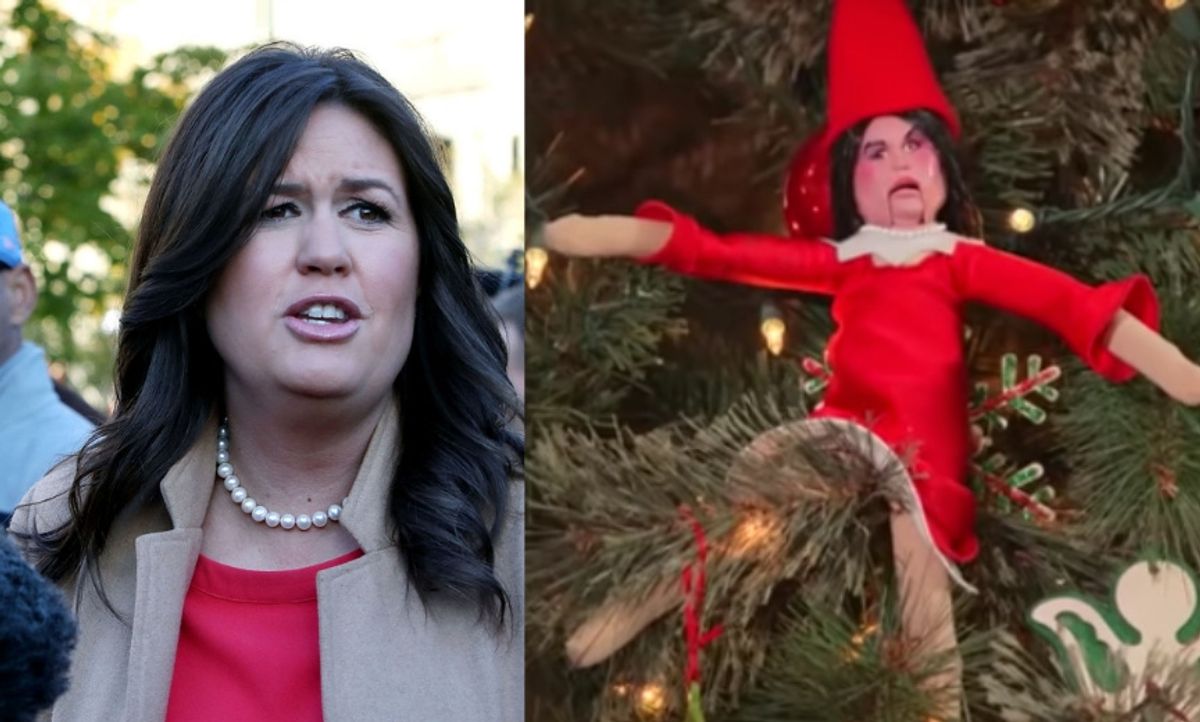 Mark Wilson/Getty Images; Jimmy Kimmel Live/YouTube
The Elf on the Shelf has become a holiday tradition since its inception with a 2005 children's book of the same name. Now, Jimmy Kimmel has put his own spin on the movement and it involves the White House Press Secretary.
Families across the country place the Elf on the Shelf around their home during the month of December with a warning to children that he's reporting everything he sees to the man with the bag, but that's not so with Sarah Huckabee Sanders.
On his show Jimmy Kimmel Live!, Kimmel pointed out that the Huckabee Sanders iteration—Sarah Huckabee in a Tree—is markedly different. Instead of reporting children's misdeeds to Santa, she spins them instead to make the children seem innocent of any and all wrongdoing. Sound familiar?
Watch below:
Huckabee in a Treewww.youtube.com
The hilarious video shows Sanders defending a young cookie thief with, "Uh, he didn't steal a cookie. He doesn't even like cookies." A boy painting his dog blue? "Obama did that."
The video also offers other Trump-centric Elf on a Shelf iterations like "Trump on a Stump," "Pence on a Fence," and "Kellyanne in a Garbage Can."
The video set Twitter ablaze.
However, some were more terrorized than tickled.
Unsurprisingly, Trump supporters didn't play nice with the doll.

At least now they can't blame Kimmel for waging a war on Christmas.
Keep reading...Show less